Bliefnick divorce examined in second morning of testimony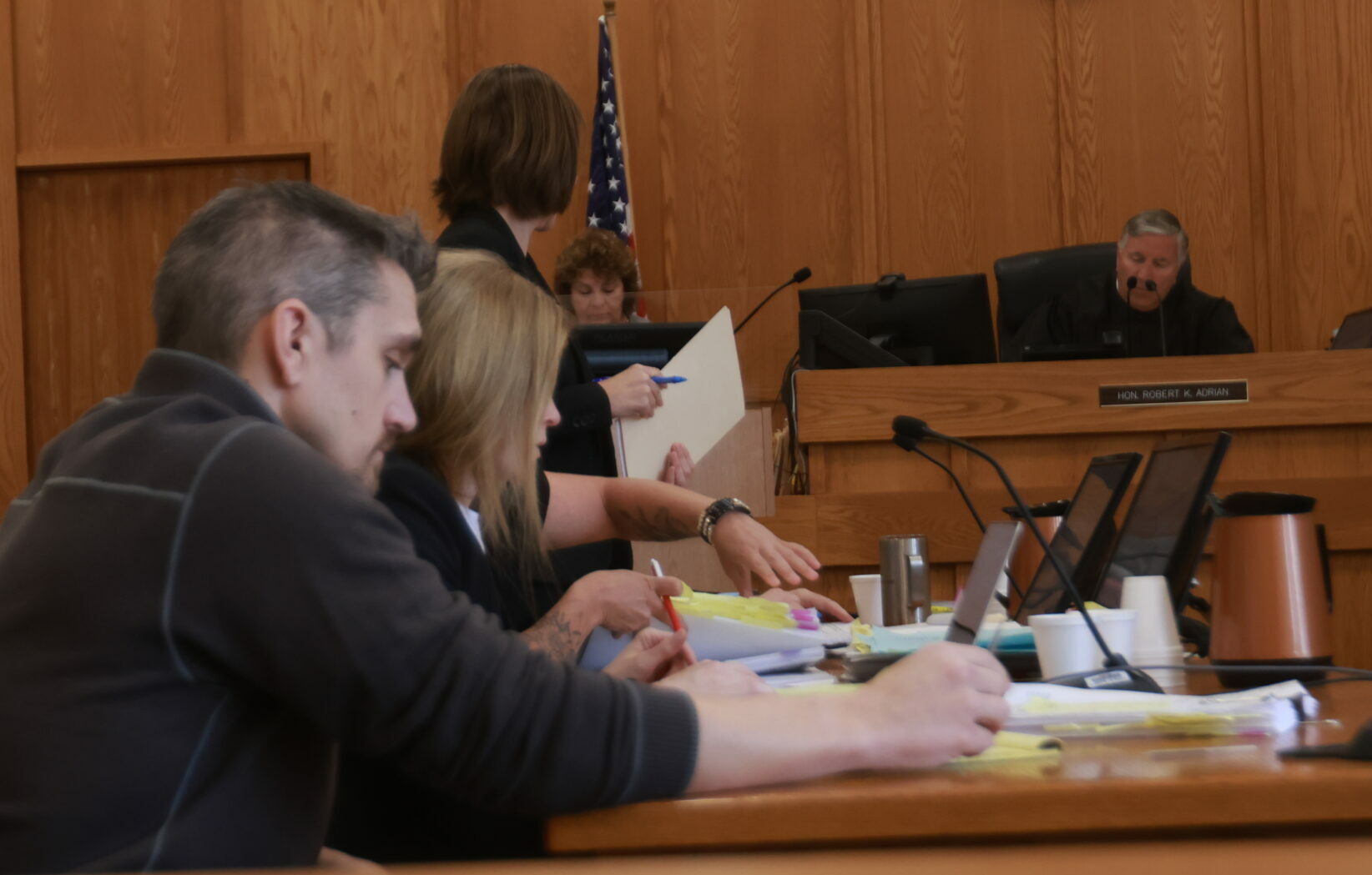 QUINCY — Tim Bliefnick filed for divorce from Becky Bliefnick in Jan. 2021.
For the next two years, according to testimony in Adams County Circuit Court Wednesday morning, the two didn't agree on very much, but it appeared the divorce might finally be getting close to final in late Feb. 2023
But Becky Bliefnick didn't live to see her divorce become final.
Becky was murdered in the early morning hours of Feb. 23 and her husband, Tim, is the one who was arrested for it on March 13. He faces two counts of first-degree murder and one count of home invasion.
As Tim Bliefnick's murder trial enters its third day, the Wednesday morning testimony centered on the estranged couple's contentious divorce.
Defense attorney Casey Schnack, who was also Tim Bliefnick's divorce attorney, has continually downplayed the acrimony, saying there are no good divorces.
But the prosecution maintains this divorce was going to cost Tim more assets than he was willing to give up and claims he was using their three children as leverage.
Before the jury was seated, Assistant State's Attorney Josh Jones, Schnack and Judge Robert Adrian discussed the presentation of the Bliefnick divorce file to the jury. Tim Bliefnick, wearing a brown pullover and slacks, entered the courtroom with a stoic expression.
Attorney Denny Woodworth, Becky's attorney when she was served with divorce papers was the prosecutions first witness of the day. Jones refered to an order from August 2022 that prohibited unsupervised contact between Ray Bliefnick (Tim's father) and the Bliefnick boys. It also included maintenance payments from Tim and child support. Woodworth confirms the 9 mm handgun mentioned in the order was never returned, and Becky wanted it for her protection.
Schnack then questioned Woodworth about the maintenance agreement and asks if Tim ever missed any payments to Becky, but Woodworth could not recall.
Schnack inquired about the provision in the order regarding the gun's return, mentioning the possibility of Tim being unable to find it. Woodworth clarified that he did not file any orders regarding Becky's safety concerns.
During the redirect, Jones asked if a respondent can receive maintenance/alimony if they are deceased, to which Woodworth replied, "no." Woodworth also confirmed that Tim Bliefnick earned significantly more than Becky. According to court documents, Tim's income was roughly $13,000 month and Becky was making $5,400 a month.
Woodworth mentioned a show cause for Tim's payment obligations. Schnack points out that it was never finalized, and the court concurs. Schnack questions if the court could alter someone's income if it was reduced by choice, and Woodworth agreed. Jones concluded by asking if the divorce was final since Becky was murdered and Woodworth said it was not.
Sara Murphy, one of Becky's nursing colleagues at Blessing, was the next witness. Murphy recalls a conversation with Becky where she mentioned that if anything happened to her, they should look at Tim. Schnack objects, and Judge Adrian calls for a discussion in chambers. The objection is partially sustained and partially overruled, allowing Assistant SA Laura Keck to proceed with her questioning.
Keck asks if Becky had mentioned that Tim said, "I'm tired of playing your stupid little games." Murphy confirms this. Schnack refers to the conversation as "girl talk," and Murphy agrees that many comments were made in jest. However, when Keck asks if Murphy can speak to what Becky was thinking, Murphy admits that she cannot.
Gerald Timmerwilke, Becky's second divorce attorney and a law partner of Woodworth's, took the stand. He describes the divorce as "very contentious" and notes that Becky was a stay-at-home mom before becoming a nurse in 2016. Timmerwilke mentions the court order that prohibited Becky and Tim from entering each other's houses and required them to stay within three feet of their cars during drop-offs. This order was issued by Judge Adrian.
Timmerwilke said Becky wanted $800 if Tim couldn't produce the gun, since that was roughly the price of the firearm, The gun was also was supposed to be part of the final pre-trial affidavit. Schnack objects when finances are discussed, but Judge Adrian overrules the objection. Timmerwilke said Becky sought $481,000 and 50/50 custody of the children, while Tim wanted 60/40 custody.
Keck presented Timmerwilke with a copy of the divorce proposal prepared by Schnack for Tim. Timmerwilke explained that Tim wanted more custody time, but offered 50/50 custody time if Becky underwent a psychiatric evaluation, and requested Becky sell the Kentucky Road home. Timmerwilke said Becky rejected the proposal and was prepared for trial.
Timmerwilke said the the divorce order was entered on Feb. 15, and the trial was scheduled to begin in March 2023.
Schnack questioned Timmerwilke about the previously scheduled final divorce hearings and asked him to review the docket. Timmerwilke confirmed the final hearings had been scheduled twice before. Schnack then asks about the preparation of Becky's salary information, request for maintenance, child support, and 50/50 custody in the pre-trial memorandum.
Keck cross-examined Timmerwilke about how much maintenance Tim would have to pay if Becky was killed. Schnack objects, and Judge Adrian sustains it. Timmerwilke still responds with "zero."
When asked if Tim knew if anyone was holding cash for Becky, Timmerwilke said he didn't know. Schnack questioned if Tim was willing to pay maintenance, to which Timmerwilke affirms.
The last guardian ad litem report was entered on February. Judge Adrian explains the role of a guardian ad litem, who considers the best interest of the children during a divorce.
Guardian ad litem/attorney Rick Zimmerman was then the next witness. He explained his role in looking out for the best interest of the children during a divorce and Jones asked about the My Family app used by the courts in divorce cases. Zimmerman confirms that Tim wanted the majority of parenting time, while Becky desired 50/50 custody.
Zimmerman acknowledged the animosity between Tim and Becky during the divorce. He saw multiple text exchanges where they argued, but observed no domestic violence or safety issues concerning the children.
Schnack gets Zimmerman to agree that despite both parties' dissatisfaction with the final custody agreement, they were willing to live with it. Zimmerman also said he didn't observe any red flags or safety issues related to the children or domestic violence.
Schnack asked about the possibility of joint decision making going forward, and had Zimmerman expressed his hope for that arrangement.
Jones asks if Becky had any parenting rights after her murder, and Zimmerman responds, "I guess not." There was no objection to that statement, which was the last proceeding before the jury was dismissed for lunch a little after 11:30 a.m.
Miss Clipping Out Stories to Save for Later?
Click the Purchase Story button below to order a print of this story. We will print it for you on matte photo paper to keep forever.