New Silhouette Shoppe owners say taking over downtown boutique was 'natural fit'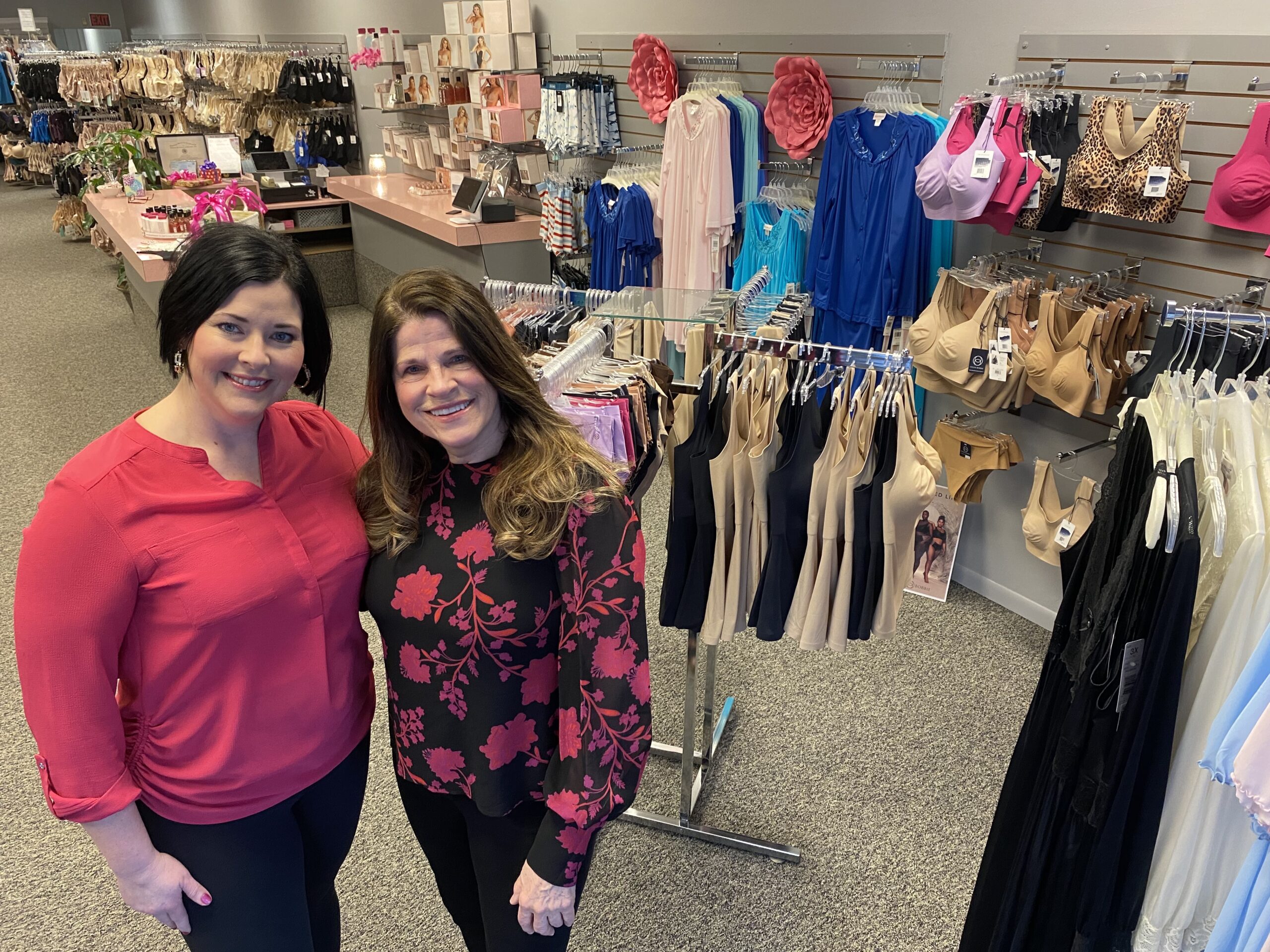 QUINCY — Two Quincy women who have spent most of their professional careers helping women have joined to breathe new life into a long-time downtown Quincy business.
JFM SAL, LLC, a corporation managed by Jeanine Frericks-Moss and Sara Lepper, bought the Silhouette Shoppe, 117 N. Sixth, on Jan. 27 from Linda Simons. The store, which has been in business since 1958, is a boutique specializing in bras. It also carries lingerie, breast enhancers and mastectomy products.
Lepper has sold Mary Kay skin care and cosmetics products for 24 years. Frericks-Moss has operated a nail salon, the Handstand, for 35 years. The first conversation they had about possibly buying the business from Simons took place more than two years ago.
"We both had shopped here forever," Frericks-Moss said. "Sara's mom and Linda were best friends, and I shopped here because my mom had always shopped here. There was a salesperson in here, and I just asked if it was ever going to be for sale. And I mean, so quick, she said, 'Yes, and here's the paper.'
"I didn't think of anybody other than Sara (to go into business with). I felt she had the work ethic that I did. She was in business helping women, and I was in business helping women. It was a natural fit."
New owners started shadowing former owner in August
JFM SAL bought the building from Simons for $37,000, according to property tax documents filed in the Adams County Recorder's Office. The first conversations between Lepper and Frericks-Moss were during the pandemic. They didn't start the process of taking over the business until August when they started shadowing Simons.
"Each month, we've increased the amount of hours to learn the ins and outs of the business," Lepper said. "There's a lot that goes into running a business. Something new with us is managing inventory and working with the staff.
"We're both in the business of making women feel good about themselves, whether it be nails, whether it be cosmetics. It's that personal interaction we both love. When it came to purchasing the store, you need someone who's going to match your work ethic or be even better than you are. Jeanine's always been my nail girl, and those conversations led to this."
Frericks-Moss describes Lepper as "the sweet person" in the business, while Lepper calls Frericks-Moss "the direct talker." They recently returned from New York where they met with representatives of several clothing lines at the Curve lingerie show. They want to cater to women from "age 9 to 99," but both owners have daughters in their 20s, 30s and 40s.
Comfortable and pretty are priorities to younger generation
"We definitely want to expand and bring in new lines," Lepper said. "Shopping is limited in Quincy. We've got a special niche of things like nursing bras, pajamas and boxer shorts that we got in New York."
"Our daughters have all been athletes. They want to feel good. What's extremely important to this younger generation is comfort," Frericks-Moss said. "They want pretty and comfortable. They have seen their mothers run around the house in sweatpants and T-shirts, and we want them to be comfortable, too."
The new owners noted they are offering the EV bra by designer Evelyn & Bobbie that has seven patents.
"It's an amazing bra, and it goes from small to 3X," Frericks-Moss said. "It's just it's one of those new products in the industry that is just going great guns."
Lepper said the store has items for the hard-to-fit woman, ranging from options for young girls to swimming suits for mastectomy patients to regular women taking exercise classes. She also said the Silhouette Shoppe offers fashion forms — undergarments for homecoming dresses, prom, dresses and wedding dresses.
"Sure, you can order them online, but you'd have to probably order three, four or five options, because every dress is different," Frericks-Moss said. "Here, you can try before you buy, and if we don't have something, we're willing to work to find that for you. You're not going to get that customer service online."
Two employees with former owner staying on staff
The Silhouette Shoppe staff, including holdover employees Donna Evans and Sharon Platt, also has completed training and coursework to eventually assist women dealing with breast cancer while billing their insurance or Medicare.
"We encourage ladies to come in prior to surgery so we can visit with them and get the correct undergarments for after surgery," Lepper said. "Depending on if they're having reconstruction and what all that looks like, we want to be here every step of the way with them."
Simons and her staff kept customer profile cards with sizing information recorded. Lepper says the information on those index cards is being retained while implementing new technology.
Both women are maintaining their other businesses, but they are excited to tackle a new challenge. They are rebranding the store and giving it a new look. They believe the closest business in comparison is in St. Louis, and as people are becoming more comfortable getting out to shop, they're seeing groups of shoppers coming in from hours away to check their offerings. More than 80 percent of their clientele comes in from outside of Quincy.
"We love it when the people come in and say, 'Oh, my gosh, things have changed,'" Frericks-Moss said. "And Linda is OK with that, too. We really want to offer what Quincy needs."
'All kinds of things up and coming' on Sixth Street Promenade
Both are excited to see the business as an anchor along the Sixth Street Promenade, which stretches from Maine to Vermont. New lights, sidewalks, trees, and benches are expected to be a part of the upgrades that will turn the area into a point of destination for shoppers and a place to hold events in the street.
"There's all kinds of things up and coming," Lepper said. "Aesthetically, it's really going to be where we want it to be. The key is for this to work is to support our local businesses and then to share those experiences. We're really working on the downtown area to fine tune and tweak things and create different things.
"We started six months ago at my dining room table or at Jeanine's kitchen table, just brainstorming and redoing and thinking. We're really wanting to up the ante. Stay tuned."
Miss Clipping Out Stories to Save for Later?
Click the Purchase Story button below to order a print of this story. We will print it for you on matte photo paper to keep forever.