Minnesota city worried about oversized goldfish, but 'there's nothing new about it around here'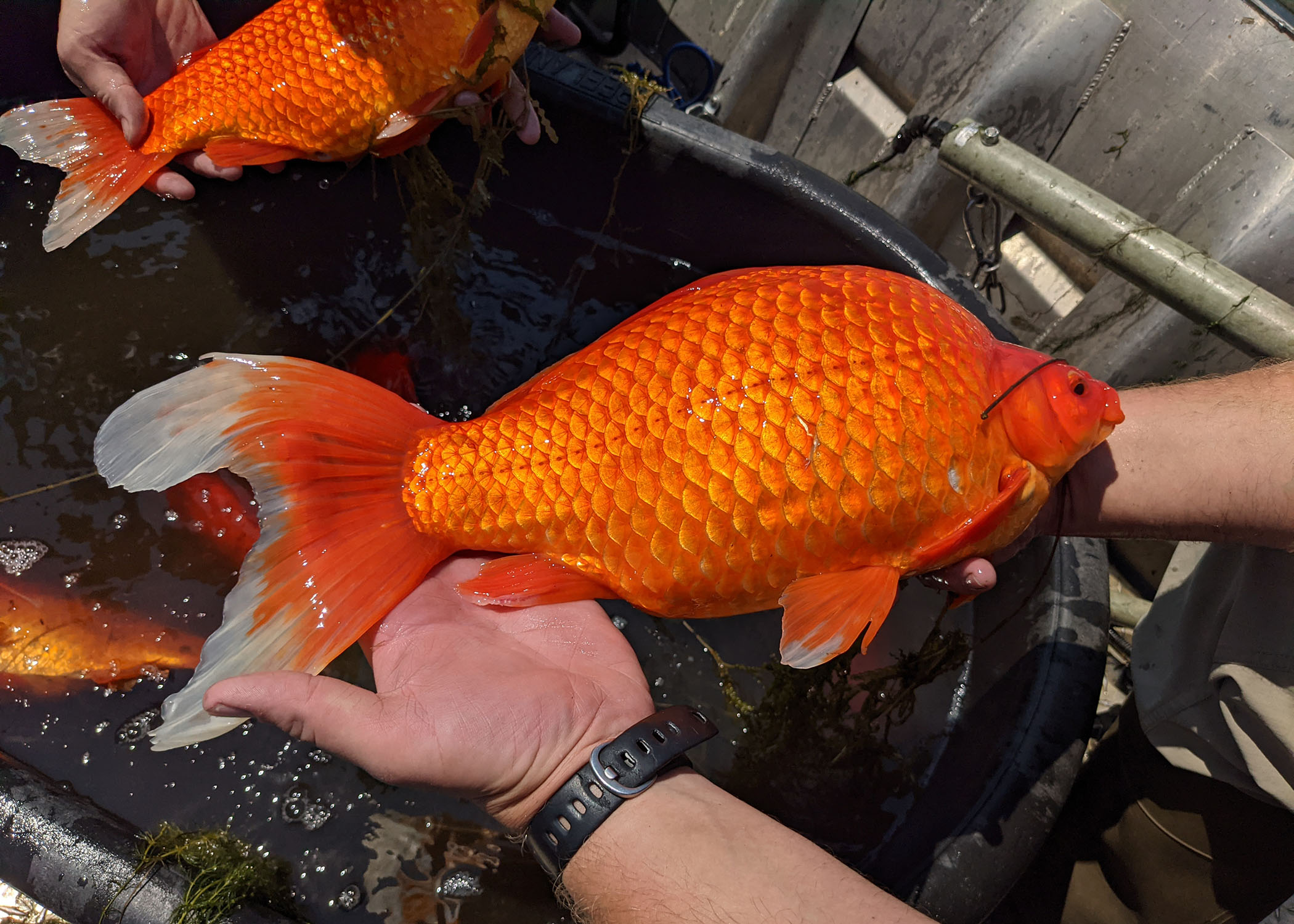 QUINCY — A story about oversize goldfish causing problems in Minnesota caught the attention of the national news media this week.
Authorities in Burnsville, Minn., are urging residents and owners of pet goldfish not to dispose of the family pet in lakes and ponds. The city wrote on Twitter to inform citizens one local lake has been taken over by overgrown goldfish.
"They grow bigger than you think and contribute to poor water quality by mucking up the bottom sediments and uprooting plants," the tweet read.
CBS News, National Public Radio, Yahoo and the Washington Post were among the national news organizations reporting stories and videos about the gigantic goldfish in Minnesota.
Glenn Sanders, president of the Mississippi Valley Hunters and Fishermen's Association, laughed when he heard the news.
"There's nothing new about it around here," he said as he stood on the banks of the lake at the Quincy Memorial Cemetery, which Sanders says has hundreds of abnormally large goldfish.
Dumping goldfish into waterways is 'illegal fish stocking'
Sanders said the U.S. Fish Commission, the forerunner of the U.S. Fish and Wildlife Service, imported the first goldfish in the United States in 1878. The commission was shipping 20,000 goldfish a year from Washington during the 1880s and 1890s. Sanders said the U.S. Fish Commission had a station on Quincy Bay in the late 1800s. It was one of seven distribution points for the goldfish.
"If you wanted goldfish for your pond or your lake or just your little fishbowl, all you had to do is write a letter to your congressman, and your congressman would stamp it approved, send it on to the U.S. Fish Commission, and they'd ship you goldfish," Sanders said. "They've been out there in the ecosystem since 1878. They're just another version of the common carp. You fix them the same way."
Dumping unwanted goldfish into local ponds is illegal in most states, including Minnesota and Illinois. It is considered "illegal fish stocking," which is by definition the upsetting of the balance of existing natural fish communities. Goldfish are considered an invasive species that uproot underwater plants and compete with native fish for food and shelter. They can live for up to 25 years.
Sanders says the large goldfish are a problem in Minnesota, but they aren't around here.
"Minnesota has a lot of clear water lakes, and the aquatic vegetation is so important to the other fish and to migrating waterfowl," he said. "Any of the carp species can do damage in that type of ecosystem. A lot of times, to restore a pond or lake up there, they have to drain it down and kill off all the fish and start over again.
"Most of our lakes and ponds around here do not have the submerged aquatic vegetation like the ones in Minnesota. It's a different ecosystem down here. South Park is a pretty good example. I grew up on South Eighth, and our backyard went right into South Park. As a kid, I always was going to the ponds at South Park. The local commercial fishermen would separate out the goldfish and throw them in South Park ponds. Kids would go wild trying to get themselves a goldfish out there. (The goldfish) usually didn't last long after the commercial fishermen put them in there because those kids got them."

Sanders: Some local goldfish grow as long as 18 inches
Sanders says many local fishermen like to use goldfish as bait, and that's not illegal.
"The goldfish is typically easier for the predator to see, so they get eaten up more," he said.
Dumping your pet goldfish into the local waterway, however, is illegal.
"No one's going to prosecute somebody who does that," Sanders said. "And the state's attorney sure is not going to prosecute them. I'm laughing right now, thinking about most of our judges here in Adams County and what they would think of a ticket like that if some kid threw their goldfish into a pond."
If you've given your child a goldfish as a pet and realized the commitment to care for that fish won't likely happen, the U.S. Fish and Wildlife Service recommends adoption by another family. Another alternative is to contact a local veterinarian or pet retailer to humanely dispose of the fish.
Sanders says he's seen large goldfish in other lakes and ponds throughout west-central Illinois, growing as big as 18 inches long and weigh up to three pounds.
"A few years ago during the 'Fishing for Freedom' event, one of the table decorations was goldfish in a bowl," he said. "At the end of the banquet, everybody was taking them home. That was fine. We didn't have to deal with them. A bunch of them were gathered up by guys who went fishing for catfish the next day, and you know some of (the goldfish) are going to get off the hook. So we were part of restocking the river with goldfish. We were giving Goldie a little freedom."
Miss Clipping Out Stories to Save for Later?
Click the Purchase Story button below to order a print of this story. We will print it for you on matte photo paper to keep forever.