School children to be protected by street closure near St. Francis Church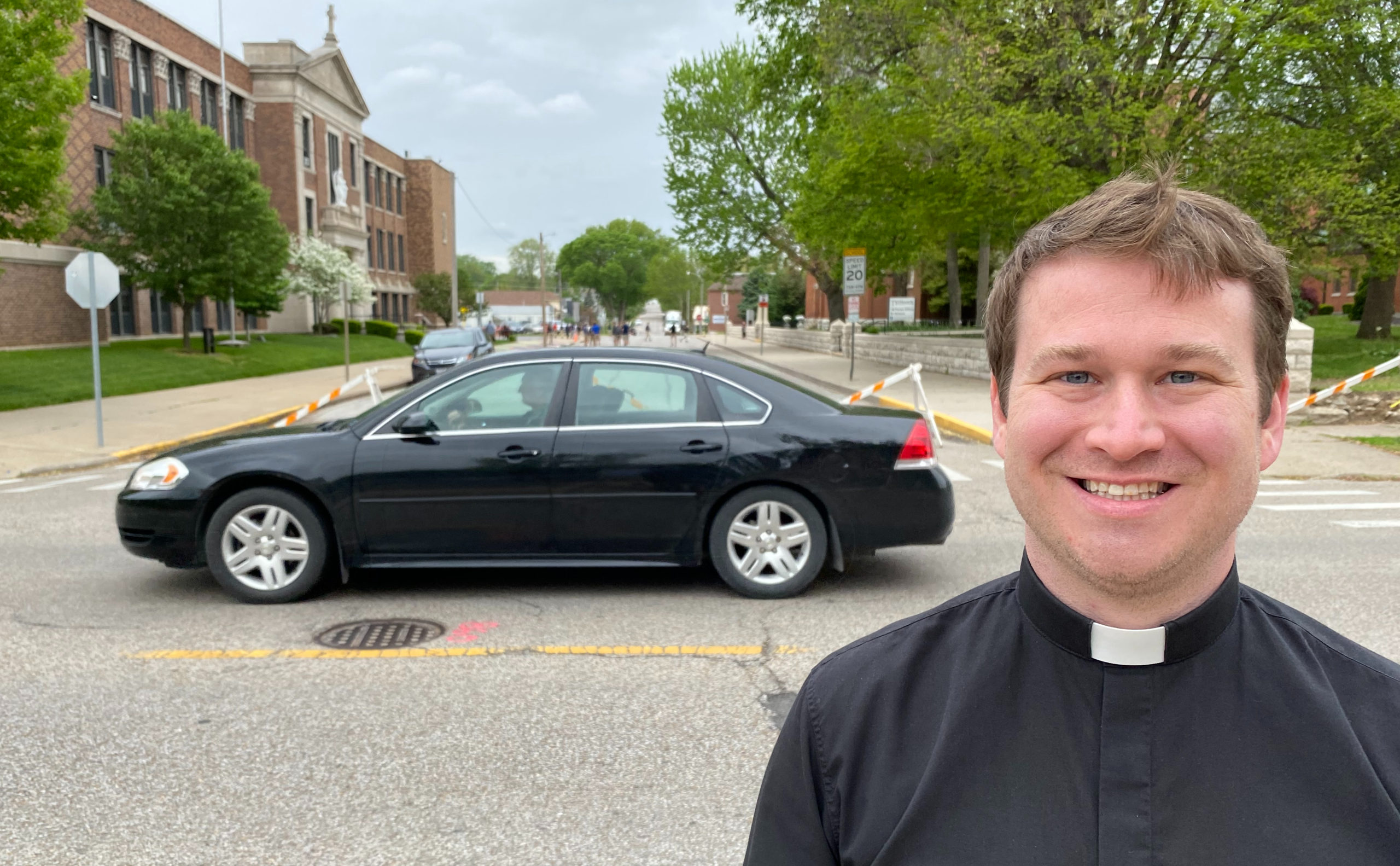 QUINCY — Father Steven Arisman, pastor at St. Francis Solanus Church, vividly remembers the first time he realized something needed to be done about traffic on a stretch of College Street that runs from 17th to 18th Street between the church and the grade school.
"There was one lady who (turned west off 18th Street), drove around the (wooden) barricades (on College), up on the (north) sidewalk, then drove down the sidewalk while the students were out playing in the street (during recess)," Arisman said. "There have been people who will drive around the barricades or just get out and move them, but that particular situation was just crazy."
It won't be long before the school's 275 students are protected from that happening again.
The Quincy City Council unanimously approved on April 19 a proposal to close College Street from 17th to 18th and give ownership of the street to St. Francis. The city no longer will provide maintenance of the street or the sidewalks.
A new curb, sidewalk pedestrian ramps and a gate will be installed at the intersection of 18th and College. Reflective bollards — short, sturdy posts to direct traffic — and another gate will be installed in the middle of the block. A center island with a large "No Thru Traffic" sign will allow traffic to flow on 17th Street, but it will prevent vehicles from driving east on College. All changes will be made at the parish's cost.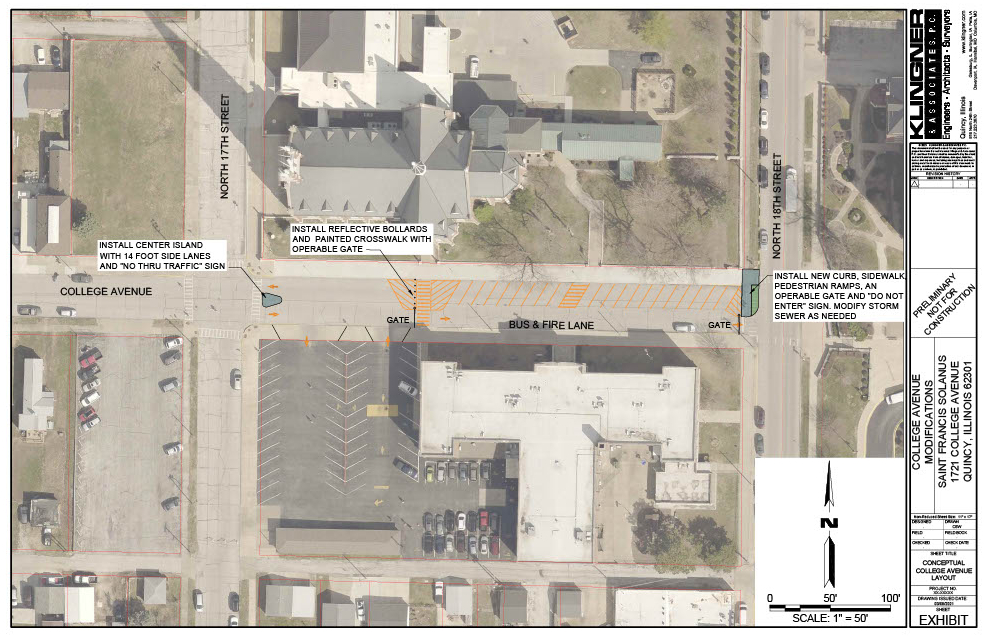 Arisman, who became the pastor at St. Francis on July 1, recalled a day when students removed the wooden barricades at 18th and College at an assigned time during recess. However, the school's alarm bells malfunctioned that day, and students were still playing in the street.
"A teacher came out and said, 'It's time to come in. Didn't you hear the bell?'" Arisman said. "So the kids and the teacher were getting ready to cross the street, and about that time, somebody came around that corner (off 18th Street). If the kids and the teacher hadn't stopped to look both ways, that car might have hit them.
"That was too much for me."
Arisman was determined to protect the students, but he didn't know the best way to do that. He said parishioners told him about several past failed attempts to address the issue.
Arisman found the right person.
Dan Brink, a former Sixth Ward alderman, met with Arisman in his office in January about joining a prayer group when a member of the parish office passed by.
"She says, 'Are you still on City Council?'" Arisman recalled. "Dan said that he wasn't. I didn't know he had done that before. It made me think to ask him for help (to close the street).
"Some people were saying I needed to get a lawyer, or go to talk to this person with the city, or to talk to the fire department or the police department, or to talk with the aldermen. I didn't know where to start, and no one had given me a straight answer. Dan was very helpful and gave me a lot of good advice throughout the whole process.
"The day that Dan fell in my lap, that was a totally amazing God moment."
Brink arranged for Arisman to speak first with city planner Chuck Bevelheimer, then with Second Ward aldermen Jeff Bergman and Dave Bauer.
Arisman asked in the church bulletin for thoughts from the 1,700 families who attend the parish. He also surveyed any home or business within 350 yards of the parish and school.
He learned that neighbors were worried about parking in the area on Sunday mornings. However, the plan calls for cars to enter through the gate off 18th Street and park diagonally on College, adding about 15 more places. Changes to the school's dropoff and pickup plan were made as well after hearing from parishioners.
Only five survey responses were negative. Two added no feedback, and the other three were concerned about access to Underbrink's Bakery at 1627 College.
Underbrink's owner Amy Stevens, who went to grade school at St. Francis, knew of the problem.
"I thought it would be great if (the church and the school) were all connected," she said. "All the time, I would say, 'Oh my gosh, they're going to hit somebody.' Father Arisman told me about other close calls on that street with kids, and I believed it.
"I asked (the employees) here if something could be detrimental to the business if the street was closed. We couldn't think of anything. People might complain, but they will figure out how to get here. I don't think it will hurt (business) at all."
Arisman also said Quincy University officials backed his plan.
Armed with results from the survey, a plan for changes to the street and support from the Second Ward aldermen, fire department, police department, traffic commission and planning commission, Arisman took his proposal to the City Council.
"By the time it got to the City Council, it was pretty well vetted," Bevelheimer said. "So it really went forward pretty easily."
Arisman said he wasn't sure when construction will begin. He promises it will be complete before school resumes in August.
"This has been all about the safety of our children. We didn't need to wait to have a child get hit by a car to make this change," he said. "But there are added bonuses. We become one campus now. We're not separated. Our parish and school become much more cohesive. That will help unite our parish even more."
Miss Clipping Out Stories to Save for Later?
Click the Purchase Story button below to order a print of this story. We will print it for you on matte photo paper to keep forever.