Hannibal High School to host student-led greenhouse sale this Saturday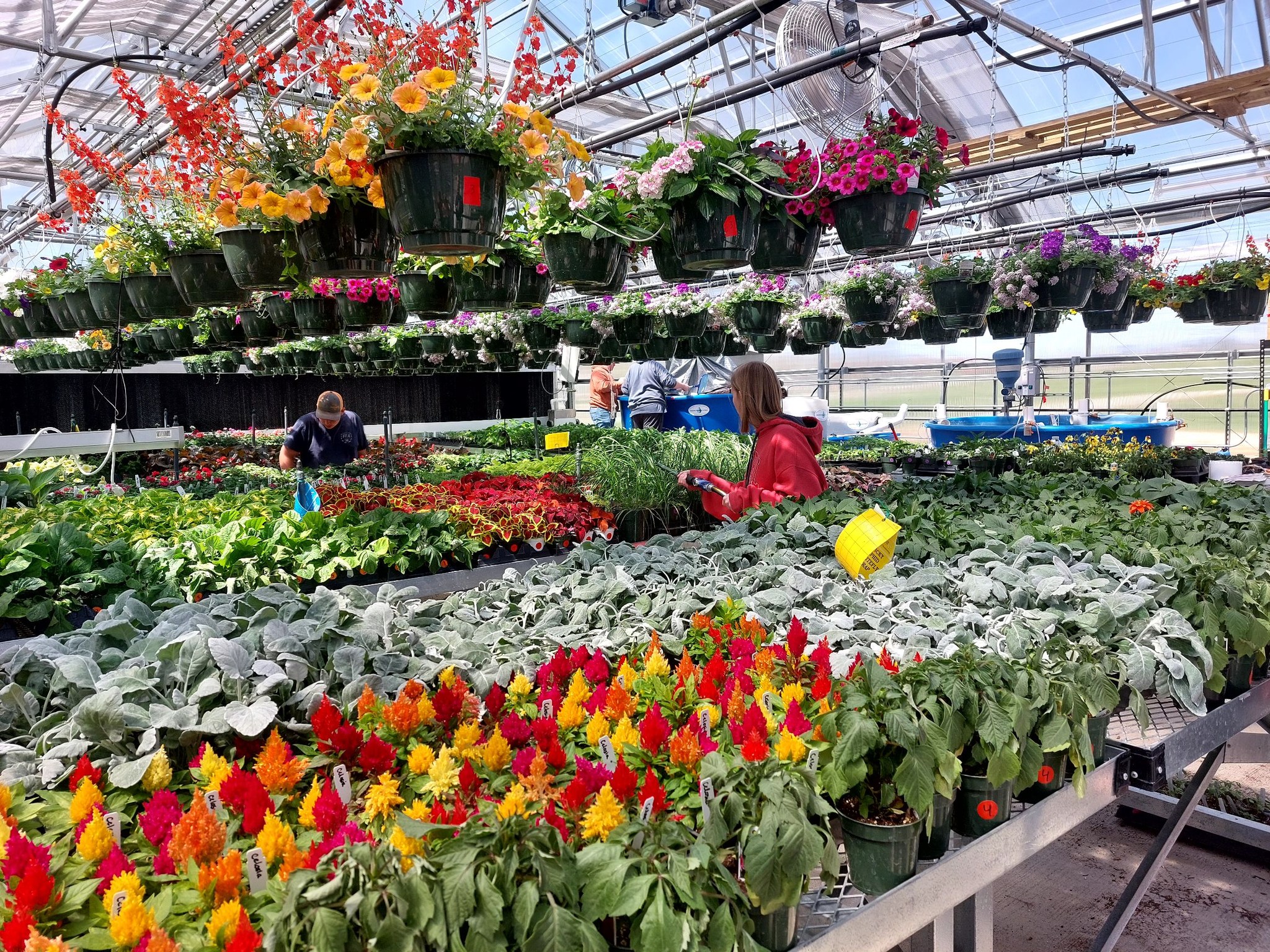 HANNIBAL, Mo. — The greenhouse in front of the Hannibal Middle School is Hannibal High School Senior Caylee Cox's happy place.
She often finds herself in the greenhouse on weekends and evenings, checking on the flowers. Cox is not required to do that for the class, as her teacher often reminds her, but it is something she wants to do.
Cox doesn't know how she will move on from the greenhouse when she graduates next month.
"I am so sad to be moving on from it. I try not to think about it. This is my safe place. You come here and all you have to worry about are the flowers," she said. "It's so pretty, who wouldn't want to be here?"
This Saturday from 8 a.m. to noon, the greenhouse will be open to the community to enjoy and purchase the plants.
Cox and the other students in her class at Hannibal High School will host a greenhouse sale.
Students will guide shoppers through the greenhouse and tell them about each plant and answer questions.
Until she took the HHS class, Greenhouse I, Cox thought her future profession would involve animals, but working with the flowers changed that. She is now in Greenhouse II.
"I was not interested in flowers before this. I wanted to do animals. But as I started getting into the Ag classes, I learned more about Ag Science and plants," she said. "Once I started learning about plants, I thought it was so cool."
Cox now plans to pursue teaching agriculture, and credits the goal to her Ag instructor in Hannibal, Sabrina Mahaney.
"I am going to Mizzou for the next four years to be an agriculture educator," Cox said. "I was very inspired by my teacher. She changed my perspective on everything."
AJ Herrin is also a senior at Hannibal High School who enjoys the greenhouse.
Herrin explained the aquaponic system at the greenhouse, which involves fish and plants working together in a symbiotic relationship. The fish waste provides necessary nutrients for the plants to grow and the plants filter the fish water as it moves through the plants.
The fish used by the school are tilapia.
Students with brushes cleaned the large tank where the tilapia are raised.
"We have these six beds of lettuce right here, and they all connect to these pipes. That pipe connects to our big thousand gallon tank," he said, pointing to a tank. "Then that connects to a smaller tank. They just keep using the same water."
After taking the class with Mahaney, Herrin also wants to pursue a future in agriculture. He plans to go into botany or agronomy, which is the study of seeds and plants.
"Before this class I didn't know what I wanted to do and then I took the greenhouse class and that's what got me interested in all the plants," he said.
Mahaney, a third-year teacher at Hannibal High School, said one of the most rewarding parts of her job is watching her students' interest grow.
"It's been cool watching them learn and watching them actually want to do this with the hands-on activities," she said. "They learn little aspects of careers that they could do in the future. It's fun to see them find an interest and passion."
Mahaney said learning about balancing the fish waste and the fertilizer has been a learning experience for them all.
"We are all learning together. We started this last year, and it's been such a learning curve for me," she said, laughing. "The kids I have had for three years like to tease me about my first year. I'm like 'Don't remind me.'"
Mahaney said they order the plants wholesale from Michigan from Jolly Farmers.
"They are tiny when we get them," she said. "I was actually worried about our sale this year because we haven't had a lot of sun except for the last two or three weeks, so everything was still tiny and not blooming. Finally, we had that week where everything was sunny."
Mahaney enjoys watching the students work the sale.
"They are talking to the community members who come in and they are doing the sales and discussing the plants. That is just really rewarding as a teacher," she said.
Mahaney was thankful for the community support they received last year.
"It just blew my mind last year how many showed up," she said. "We were so busy right off the bat, we sold out of hanging baskets in the first two hours."
Mahaney said they will not sell the tilapia right now. They are still learning the technique of deboning the fish and she doesn't plan to sell it until they can offer boneless tilapia.
Although the class has dined on the fish before.
Herrin recalls eating the tilapia last year but doesn't remember how they cooked it.
Cash and checks only will be accepted at the sale.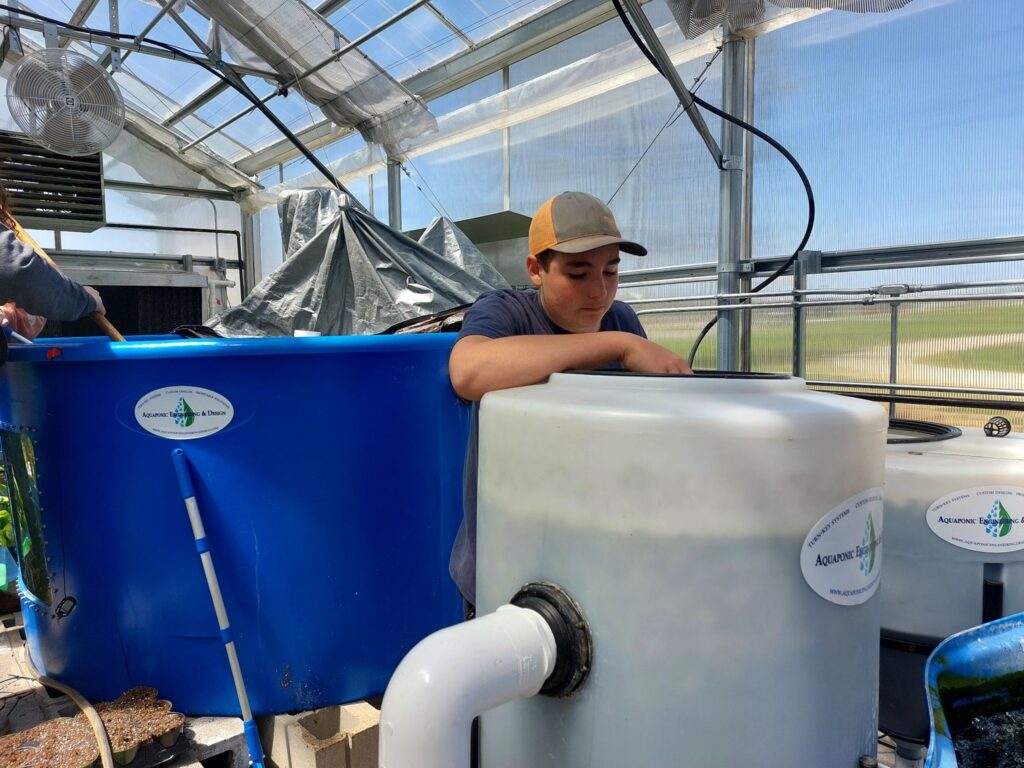 AJ Herrin checks water level on one of the tanks while students behind him clean the large tank where the tilapia are raised.
Miss Clipping Out Stories to Save for Later?
Click the Purchase Story button below to order a print of this story. We will print it for you on matte photo paper to keep forever.