NECAC executive director steps down after 36 years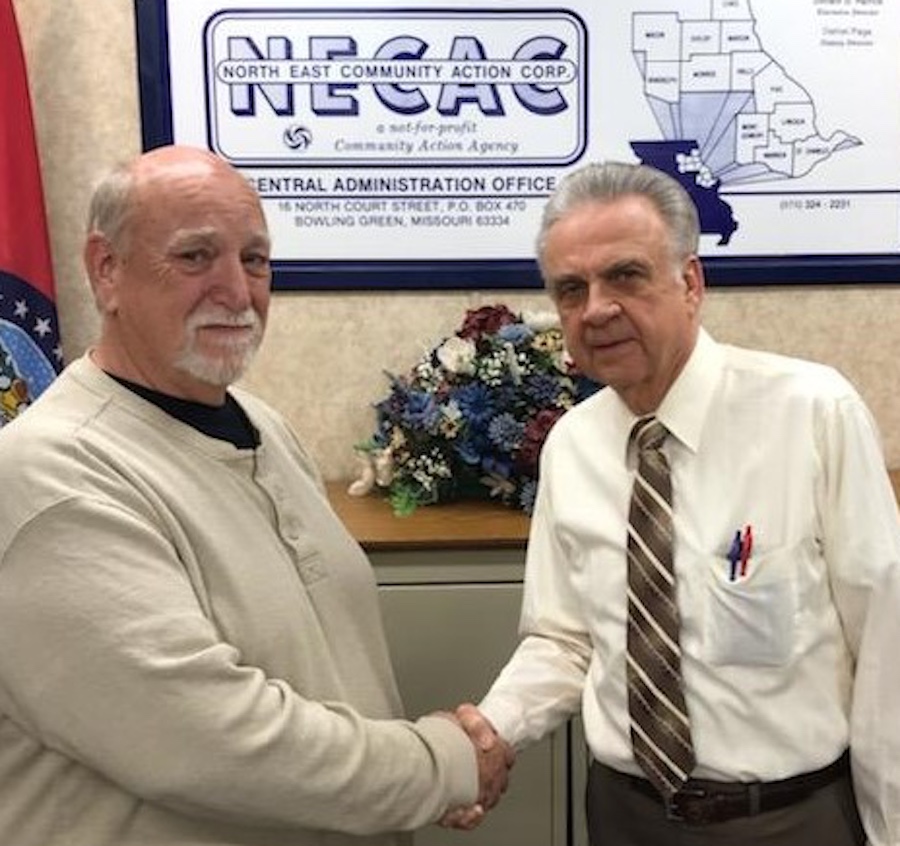 LOUISIANA, Mo. — When he took the executive director's position at North East Community Action Corporation in 1985, Don Patrick of Louisiana did not plan to stay long.
More than 36 years later, he's retiring as the longest-serving administrator in NECAC's 57-year history. Patrick, whose last day was April 1, thanked board members and staff for their dedication, patience and support.
"I love the institution of NECAC and have spent half my lifetime serving as the agency's chief executive officer," he said. "It's not just been a job. It's been a rewarding lifetime challenge and experience which I truly cherished and regret leaving."
An Army veteran of the Vietnam War and recipient of the Bronze Star, Patrick is a native of Pontoon Beach, Ill. He is a graduate of Southwestern Illinois College and the University of Missouri. He was previously employed as the director/counselor of the Coordinated Youth Services Inc. of Granite City, Ill., and as juvenile and public relations officer of the Pontoon Beach Police Department. Before joining NECAC, he was the executive director for the Greater St. Louis Council of Camp Fire Girls & Boys.
Patrick interviewed for the NECAC job and the open executive director positon at the Community Action Agency in Kirksville on the same day. He was first offered the Kirksville position before the one with NECAC in Bowling Green. He decided NECAC was a better fit.
"NECAC seemed more of a challenge with 12 counties to serve instead of five, it was in a very poor financial condition, and it was located closer to my hometown and family," he said. "I could go back and forth to visit family and friends on weekends."
Patrick thought he'd get extra executive management experience at NECAC and then return to the Metro East or St. Louis area within three years, but found he "enjoyed the local rural atmosphere, the people and beautiful surroundings."
While serving in 1982 as the district governor of Illinois Lions District 1-G, Patrick would leave his Camp Fire office in St. Louis County to travel north to make official club visits in his northern areas. He would travel up Highways 79 and 61 and cross back over into Illinois at Louisiana, Hannibal and Quincy.
"I remember often driving along Highway 79 and stopping at a four-way stop in this little town and thinking how I would love to live in a quaint, beautiful town like this someday," he said. "Well, that little town was Louisiana and I ended moving there in 1985 when I accepted the position with NECAC."
Always involved in community affairs, Patrick is a past president of the Pontoon Beach Lions Club, Louisiana Lions Club and Bowling Green Rotary Club; a past vice-president of the Louisiana Chamber of Commerce and the Bowling Green Chamber of Commerce; and the adult advisor to a Boy Scouts Explorers Post. He has been a member of the First Presbyterian Church of Louisiana since 1985 and is a past church elder.
The difficulties Patrick faced in 1985 at NECAC were big. It had fallen from a budget of $7.5 million to one of just $2.5 million, causing the agency to face deficits and regularly having to lay off staff, which numbered 35 full-time and 12 part-time employees. Patrick retired with the agency now having a budget of $29.1 million and a workforce of 80 full-time and more than 100 part-time employees.
Under Patrick's leadership, NECAC has expanded to offer more than 60 social service, community health and public housing programs for the low-income, elderly, youth, disabled and disadvantaged.
Patrick obtained through donations three former retail buildings on the Bowling Green square to house the agency's current Central Administration Executive Office Building and the agency weatherization program warehouse. He also negotiated the purchase or construction for ownership nine of its 12 county service centers that feature local staff to serve clients.
Patrick also was instrumental in expanding into the housing development arena. NECAC has been a partner in the construction, renovation, management or planned development of more than 1,300 apartments and houses for the elderly, families and the disabled since 1997. The developments represent an investment of more than $85 million in the construction of safe, affordable housing.
Patrick is proud that he often promoted from within. Ann Ellison of Bowling Green began working at NECAC in 1973 and was fiscal officer when Patrick promoted her to agency deputy director in 1987. She was named chief deputy director in 1991 and held the title until retiring in 2012.
Patrick also promoted:
Deputy Director for Community Services Programs Janice Robinson of Bowling Green, who retired last fall after 50 years with the agency;
Deputy Director for Housing Development Programs Carla Potts of Elsberry, who has been with NECAC for almost 45 years; and
Dan Page of Frankford to the position of Chief Deputy Director 12 years ago. Page now will serve as acting agency director until the NECAC Board names a replacement.
"We've been so very fortunate to always have a great board and staff that has brought about much improvement and expansion to the agency over these last 36 years," Patrick said. "I will miss my job, everyone at NECAC, and will hope and pray the best for our agency."
Brent Engel is a native of Augusta, Ill., who now lives in Louisiana, Mo. He is the public relations officer for the North East Community Action Corporation.
Miss Clipping Out Stories to Save for Later?
Click the Purchase Story button below to order a print of this story. We will print it for you on matte photo paper to keep forever.