Quincy Community Theatre announces 44-member cast for 'The Music Man' in July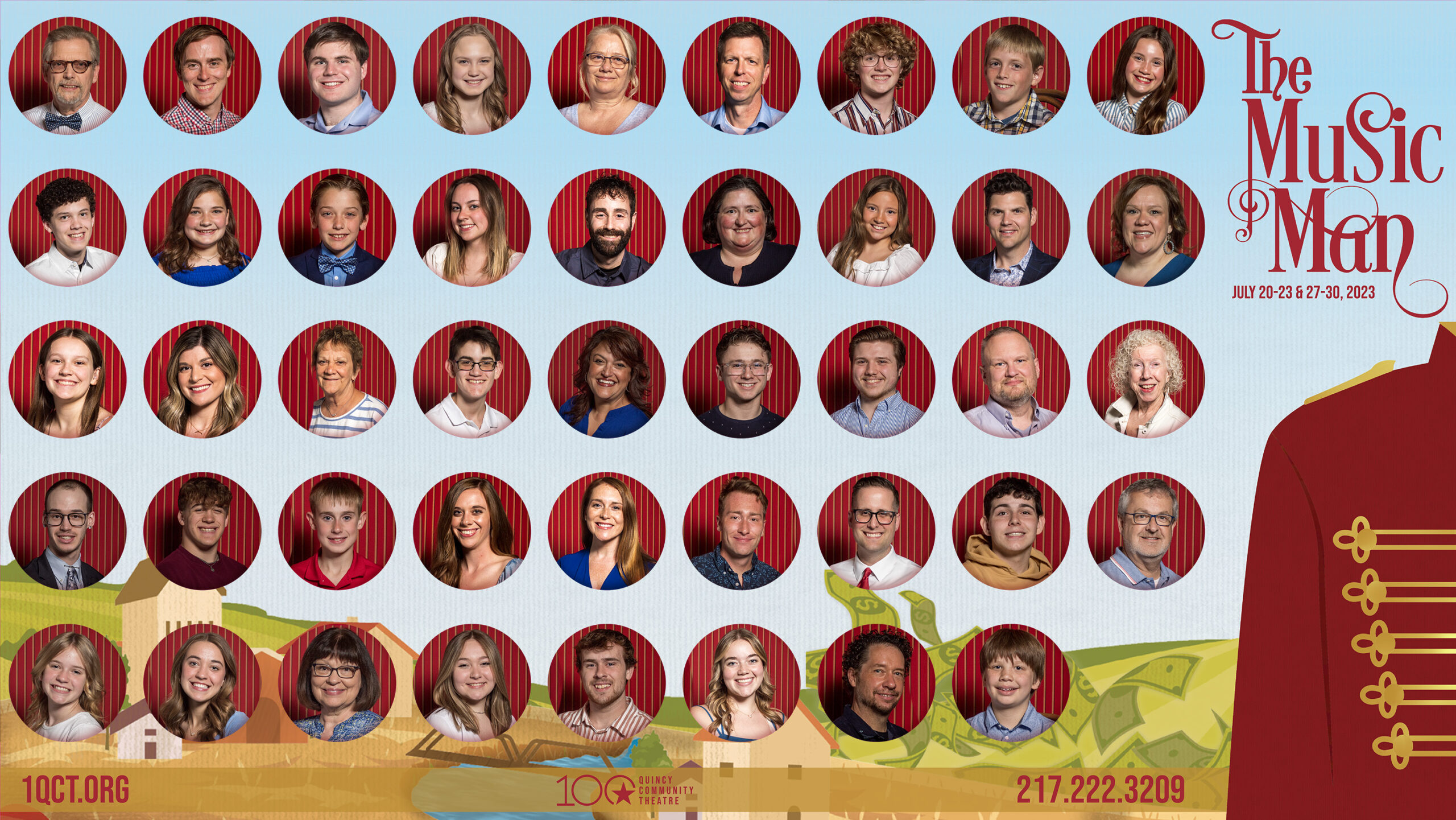 QUINCY — Quincy Community Theatre recently announced the cast for its upcoming summer production of Meredith Willson's "The Music Man."
"The Music Man" follows fast-talking traveling salesman Harold Hill as he cons the people of River City, Iowa, into buying instruments and uniforms for a boys' band that he vows to organize – this, despite the fact he doesn't know a bass drum from a pipe organ. His plans to skip town with the cash are foiled when he falls for Marian, the librarian, who sees through his scheme.
The main stage musical production is under the direction of Quincy Community Theatre artistic director Brandon Thomsen.
In a press release, Thomsen said, "2023 marks the 100th year of Quincy Community Theatre, and to celebrate this historic occasion, I selected a slate of shows that celebrate community. The Music Man is a story that shows us the impact that music can have on a community, bringing together people from different backgrounds and walks of life."
The Music Man features a large, energetic cast of 44 performers, some of whom are making their QCT and/or stage debut. The cast of The Music Man is:
Mark Hespen as Harold Hill
Megan Peters as Marian Paroo
Jeremy Kurfman as Marcellus Washburn
Bill Stalder as Mayor George Shinn
Doris Ann Malacarne as Eulalie Shinn
Susan Disselhorst as Mrs. Paroo
Beck Griffard as Winthrop Paroo
Patrick Hedges as Jacey Squires
David Samuels as Ewart Dunlop
Spencer Boren as Oliver Hix
Mike Drew as Olin Britt
Jason Lewton as Charlie Cowell
Andrew Krus as Tommy Djilas
Randy Wolfmeyer as Constable Locke
Evelyn Ginos as Amaryllis
Zoey Griffin as Zaneeta Shinn
Abby Twaddle as Gracie Shinn
Laura Nash as Ethel Toffelmier
Mindy Holthaus as Alma Hix
Marci Keller as Maud Dunlop
Catey Hellige as Mrs. Squires
Rounding out the cast are:
Glenn Boettger
Evan Conover
Quinton Metcalf
Dominic Regner
Barrett Whitfield
Max Miller
Joey Engelmeyer
Harrison Schmidt
Gavin Ginos
Thomas Keller
William Zanger
Blake Myers
Asher Fleer
Grace Hendrian
Ruby Griffard
Olivia Williams
Cheyenne VanMeter
Caleigh Twaddle
Sullivan Holthaus
Madison Daggett
Lynda Keller
Beth Izzo
Peggy Ulm
The production team of The Music Man includes:
Ruth Kummerow as stage manager
Monica Scholz as music director
Cheryl Kaiser as choreographer
Clara Jean Kelly as costume designer
Spencer Donovan as scenic designer
Jay Trimble as sound designer
Frank North as conductor
Sue Allen and Susan Scholz as props coordinators
Alex Ginos as deck chief
Kaitlyn Beth as assistant stage manager
"Rehearsals have just started, but there are already so many smiles and laughs," Thomsen said. "There is a wide age range throughout the cast and production team, yet there is a tremendous sense of encouragement and comradery, and that speaks to the nature of this show. 'The Music Man' is one of those musicals that brings out the best in people."
Tickets for "The Music Man" start at $27 and go on sale Monday, June 26, at 10 a.m. QCT flex season ticket holders may reserve seats beginning Wednesday, June 7, at 10 a.m.
Performances are scheduled for July 20-22 and July 27-29 at 7:30 p.m. and July 23 and 30 at 2 p.m.. Seating is reserved.
An interactive Discovery Night for The Music Man will be held 6 p.m. Tuesday, July 11 at QCT. The free event will give participants a view into the production process and culminate with a preview of a rehearsal. In addition, immediately following the Friday, July 28, performance, there will be a Q&A talkback session with the cast and crew.
The Sunday, July 30 performance will be signed by Jessica Lewis for the deaf and hard of hearing. Space is limited for this section and may only be reserved by contacting the box office in person or by phone.
For more information, visit 1qct.org or call the QCT box office in the Oakley-Lindsay Center at 217-222-3209.
"The Music Man" is sponsored by Wells Fargo Advisors and WGEM. QCT's 2023 season is sponsored by Gardner Denver.
Miss Clipping Out Stories to Save for Later?
Click the Purchase Story button below to order a print of this story. We will print it for you on matte photo paper to keep forever.