Quincy Community Theatre announces lineup of fall classes; new class added for adults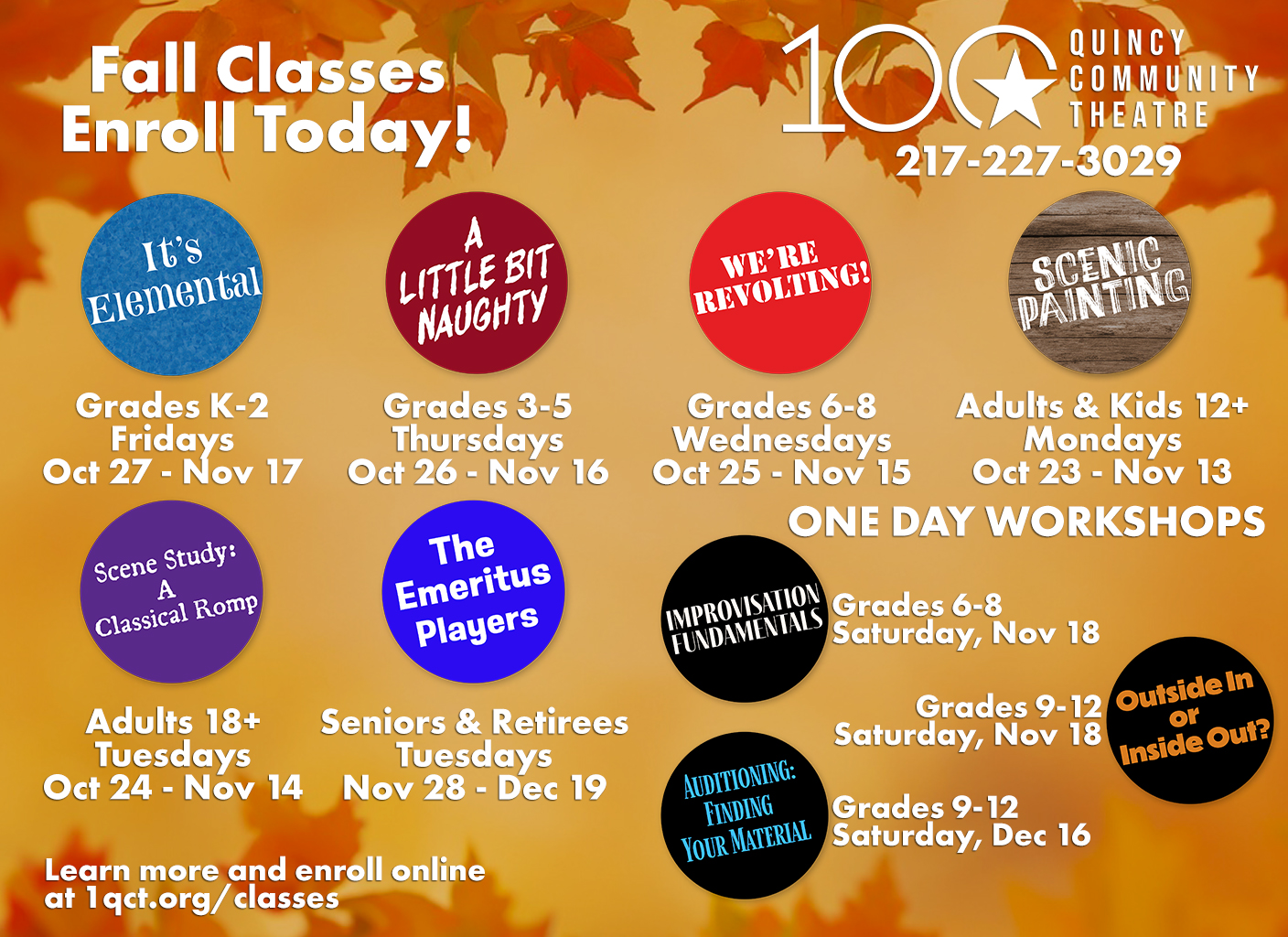 QUINCY — Quincy Community Theatre's lineup of theatre education classes for the fall 2023 semester consists of six classes and three workshops to be offered for people ranging from kindergarten through adulthood.
Each class aims to develop a specific set of skills, such as characterization, improvisation, teamwork, acting, set design and script analysis. This semester sees the addition of a class specifically for senior adults to get them engaged in theatre and performance in ways they may not have been in a while or ever at all.
Classes consist of four sessions, meeting once a week throughout October and November, with one class running in November and December. The workshops are one day only. Unless otherwise noted, all classes and workshops are led by Deb Currier (Deborah.Currier@1qct.org), Quincy Community Theatre's director of student theatre/head of education. Tuition ranges from $40 to $70 depending on the class and includes all necessary material fees.
QCT volunteers may use accumulated credit from volunteer hours against tuition. Prospective students may also apply for scholarship opportunities with the organization.
Classes offered are:
QCT Kids Company — It's Elemental! — Grades K-2 | Fridays | Oct. 27 – Nov. 17 | 4 to 5 p.m.
Explore wind, fire, earth and water through improvisational movement, music and character creation. Each class will focus on playful, interactive acting/performing activities designed to highlight one of the four elements. Kids Company members will engage their bodies and imaginations while learning about acting a character through physical movement.
A Little Bit Naughty — Grades 3-5 | Thursdays | Oct. 26 – Nov. 16 | 5:30 to 6:30 p.m.
Ever wonder why actors love playing the "baddies?" Come find out. Learn about physical and vocal acting techniques and explore creating the villain characters in our favorite (age-appropriate) books and stories.
We're Revolting! — Grades 6-8 | Wednesdays | Oct. 25 – Nov. 15 | 5:30 to 6:30 p.m.
A devising class to learn about acting, staging and dramatic writing through creating and performing short, original scripts. Ever have an event, a conversation, a situation or a dream just not go the way you wanted? Well, what would it look like if you had it your way? Let's have fun exploring what would happen if you had the power to change the whole outcome.
Scenic Painting — Adults and Kids age 12+ | Mondays | Oct. 23 – Nov. 13 | 6:30 to 8:30 p.m.
Instructor Harrison Clarke, assistant technical director at QCT, will teach various painting techniques that scenic designers use to bring worlds to life on stage. Clarke suggests participants wear clothes that they don't mind getting messy to this hands-on class.
Scene Study: A Classical Romp! — Adults 18+ | Tuesdays | Oct. 24 – Nov. 14 | 6:30 to 8 p.m.
Think the classics are dusty? Lacking humor and passion? Just … weird? Think again. Hone your acting chops by diving into a short, partnered scene from the incredible plays of hilarious, saucy French Renaissance playwright Molière (Tartuffe, The Imaginary Invalid, The School for Wives). Practice and play with physical comedy techniques, performing text believably in rhyming couplets and comedic timing. Surprise yourself with how much you learn about acting and directing in the process.
BRAND NEW! The Emeritus Players — Adults: Seniors and Retirees | Tuesdays | Nov. 28 – Dec. 19 | 2 to 3:30 p.m.
A new troupe celebrating the performing talents of community retirees will prepare short, holiday-themed reader's theatre pieces to be performed for audiences around Quincy. Spend the first three sessions learning reader's theatre techniques, creating fun characters, making silly props and costume pieces. Take it out "on the road" Dec. 19 and 20 to local Quincy venues to share the holiday joy.
In a press release, Currier said, "I am really excited about the variety of theatrical forms and skills we're going to be exploring, learning and performing this fall semester. I am especially delighted by the opportunity to teach (and play) with such a wide range of ages and experience levels in such a talented community."
For more information and to enroll in classes, visit 1qct.org/classes or call QCT at 217-222-3209.
Miss Clipping Out Stories to Save for Later?
Click the Purchase Story button below to order a print of this story. We will print it for you on matte photo paper to keep forever.