Aldermen approve spending $1.182 million on two fire trucks that won't arrive in Quincy for two years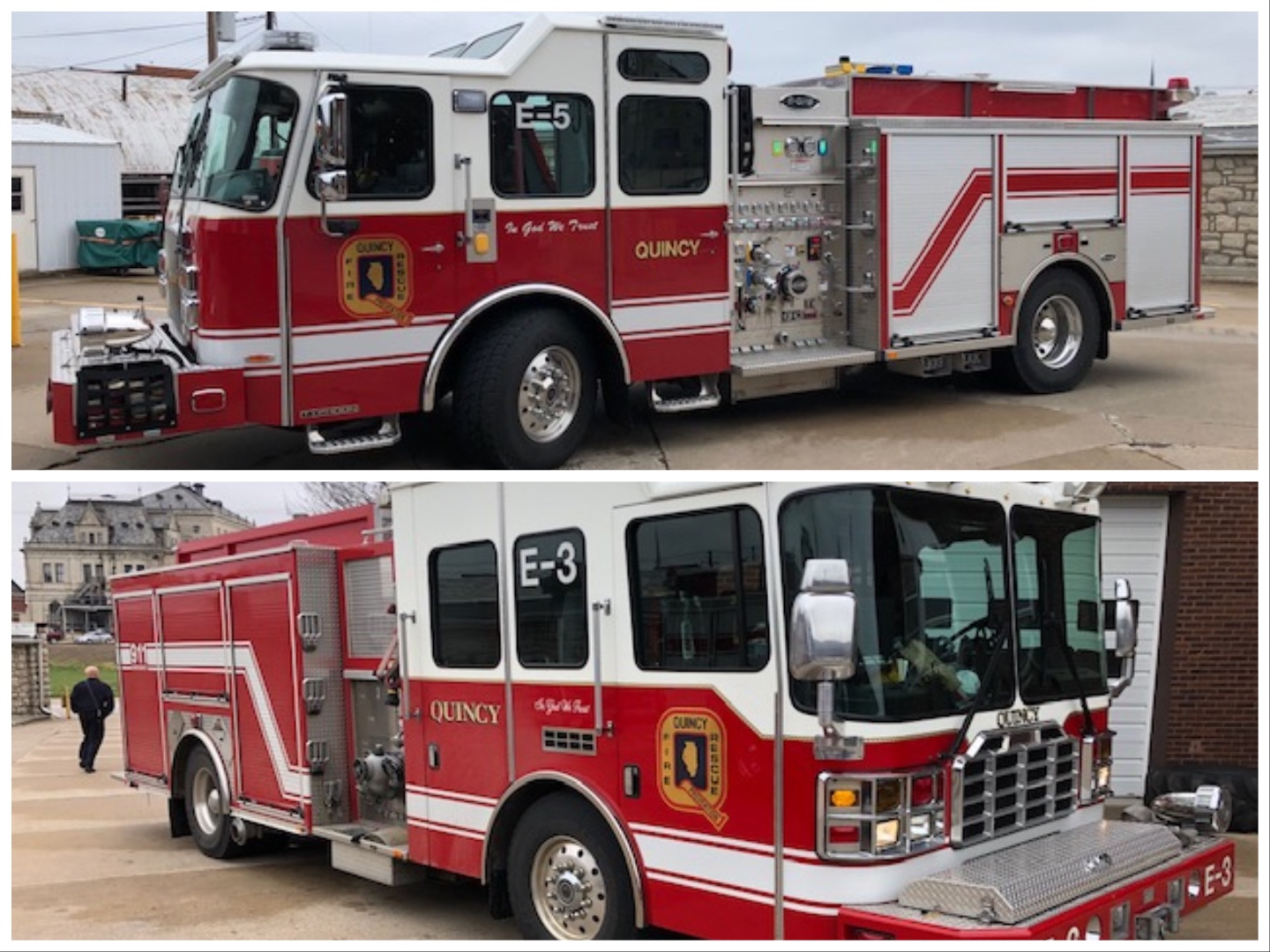 QUINCY — The Quincy City Council recommended approval Tuesday night to go into a contract with Banner Fire Equipment from Roxana to spend $1.182 million on two 2025 E-One fire trucks that the department won't receive for two years.
The Quincy Fire Department operates five trucks in "front line" status. However, Engine No. 7 is 22 years old, Engine No. 8 is 28 years old, Engine No. 3 is 13 years old and experiencing significant maintenance issues, and Engine No. 6 is 18 years old and due to be moved to reserve status.
The city has set aside $241,827.65 in the apparatus replacement fund with funds from providing fire service to the Illinois Veterans Home.
"We definitely have a service life about 20 years for our vehicles, and at that point, we move them into reserve status because of maintenance issues and costs and that kind of stuff," Fire Chief Bernie Vahlkamp told aldermen.
He said he learned one truck would cost about $711,000, and the department would receive nearly $100,000 on a prepayment discount. Vahlkamp also said emission standards for diesel engines will be fully enacted in 2027, adding approximately $100,000 to the cost of each engine.
Vahlkamp said the department bought two trucks from Banner in 2019.
"These four trucks, which will be our frontline trucks at all the stations, will all be configured the same," he said. "So for training, for response time, for the manpower as far as using them and stuff, they've been very reliable. They're very good. They carry a little bit more water on them. For our guys as far as training goes, this is going to make it simpler."
Aldermen also agreed to allow the fire department to participate in the Illinois Federal Surplus Property Program. Vahlkamp said the city doesn't have a current account with the program. Participation in the program must be renewed every three years.
Vahlkamp said entering the program allows the department to obtain a piece of heavy equipment to be stored and used at the Quincy Regional Training Facility. The equipment will allow the fire department to develop and create training scenarios without assistance from Central Services.
Aldermen also approved buying 13 sets of bunker gear for $44,720 from AEC Fire Safety & Security, Inc. They also agreed to pay $7,550.59 to Sentinel Emergency Solutions of St. Louis for annual service and maintenance of self-contained breathing apparatuses.
Ten sets of bunker gear are to replace gear that is 10 years old while also providing firefighters with two sets of serviceable gear for cancer prevention measures and safety requirements.
Four aldermen — Greg Fletcher (R-1), Jeff Bergman (R-2), Dave Bauer (D-2) and Mike Farha (R-4) — voted against accepting the report of the Finance Committee. Farha said his vote was not an expression of dissatisfaction with Comptroller Sheri Ray and her department.
"My vote was against the war we're conducting on the Quincy Police Department," Farha said. "You'll find out about this soon enough. There'll be a resolution of the (contract) negotiations. I just want people to know where I stand. I stand with the people in blue. They've got a tough job to do, and they don't need to be fighting a meaningless war with us."
Aldermen also:
Gave permission to J&M Displays Inc. to hold firework displays at approximately 9:30 p.m. July 4 at Quinsippi Island.
Gave the United Way of Adams County permission to conduct a raffle from Aug. 1, 2023 to July 31, 2024.
Approved a request by Waters Collision Center to amend a special permit, allowing for a 1,200 square foot expansion to the east of a building at 935 State.
Approved a request by Klingner & Associates, on behalf of Drew Niemann, to subdivide one lot into seven lots on property at 1700 Koch's Lane.
Approved a request by Lee Bevill for a special permit for planned development, allowing for the operation of an Investment Advisory Practice at 2240 Broadway.
Approved a request by Vikki Crider and Sylvia Tillman for a special permit for planned development, allowing for the operation of a 24-hour daycare facility for children age 12 and under at 3700 East Lake Centre Drive.
Approved a lease, warranty deed and intergovernmental agreement with Quincy Township related to the City Hall Annex, 706 Maine.
Approved an ordinance to delete the Planning & Development Committee from the city's list of standing committees.
Approved an ordinance amending the 2023-24 Fiscal Year budget. The ordinance appropriates $182,000 for Fire Department to buy a second pumper apparatus; increase the airport fund for phase four of the Runway 4/22 project for a total budget of $13,654,600 with federal/state reimbursements of $13,313,235; and add $30,000 to hire summer help at Central Services.
EDITOR'S NOTE: The time of the fireworks display on July 4 was incorrect in an earlier version of this story.
Miss Clipping Out Stories to Save for Later?
Click the Purchase Story button below to order a print of this story. We will print it for you on matte photo paper to keep forever.