An update on Hannibal City Clerk investigation might be coming and the city manager report requirement is voted down for an eighth time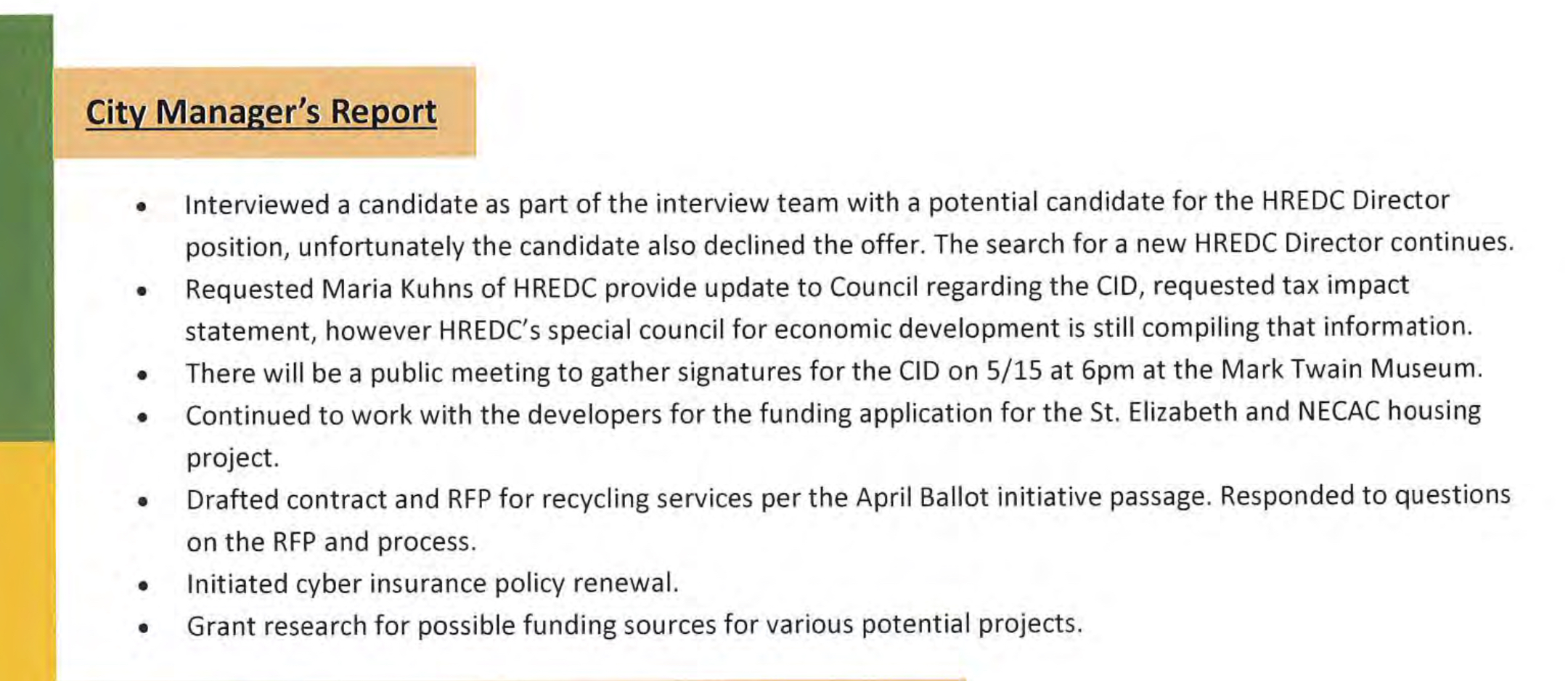 HANNIBAL, Mo. — Questions about the investigation of the Hannibal city clerk might be answered at the next Hannibal City Council meeting on June 6.
At the council meeting Tuesday evening, April Azotea, owner of La Azotea Lounge in Hannibal, asked about the status of the investigation on City Clerk Angel Zerbonia who, according to Azotea, has been paid around $40,000 while on paid administrative leave.
Zerbonia was put on paid administrative leave in November 2022 after a July 2022 email from Central Services Director Andy Dorian was circulated, indicating a hostile work environment in the city clerk's office.
Deputy City Clerk Melissa Cogdal is serving in Zerbonia's place. Zerbonia has been employed by the city for about 20 years.
City Attorney James Lemon said he is waiting on information from the city's insurance company, which he expects any time. He believes there will be an update before the next meeting.
Lemon has asked patrons and councilmen in past council meetings not to speculate about or discuss Zerbonia until the investigation is complete.
"Everyone is entitled to due process. There will be no attacks on individual employees," Lemon said in the December meeting following Zerbonia's administrative leave.
At the same December meeting, former city employee Edie Graupman came forward to say there is "a huge morale issue within city government."
"There is a hostile work environment," she said, citing numerous instances that had affected her.
About a dozen speakers stood up that evening to tell the council they want transparency in their city government.
Resident Kristy Trevathan spoke at length about what she felt was "negative energy" emerging from City Hall that is centered around the developing situation.
"We need continuity in city government," Trevathan said.
The issue with transparency has surfaced with a proposal by Councilmen Stephan Franke and Charlie Phillips to require City Manager Lisa Peck to do a monthly report to be discussed at each meeting. Former councilmen Allan Bowen and Jim Van Hoose have both spoke at meetings to support the required report. 
Bowen recalled the previous reports and said it would provide a timeline for past events, such as grant proposals. He also mentioned he had supported the idea of making the reports a requirement when he was a council member.
Van Hoose, after researching city manager reports from other cities, suggested posting an online report before each meeting. After that suggestion, March and April have been posted on the city's website at http://hannibal-mo.gov/city-manager-monthly-reports/. The reports include updates from all department heads, including status reports on projects, work anniversaries and upcoming retirements.
The verbal report Franke and Phillips are proposing requires Peck to give highlights of the report at each meeting. 
Franke and Phillips' proposal was voted down for the eighth time with a 4-2 vote.
The four who voted against the proposal were Councilmen Colin Welch, Mike Dobson, Jeff Veach and Darrell McCoy. The two who voted in favor were Franke and Phillips. Mayor Jim Hark was absent.
Phillips said at last night's meeting the verbal report would add no more than 10 minutes to each council meeting. 
Phillips brought up a recent Facebook post by Dobson asking what could be more transparent than posting the city manager report online. 
"Our answer is the same as it has been for seven consecutive meetings: Update the ordinances to require a monthly report from the city manager to the city council and to the citizens for whom we serve in our open and public council meetings," Phillips said.
Franke followed Phillips' comments with highlights from the April city manager's report including: 
A planning meeting was held for the city's new website.
The old humane society building has officially been sold.
New accounting software is officially under contract. According to interim City Clerk Melissa Cogdal, the process will take about 12-18 months.
Lt. Jennifer Grote from the Hannibal Police Department is celebrating 23 years on the job.
Finished paving Union Street, which completes the stormwater project.
Franke later said he enjoyed reading the reports and believes accomplishments of city employees should be publicly recognized in the meetings.
Welch, who has voted both in favor and against the proposal, voted against it at Tuesday's meeting. He said the proposal is not gaining traction, and he believes it is going to move forward. Welch said he is happy with the online reports from Peck.
In other business:
Hannibal Convention and Visitors Bureau Director Megan Rapp said she is applying for a matching grant from the Missouri Division of Tourism.
Council members approved the contract for recycling services through 2 Rivers Industries Inc., following the April 4 voter approval of Proposition R, which established a $1.90 monthly fee.
Street closures were approved for Music Under the Stars and the use of the Admiral Coontz Recreation Center for indoor use when weather prevents outdoor concerts.
Capt. Steve Terry from the Mark Twain Riverboat discussed a pending electrical upgrade.
Dobson announced Andrew Wikstrom was appointed to the Historic Development District Commission for a term expiring May 2028. 
Miss Clipping Out Stories to Save for Later?
Click the Purchase Story button below to order a print of this story. We will print it for you on matte photo paper to keep forever.