As Park District struggles with finances at Art Keller Marina, Frericks says restoring Hogback Island is 'out of our control'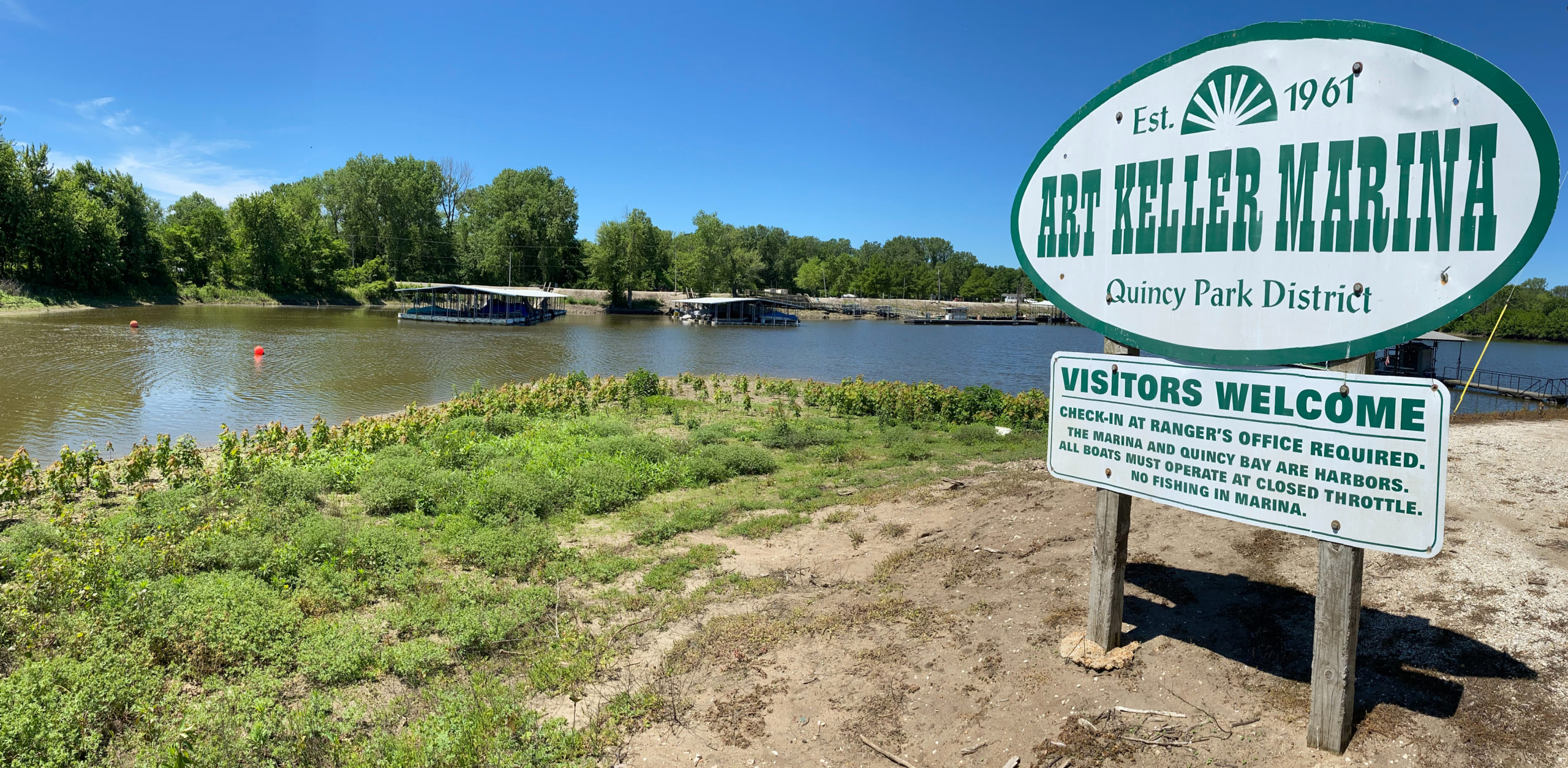 QUINCY — Wednesday's special meeting of the Quincy Park District Board of Commissioners was designed for local boat owners to offer ideas for stemming the loss of income at the Art Keller Marina.
About 30 people attended the meeting, and many of them discussed issues concerning cleanliness, security, accessibility to Quinsippi Island, low water levels and the cost of a boat slip in the marina. However, only one boater seemed to address the biggest issue at hand.
A chart provided by the Quincy Park District showed the highest number of covered slip rentals at Art Keller was at 192 (out of possible 222) in 2011. That figure has decreased in eight of the past nine years, and 104 slips (out of a possible 202) are rented as of May 27 this year for a 45 percent decrease.
Dave Grimm had his theory for why that decline started.
"That was the last time we had Hogback (Island) here," he told the Board of Commissioners. "If there's nothing out there for people to do, there's no reason to go out. There's only so much you can do. … So what you need to do is contact the Corps of Engineers and talk to them about a recreational beach. That's how you bring the marina back."
Corps 'doesn't care about … recreation'
Rome Frericks, executive director of the Quincy Park District, says it won't be that simple. He said that members of the Quincy Bay Area Restoration and Enhancement Association group recently spoke with members of the Corps of Engineers.
"What (QBAREA) is telling us is the only concern that (the Corps has) is keeping a nine-foot navigational channel for the barges," Frericks told the group. "They don't care about anything for recreation right now."
Frericks said after the meeting that any work toward restoring Hogback Island is "out of our control."
"It's politicians talking to the Corps, but are they going to spend the time and money and resources to put sand on an island for boaters, or do they want to make sure that all the corn and beans get up and down the river?" Frericks said. "From what I understand, during all the recent flooding, every time the water gets to 24, 27, 31 feet, the current comes down and just blows (the sand) away."
Marina projected to lose $30,000 in 2021
The marina's operating income was positive for a seven-year run from 2012-2018, with it earning as much as $20,567 in 2014. However, the marina lost $5,374 in 2019 and $11,711 in 2020, and it is projected to lose $30,000 in 2021. However, information provided by the Park District showed that when depreciation is factored, the marina is losing an average of $45,318 over the past 10 years.
Commissioner John Frankenhoff explained to the crowd that the marina, much like Westview Golf Course, should be self-sufficient, with minimal or no tax dollars supporting the operation.
"If anybody has in their head that the marina makes money … and that we take part of that profit and use it elsewhere (in the Park District), that's absolutely false," he said. "We are at the point now where our expenses exceed the revenue, so we are using tax dollars to keep the marina open."
Rental slips create 73 percent of the marina's revenue, with the sale of fuel creating 26 percent. Rental revenue has dropped 32 percent since 2011, and revenue from the sale of fuel has dropped 56 percent.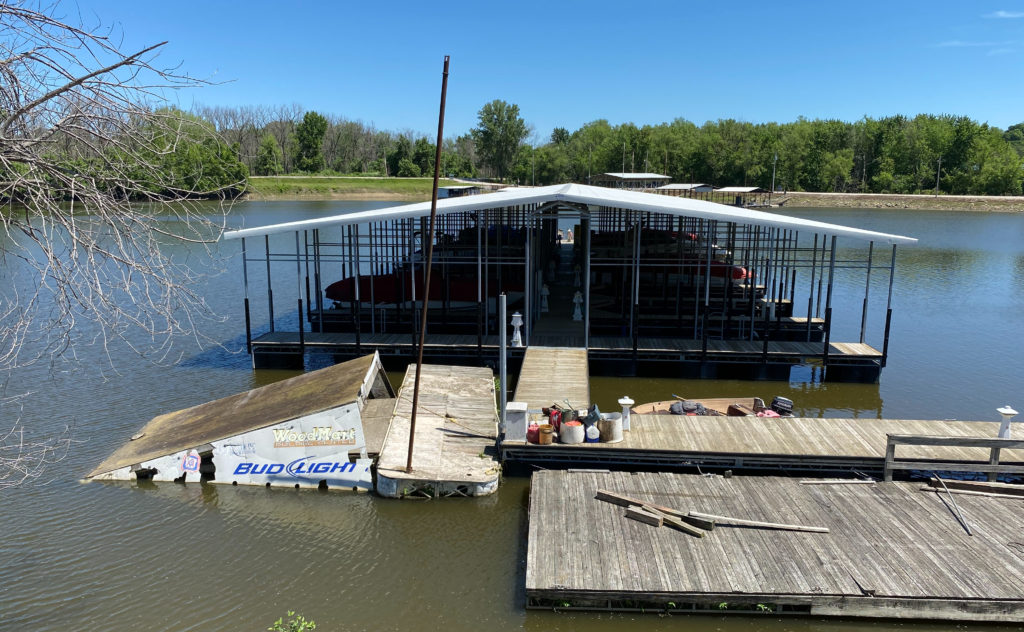 Friends of the Marina?
A request for proposals to privatize the marina was made in December, but no one met the Park District's Jan. 11 deadline. A second attempt to find someone to take over the marina is expected to be made this summer.
Roger Leenerts, president of the Board of Commissioners, was pleased with Wednesday's turnout and some of the ideas about improving the marina's condition. However, he says he's still looking for suggestions to make the marina more profitable.
"I'm not criticizing anybody for not coming up with something, because that's the problem," he said. "Nobody has been able to come up with some ideas. … We're kind of all in this together. Our goal as a board is to keep the marina open so that it doesn't take money from the taxpayers to operate it."
Grimm believes city, county and state officials must join Park District officials to put pressure on the Corps of Engineers.
"They need to say, 'We need this done,'" Grimm said. "There isn't much to do (on the river). If you've got a recreational area, the other problems would cure themselves. You're going to fill the marina again, and I believe it would happen in two years."
John Gebhardt, a member of the Board of Commissioners from 1997-2001, is known for his work as the president of the Friends of the Log Cabins, which has worked to preserve a group of Lincoln-era log structures from the 1800s on Quinsippi Island. He spoke about how he supported all sorts of recreational activities during his time on the board.
"The marina is another one of those things, and to me, a city like Quincy without a marina is a joke," he said.
Commissioner Jeff Steinkamp issued a challenge to the boaters in attendance who addressed other areas of concern.
"Would someone here put together something that could have some control, have some financials and some fundraising?" he asked. "Get together and organize some volunteers to just be watchful. You know, we've got the Friends of the Trails, Friends of the Bull House, Friends of the Castle, Friends of the Log Cabins. That's how things get done now.
"I think (the board would) be supportive. I can't speak for the board, but I know when we did the Lorenzo Bull House, we were supportive getting them up and running, getting stuff on websites and that kind of stuff. I hope it would be something this group might entertain."
Marina covered slip rentals since 2011
| | | | |
| --- | --- | --- | --- |
| Year | Slips rented | Possible boat slips | Percentage rented |
| 2011 | 192 | 222 | 86% |
| 2012 | 184 | 222 | 83% |
| 2013 | 168 | 182 | 92% |
| 2014 | 163 | 202 | 81% |
| 2015 | 154 | 202 | 76% |
| 2016 | 137 | 202 | 68% |
| 2017 | 140 | 202 | 69% |
| 2018 | 129 | 202 | 64% |
| 2019 | 113 | 202 | 56% |
| 2020 | 111 | 202 | 55% |
| 2021 | 104* | 202 | 51% |
| *-through May 27 | | | |
Miss Clipping Out Stories to Save for Later?
Click the Purchase Story button below to order a print of this story. We will print it for you on matte photo paper to keep forever.