Dobson will ask judge to rehear already dismissed impeachment charges against Franke
HANNIBAL, Mo. — Hannibal Mayor Pro Tem Mike Dobson confirmed Wednesday at the Hannibal City Council meeting he will request for a judge rehear impeachment charges against Third Ward Councilman Stephan Franke.
Marion County Associate Judge John J. Jackson granted a motion to dismiss impeachment charges against Franke on June 6, who represents the 3rd Ward on the Hannibal City Council.
The motion said city officials did not comply with court orders this year on Jan. 4, Jan. 12 and Feb. 17, requiring discovery and procedural orders to comply with the Missouri Rules of Criminal Procedure. Franke also said they did not fulfill his request for discovery filed on Feb. 11, 2022.
Articles of impeachment were filed by Mayor James Hark against Franke in January 2022, alleging Franke grabbed the arms of City Manager Lisa Peck and former City Clerk Angel Zerbonia "in a non-consensual manner," causing pain to the city manager.
Dobson confirmed the impeachment charges against Franke have been amended and refiled when questioned by April Azotea, owner of La Azotea Lounge in Hannibal, during the patron comment section of Wednesday's City Council meeting.
Dobson said he amended the charges because they haven't been heard by the council.
Azotea asked Dobson why he thought the amended impeachment charges would have a different result when heard again by Jackson.
City Attorney James Lemon advised Dobson not to answer.
Lemon is not the attorney for the impeachment charges but said he was "aware of the conversations you have had with those attorneys."
"This is invading the area of legal advice you have received," Lemon told Dobson. "I don't want you to do anything that prejudices the city."
Azotea asked Dobson if the City Council voted to amend the impeachment charges against Franke or if it was a decision made by Dobson alone. Neither Dobson nor Councilmen Darrell McCoy (Ward 1) and Colin Welch (Ward 5) answered. Councilman Jeffrey Veach (Ward 6) was absent. Councilman Charlie Phillips (Ward 4) said he did not have a say in amending the charges.
Azotea also questioned the tax dollars paid to Nicole Volkert, who represented the City of Hannibal on the dropped impeachment charges. City Clerk Melissa Cogdal did not have an exact cost to report but told Azotea she will provide it. She had seen a couple of invoices of about $20,000 each.
"In a handful of meetings, there was a lot of back and forth to get the police department and fire department raises, and you had to figure out how to work that in the budget, yet we have no problem wasting — if I had to take a wild guess —- about $70,000 based on hearsay," Azotea said.
When Azotea questioned how citizens can give input on how tax dollars are spent, Welch said 30 minutes are allotted for patron comments — a rule established by the City Council earlier this year. The patron comment time begins at 6:30 p.m. each first and third Tuesday of the month before the meeting begins at 7 p.m.
Dobson mentioned a public hearing is held for the budget.
Azotea also questioned the use of tax dollars when responding to her sunshine request of the investigation report of former Hannibal City Clerk Angel Zerbonia.
The City Council placed her on administrative leave in November 2022 due to allegations of a hostile work environment, then voted not to retain Zerbonia on June 9.
Azotea held up the report provided by the city of Hannibal with more than half of the pages fully blacked out.
"Do you think this a good use of tax dollars or employees time to print this?" she asked.
Franke explained the blacked-out pages are from a city ordinance that protects personnel data in internal investigations. He also mentioned the sunshine request probably should have been fulfilled electronically instead of printed.
"I'm well aware of that, but I feel like this was a waste of somebody's time. Not just the ink itself but time is money, and I feel like someone certainly wasted their time having to do that," Azotea responded.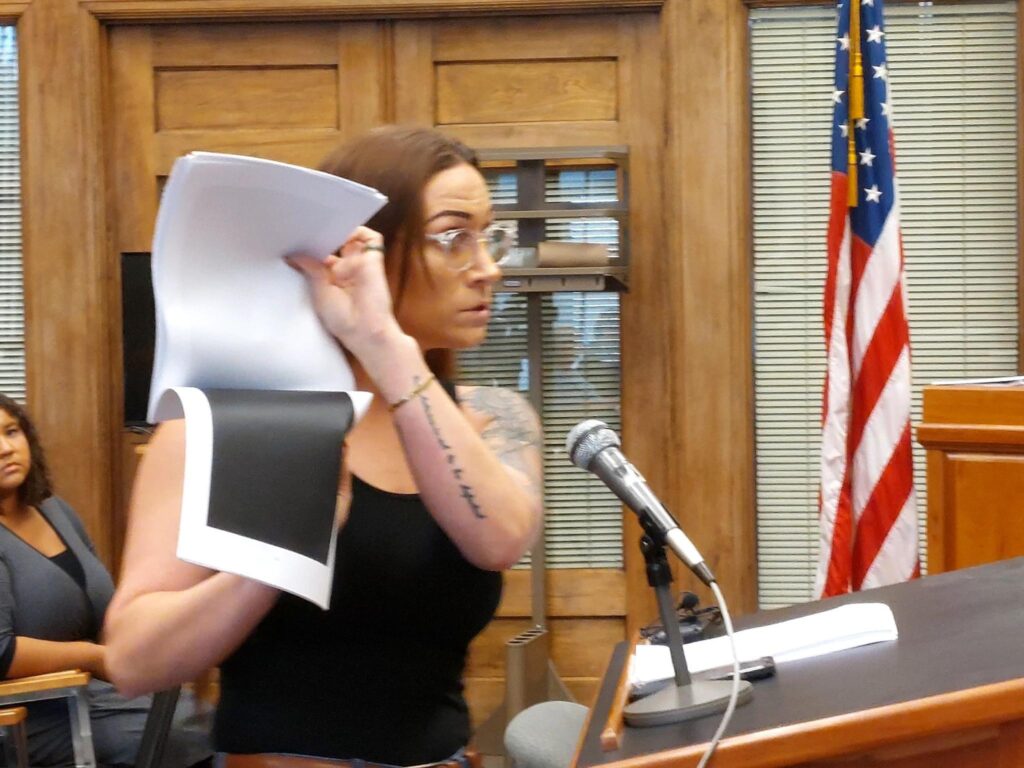 Street Closures Approved:
One lane on Church and the eastern alley behind the Hannibal Public Library on July 19 from 2-3 p.m. for Community Heroes Day.
North Main from Broadway north to North Street for the FolkLife Festival on Oct. 21-22.
Collision Street between Market and New London Gravel for the Hannibal Bar-b-que Festival on July 21-22.
Appointments:
Kellie Cookson was appointed to the Board of Public Works, with her term to expire in July 2027.
Roy Hark was reappointed to the Library Board with his term to expire in 2026.
Vicky Wittaus was reappointed to the Library Board with her term to expire in 2025.
Purchase approvals:
A bid of $159,624.60 for the purchase of an arm cutting tractor was approved, as was a bid of $122,782 for the purchase of a skid steer.
Other Business:
Megan Rapp, director of Hannibal Convention and Visitors Bureau, requested a bid waiver in the amount of $200,000 to purchase advertising. Rapp said advertising can't be purchased through the bid process and need to be purchased outright.
Andy Dorian, director of Central Services, requested approval to sell city-owned properties at 1120 Valley and 1906 Chestnut. Each property will be sold for $575.
The council heard from Building Inspector Mike McHargue about a request for rezoning of an area of Arapaho behind Casey's gas station on McMasters from a One and Two Family Zone to a D-Highway Business zone. The request was made by Melvin Bramblett to create parking for his business, Dimensional Hair Design. The Hannibal Planning and Zoning Committee unanimously approved the request June 15.
Phillips and Franke proposed amending a city ordinance to require Peck to read highlights from her monthly report. The proposal was voted down for the 11th consecutive meeting.
EDITOR'S NOTE: The position Kellie Cookson was appointed to was incorrect in an earlier version of this story.
Miss Clipping Out Stories to Save for Later?
Click the Purchase Story button below to order a print of this story. We will print it for you on matte photo paper to keep forever.