Eight to be honored during alumni dinner on Friday night at Culver-Stockton College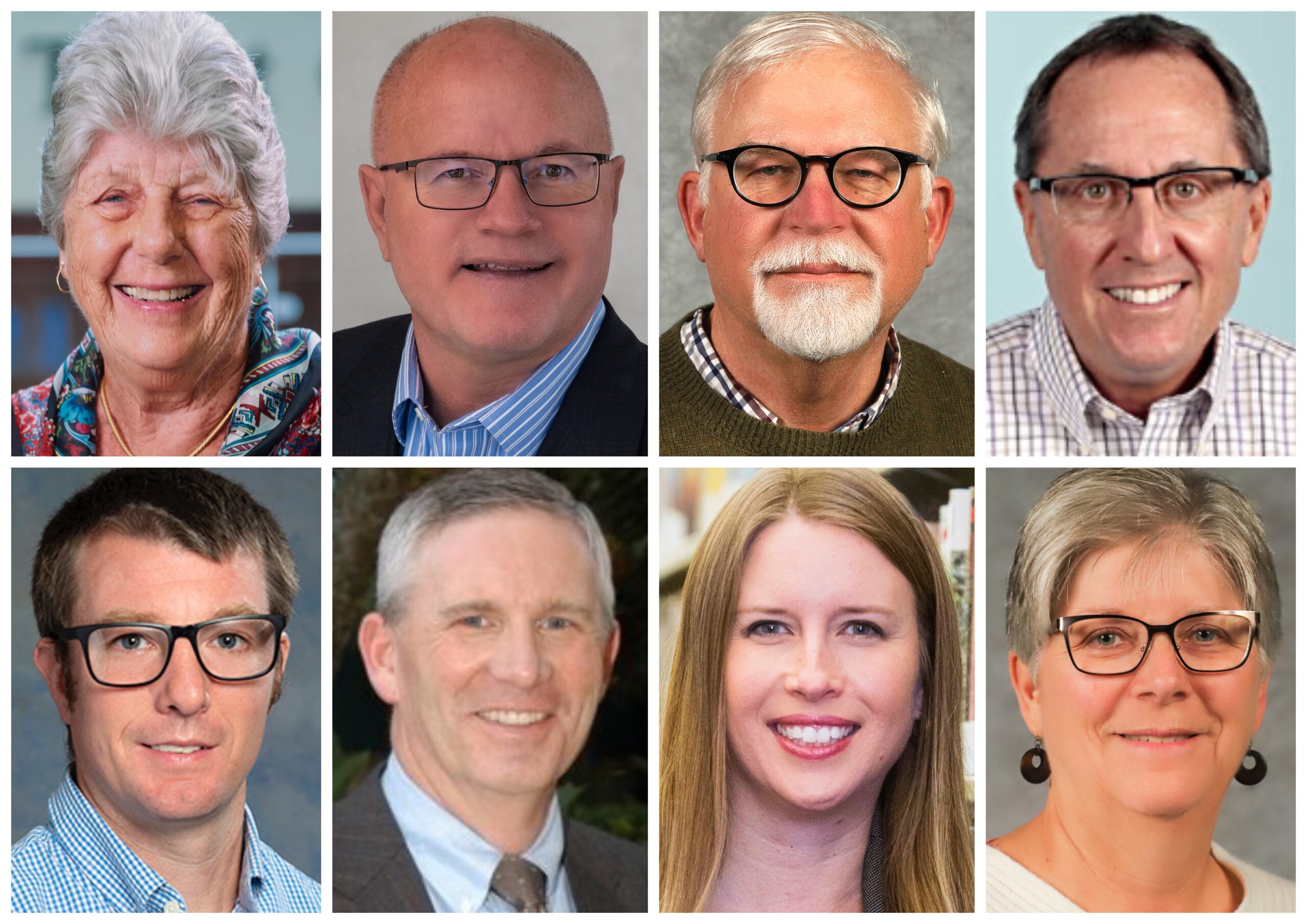 CANTON, Mo. – Culver-Stockton College will honor eight people for their contributions to the campus and community during a banquet at 5:30 p.m. Friday, Oct. 27, in Meaders Lounge in the Gladys Crown Student Center on campus as part of the college's homecoming weekend activities. 
Steve Oslica ('80), president of the C-SC Alumni Board, will present awards to:
Don Tolly – Leadership & Service Award
Tolly earned his bachelor of science degree in business administration in 1987 from C-SC, where he was a member of Alpha Tau Omega. He has worked in the insurance industry for 36 years, including 34 years with American Family Insurance. A certified member of the Chartered Property Casualty Underwriters, Tolly operates three offices with locations in St. Joseph, Kansas City, and Columbia. He was awarded the "Community Impact Award" for the state of Missouri for American Family Insurance in 2022 and was also named one of the "50 Missourians You Should Know" by Ingram's Magazine in 2021. Outside of work, Tolly enjoys fishing, bow hunting, and traveling. He is married to Kerry and has two children, Matthew and Katlyn, and two stepchildren, Maddie and Katie. 
Terry Traeder – Leadership & Service Award
Traeder is a 1974 graduate of Colorado State University, where he earned a degree in marketing. His wife, Glori, earned her degree in nursing in 1998 from Culver-Stockton College and works as a nurse practitioner. Traeder has served on the C-SC Board of Trustees since 2012. Since his college graduation, he has owned a number of businesses in retail, wholesale distribution, manufacturing, finance, and real estate. He is currently president of TNT Golf Car & Motorsports in Wentzville, Mo. Outside of work, Traeder enjoys golf, tennis, racing and travel. He became a national and professional karting champion, having raced karts throughout the United States for 36 years. Elected to the Racing Hall of Fame in Charlotte, N.C., in 2021, Traeder is still active in the sport, promoting karting close to home at the track in West Quincy, Mo. He and Glori reside in Quincy, Ill. They have three children, Jason, Tara and Paige, and three grandchildren, Calvin, Ben and Silas. 
Phyllis Hofmeister – Honorary Wildcat Award
A nursing graduate of the University of Colorado, Hofmeister worked as an operating room nurse and teacher at Blessing Hospital School of Nursing before being awarded an honorary doctorate of humane Letters from C-SC in 2006. She has been active with several local nonprofit organizations, including Cheerful Home, where she was instrumental in developing an Infant Care Center. Hofmeister's other community involvement includes serving on the boards of First Bankers Trust Company, N.A., First Bankers Trust Share, Inc., TI Trust, Inc., and the Blessing Hospital Foundation. She served as a C-SC trustee board member for 13 years. She has been married for 63 years to her husband, Bob, who also is active in the community. The couple enjoys traveling and spending time with their son, Kurt, and his family. 
Chris Huebotter – Dome Award
Huebotter earned her associate degree in science in 1982 and her bachelor's degree in history in 1997 from C-SC. While a student at C-SC, Huebotter worked as a student employee in the registrar's office, where she began a full-time position in 1982 and worked there since for more than 40 years. Throughout her employment, she has developed a reputation of respect and loyalty. She is credited with implementing two different administrative computer systems, including online registration for students and online advising programs. She volunteers with Hadlee's Hope, which provides snack bags for school kids, and serves as a board member of the Lewistown Senior Housing Corp. and the Lewis County Industrial Development Association. She has been married to her husband, Jack, for 40 years. They have a daughter, Sarah Setzer, and her husband, Nick. They also have three grandchildren, twins Ryann and Rylee, and grandson Rowdy. Outside of work, she enjoys sewing, crafting, gardening, and watching sports. 
C. Patrick Hotle – Dome Award
Hotle, the John A. Sperry Jr. Endowed Chair of Humanities, taught at C-SC for 30 years before retiring in 2023 and was then named faculty emeritus. He received his bachelor's degree in history from the University of Iowa, his master's in international relations, and his doctorate in history from Cambridge University in England. Hotle was a Fulbright Scholar in Turkey and a Schusterman Fellow at Brandeis University. He began his career teaching high school at Kennedy High School in Cedar Rapids, Iowa. He then taught at the American-Nicaraguan School in Nicaragua, the Cairo-American College in Egypt, St. John's International School in Belgium, the American School of the Hague in the Netherlands before joining the faculty at Culver-Stockton College. Hotle has received the Governor's Award for Excellence in Teaching and the President's Award for Exemplary Service. He has authored books on the Renaissance, Egypt and the Middle East, and Russia. He enjoys traveling, horses, and music. He is married to Mary Oatman, a 1979 graduate of C-SC.
Kathleen (Arnsman) Helsabeck – Outstanding Young Alumna
Helsabeck graduated C-SC in 2006 with a bachelor of arts in history and political science. She earned her master's degree in library and information science from the University of Urbana Champaign in 2008. She is a member of the Chi Omega sorority. Helsabeck was employed as a librarian and dean of education at Vatterott College before serving as the executive director of the Quincy Public Library in Quincy, Illinois. The library, with 30 employees and a $4 million budget, operates in both government and nonprofit capacities, allowing Helsabeck to apply her knowledge in political science. She is married to her husband, Chris, and they have two children, Nathanial and Adeline. She is an organist and active member of the First Christian Church in Quincy.
Trent Platz – Outstanding Young Alumnus
Platz is a 2006 graduate of C-SC where he earned his bachelor's degree in biology. He received his master's degree in medical science at Emory University and is a certified anesthesiologist at St. Joseph Center for Outpatient Surgery. He is also an adjunct professor of anesthesiology at the University of Missouri-Kansas City. He paddled 340 miles with friends on the Missouri River for the MR340 race. Platz then established the Rat Pack Endowed Scholarship at C-SC in 2018 to celebrate the friendship of the group, which joins together annually to honor Sergeant Matt Lewellen by rucking 26 miles in his memory. Outside of work, Platz, who resides in Kansas City, enjoys traveling, fishing, mushroom hunting, Yingling beer, cryptozoology, and spending time with his partner, Jamie Simpson.
Dan Dickinson – Distinguished Alumnus
Dickinson attended C-SC from 1968-1971. He received a Bachelor of Music Education degree from Western Illinois University. His career was in the aviation industry where he became a partner at the age of 26 with General Aviation Services, Inc., a company responsible for purchasing and selling corporate and jet business aircraft globally. The company developed groundbreaking systems, founding three separate companies in the commercial aircraft sector and going on to develop a total of seven companies. Three of those were merged and four companies were sold. His community involvement includes serving as a chair and founding member of the National Aircraft Resale Association and chair and founder of Transplant Village, NFP. He served as the external board chair of Northwestern Medicine Comprehensive Organ Transplant Center and on the board of St. Norbert College from 1999-2021. Dickinson was the Konneker Leader-In-Resident at C-SC in 2018. He enjoys business start-up projects, boating and outdoor activities, and spending time with his wife, Nancy, and daughters, Laurie and Ann.
Miss Clipping Out Stories to Save for Later?
Click the Purchase Story button below to order a print of this story. We will print it for you on matte photo paper to keep forever.