Hannibal City Council meeting addresses priorities and accountability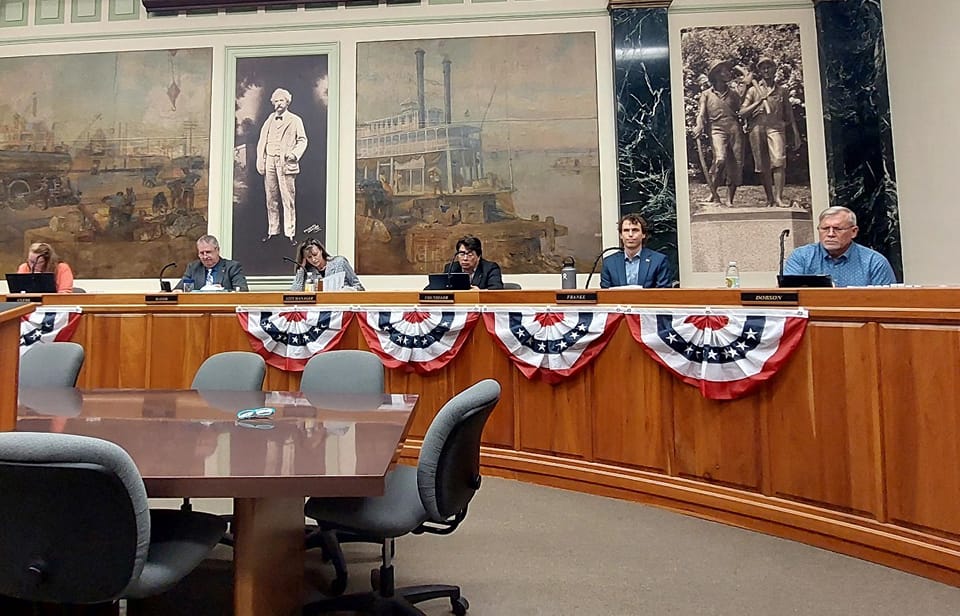 HANNIBAL, Mo. – The Hannibal City Council meeting became a little heated Tuesday evening as several issues were discussed.
The proposal by two councilmen, Charlie Phillips and Stephan Franke, that would require City Manager Lisa Peck to give monthly updates. Councilman Mike Dobson moved to table the proposal.
Charlie Phillips told the group he has no animosity toward anyone but doesn't know why the monthly reports are disputed. "I cannot understand why this simple but essential report from the city manager cannot be installed…It provides for transparency and accountability that we on the council and our constituents deserve."
Franke also questioned the move to table the proposal.
"When a group of people are so staunchly opposed to transparency and accountability they run the risk of the public thinking of them as attempting to conceal the truth from citizens," Franke said. "They run the risk of creating the image that there are wrongdoers attempting to cover up wrongdoing. City council has firmly put themselves in this position."
McCoy insisted that accountability does matter to the council. He also reminded the councilmen that with pending litigation, there are matters they are not allowed to speak on in order to protect the city and due to ongoing litigation, stating that "we are all handcuffed by what we can and can't say."
"It sucks really bad that I can't explain to you why I agree with Mr. Dobson on this. We are being accountable. We are being accountable to the city employees, staff and taxpayers," he continued. "I am sorry that a couple of select people up here don't agree with that and want to make the rest of us look like we don't care about accountability. That is the furthest thing from the truth."
Councilman Colin Welch said while he believes the monthly reports are a good idea but not right now. "A little bit down the road after things calm down," he said.
All councilmen voted in favor to table the monthly update proposal except Franke and Phillips.
Patron April Azotea addressed the council about the rising crime in Hannibal and questioned whether the decision to continue paying City Clerk Angel Zerbonia, who is on paid administrative leave, could instead go to fighting crime.
Lemon told Azotea that the council will decide after the conclusion of the investigation whether to reappoint Zerbonia.
"You don't fire people based on the fact that someone made a claim against them," he said. "It doesn't matter whether she is an appointed employee or a hired employee, she has employee rights and her rights are being protected."
Airport Terminal Update to repair indoor and outdoor areas:
Director of Central Services Andy Dorian brought an aviation project consultant agreement in the amount of $79,013.85 to the Hannibal City Council meeting for approval on Tuesday.
He said that 95% of the cost would be covered by a Bipartisan Infrastructure Law bill requiring the city to pay only $3,950.69 for the project.
Also discussed at the meeting:
-Building Inspector Mike Murphy requested two public hearings. The first proposal requires a permit from the humane society to own more than three cats, other than licensed veterinarians, clinics, or hospitals. The second proposal would add a section to the city ordinance regarding animal care to define as commercial, and require a business license for places such as animal shelters, domestic animal training facilities, grooming shops, pet shops, riding schools or stables and veterinarian clinics.
-City Council approved an ordinance to put a complaint process in place for city employees.
-Street closures were approved for the Hannibal Public Library's egg drop on March 18 and for Oakwood 5K walk/run on May 5.
-The council also approved a low bid of $150,587 from Altorfer to purchase a 2022 Caterpillar 310 excavator to replace the Street Department's current 2011 excavator.
Miss Clipping Out Stories to Save for Later?
Click the Purchase Story button below to order a print of this story. We will print it for you on matte photo paper to keep forever.