Hannibal High School seniors celebrate each other and their futures at Decision Day ceremony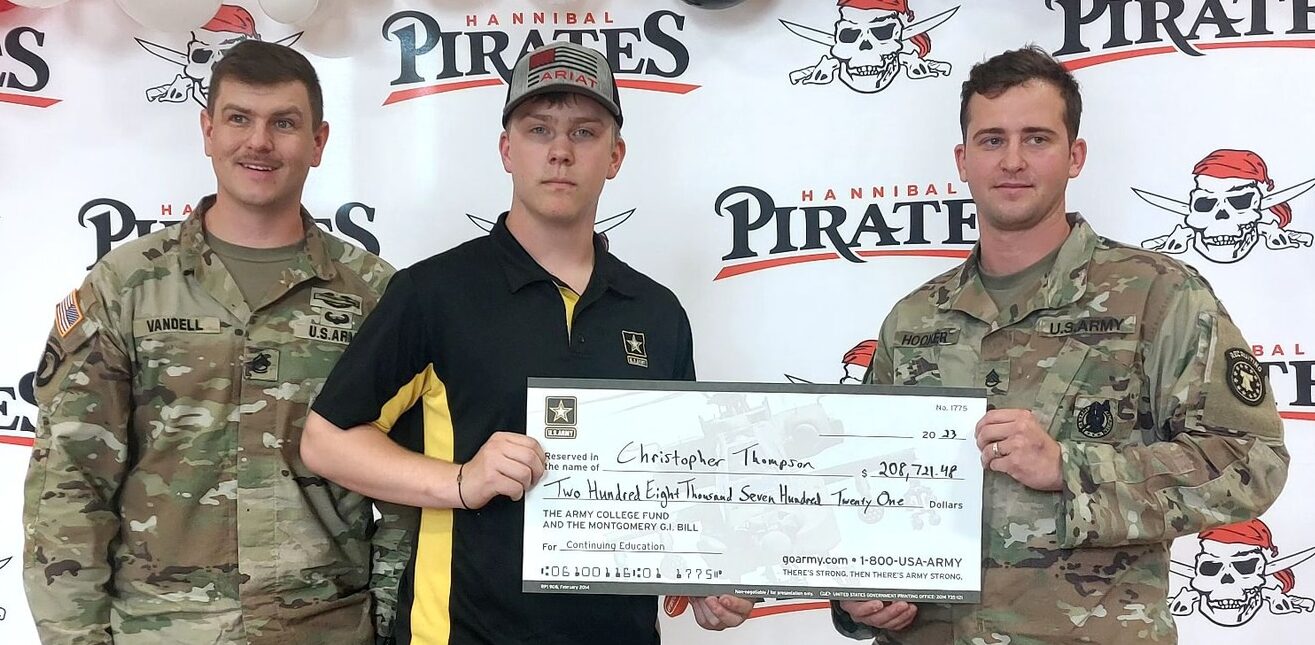 HANNIBAL, Mo. — Senior students at Hannibal High School gathered in Patterson Gym and celebrated each other on Decision Day.
Each student was met with applause and cheers as they walked to the front of the gym when their name and chosen post-graduation path was announced. A kaleidoscope of bright futures sat in the bleachers.
There were careers to be sought through community colleges and four-year universities around the country. Others will attend technical schools for hands-on training.
Two students will move on to the military. Chris Thomson will serve in the Army, and Grace Hiles will attend the United States Naval Academy.
Some students will head straight into the workforce, and some will leave with certificates from various programs offered at the Hannibal Career and Technical Center.
Students' names were called by each school or career path. They came to the front of the room for a photo and to sign their names to their college or career poster. The posters will hang on the wall for the rest of the school year.
Braden Booker will attend State Technical College with plans in a career with precision machining. Booker said teacher Aaron Gander, whose machine classes he has taken since his freshman year, played a part in his decision. Harold Booker, Booker's dad who worked at the HCTC for some time, also influenced his future.
"Today was really cool, and I am really glad I got to come and be part of it. It's really nice to recognize all of my fellow classmates and see what they are going to go do," he said.
Sophie Albright will pursue a veterinary school at the University of Missouri. She said going to Missouri is a family legacy for her, and she is excited to dig into the animal science program and vet school. The school recently accepted her into the pre-vet program.
"I am really excited to see where everyone goes. Hopefully some will come back here, and I will see them again eventually," she said.
JaAnn McCollum, director of guidance at Hannibal High School, said Decision Day is part of a program called Journey to College, which has three steps. It starts in the fall with Apply Missouri, then FAFSA Missouri to help students fill out financial aid forms, and then ending with Decision Day.
Friday was the first Decision Day to include a ceremony to recognize each student before their peers. Students on the track team and the girls soccer team were absent due to competitions.
"It's something we have been wanting to do for several years, but this year, the timing of the school year, it finally all came together this year," she said.
McCollum was happy to see the students support one another with cheers.
"They were respectful to each other and celebrated everyone who walked out on the gym floor," she said. "That's a testimony to them growing up and maturing. They are ready to get out there."
Mizzou Students: Sophie Albright, Brynn Burton, Anica Chavez, Caylee Cox, Gabe Foster, Michael Hark, Alina Hays, Garrett Heaton, Eli Hess, Quinn Howald, Irelan Lomax, Alondra Martin, Emily McKim, Jack Parker, Alana Pfeifer, Jack Pociask, Rylee Rainey, Kadence Steinman, Parker Terrill and Karson Westhoff.
Moberly Area Community College: Mackenzie Adams, Layla Baker, Ashton Bates, Maya Brummer, Briley Cunningham, Jada Dolbeare, Mackenzie Durand, Kadence Epley, Marcus Hayden, Jacob Hickman, Isabelle Hodson, Kaylee Johnson, Luke Koester, Faith Lee, Jade Miller, Breahnna Parsons, Mya Pendzinski, Drew Porter, Stormy Ranabargar, Kasen Sherwood, Chloe Simms, William Waelder, Mackenzie Williams and Melinda Williams.
Workforce: Vincent Altgilbers, Alex Baker, Kory Boswell, Junior Bradney, Ethan Brown, Heaven Brown, Carter Cox, Donnie Riley, Logan Flynn, Clayton Gallup, Jason Gallup, Savanna Kimber, Tristan Lynn, Dillon McKim, Pamela Merrill, Tamela Merrill, Emma Minks, Adam Newman, Maggie Otten, Madison Reed, Drake Richardson, Landin Riley, James Sims, Anthony Smith, Shelby Spegal, Lindsey Stout, JT Thomas, Lydia Voepel, Mason Wasson and Dalton Williams
Miss Clipping Out Stories to Save for Later?
Click the Purchase Story button below to order a print of this story. We will print it for you on matte photo paper to keep forever.