Hannibal mayoral candidates prepare for final campaign push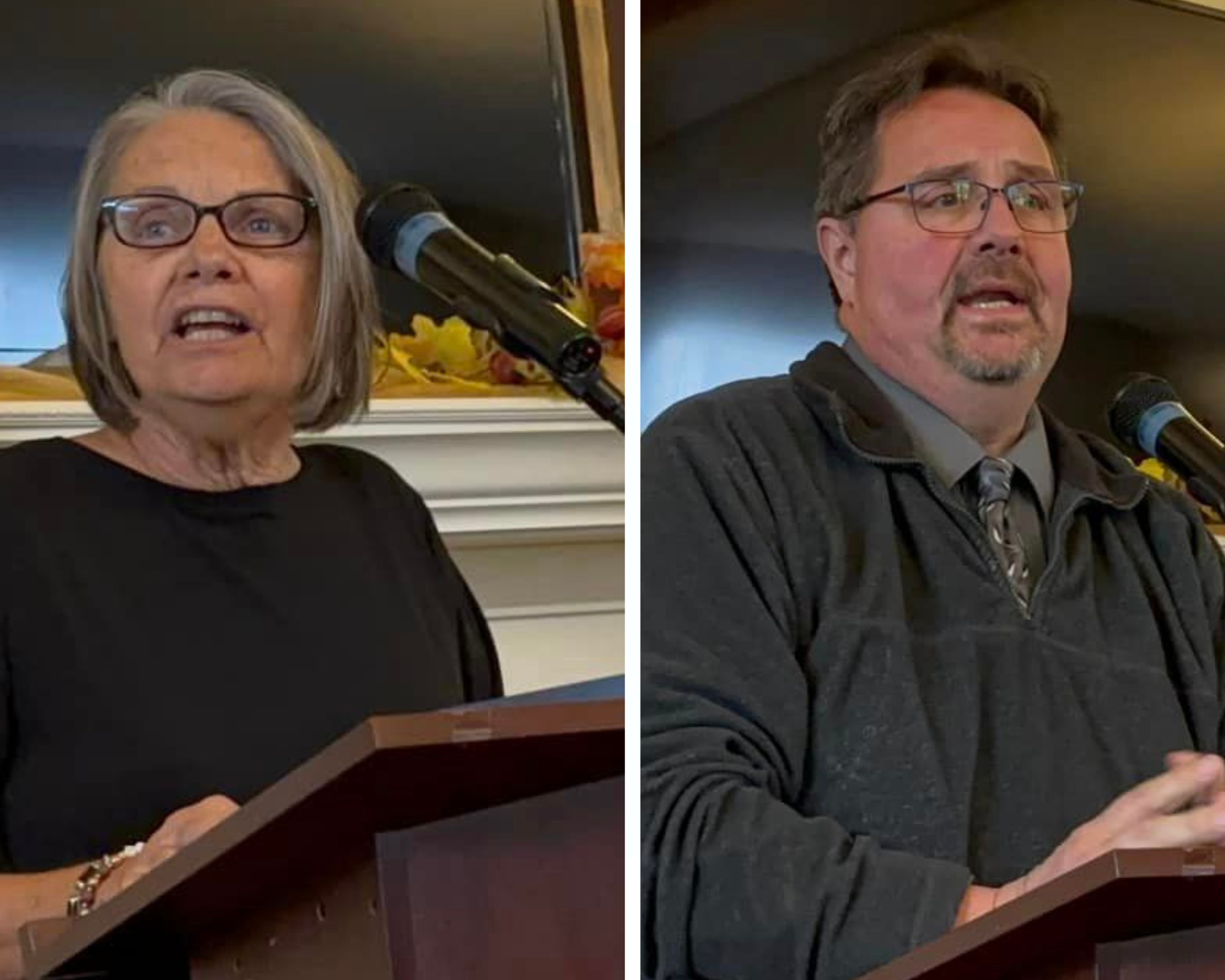 HANNIBAL, Mo. – Hannibal voters will choose a new mayor next Tuesday.
Barry Louderman, Kristy Trevathan and Stephen Colyar will be on the Nov. 7 ballot for the special election to finish James Hark's term as Hannibal mayor, which expires April 2025. Hark resigned in June because of expanding work duties at his job at a local towing company.
Louderman and Trevathan recently sat down with Muddy River News to talk about what the last three months on the campaign trail have been like. Both have been visiting neighborhoods to make connections and learn about concerns.
Colyar has not responded to Muddy River News request for an interview.
Louderman said walking and talking to residents on Southside Hannibal streets brought several issues to his attention.
A topic of concern were dilapidated sidewalks throughout the area. Louderman said he had noticed them as he walked as well.
He was also informed by many residents on Fulton Avenue that they are experiencing high-traffic and speeding problems as people make daily commutes from Missouri Route T, which Fulton Avenue turns into.
Louderman said adding to the concern is that Stowell Elementary also sits along Fulton Avenue, and many children walk to and from school on the road. The problem is not a new one, as he recalled worrying about the traffic when his daughters were young and attended the old Stowell school, which is also on Fulton Avenue.
"They were actually crossing guards. Oh, at that time. I worried about that quite a bit," he commented.
Louderman said he was surprised to hear how many people have been frustrated with the rancor between city council members. He said people just want their councilmen to focus on the city and deal with city issues and improvements.
"I knew there was a little bit of frustration about it out there, but that's been a main topic of just about everybody in every ward I have been to," he said.
Louderman also commented that council members and the mayor of Hannibal do not receive big paychecks for their work, but people want those who they elect to be a voice for their wards.
Another surprising topic he ran into a lot was the issue of local homelessness. Louderman said from those who live in the downtown area to Hannibal residents in neighborhoods across town, people are concerned by the rising homeless population.
"My answer to them is that there is not an easy answer. This is not an easy answer nationally," he said.
Louderman said a homeless shelter in Hannibal will likely increase the homeless population, because people will come.
"We have to find out why. And you do that by interacting with these people with the homeless people and find out what the reason is and what you can do to help them. If it's drugs then maybe you can help them get somewhere for recovery. If it's family issues, maybe you can direct them to a therapist or a mediator that can help with that."
Louderman said Hannibal citizens he spoke with also showed a great measure of pride in their town.
"People realize there is a lot of good here. They love the fact that Viking River boats are coming to town. They love the festivals, and commented on what a good job Hannibal does with those," he said. "I was also pleased to hear so many people in Hannibal back the Hannibal Police Department and Hannibal Fire Department."
Louderman said he knows his biggest idea to bring Amtrak to Hannibal is a long shot. "Anytime you are dealing with Amtrak, train routes and stuff like that, it's not something that's going to happen overnight," he said.
Louderman referred to MODOT's September announcement for requested funds to extend Amtrak's Chicago-Quincy route to Hannibal.
"We are in the conversation and the city needs to make sure we stay in the conversation because that's how it'll happen," he said. "If you keep putting it out there that Hannibal's ready for an Amtrak and will do what it takes to get an Amtrak here, then we stay relevant in the conversation."
Kristy Trevathan has also been walking some Hannibal neighborhoods on the campaign trail. She calls it "boots on the ground."
"I have put in a lot of Fitbit miles so to speak," she said. "I felt good about our neighborhoods. I know there's a lot of things that we need to do to help some of them with properties that are deteriorating, but I still think Hannibal is beautiful."
Trevathan said she has spent a lot of time giving thought to the ideas she wants to accomplish, so she can hit the ground running. Walking various areas of the town encouraged her that Hannibal residents want to be involved.
"I do want citizen involvement. And I think people have really become engaged during this campaign," she said. Trevathan noted that the Chamber of Commerce mayoral forum was attended by more than 80 people and others who were not in attendance reported they read her speech online.
Although she served more than 30 years as a real estate agent and city volunteer in various areas, Trevathan said one part of her campaign was to highlight her abilities as a strong leader.
"I had to earn trust [with the community] that I'm very capable of the job," she said. Trevathan plans to encourage citizens to volunteer. "I hope that people will want to stay involved and share their ideas and share their visions because it's not just one person and it's not seven people sitting on the council. It is our town and we all have a part to do."
Trevathan said she received good feedback from those she visited, with about 90 percent of her conversations being on a positive note.
"For the most part, people are very positive. And then if they start talking to you, they'll share more, and then you start telling them about yourself," she said.
She even knocked on doors in the neighborhood she grew up in, and told stories of her close-knit neighborhood which also led to pride in the area they lived in.
"I had this wonderful neighborhood where I grew up and we were very close to our neighbors. We had barbecues and fish fries together and yeah, and it made us all want to work together on our property," she said. "Now we're still even friends with those people today."
She also spoke with local residents who requested sidewalks be built along Munger Lane where many people–including children–in housing developments and neighborhoods along Munger walk to the nearby Walmart and Lowes.
Trevathan said some of her campaign supporters are former residents of Hannibal who still want to see Hannibal succeed. Several have expressed concern to her that the neighborhoods they grew up in are going downhill.
Neighborhood and building revitalization is a big part of Trevathan's plan for Hannibal. She supports new housing and subdivisions but also hopes to see dilapidated buildings and homes restored.
"Sometimes one house can bring a neighborhood down and one new project can start bringing it back. don't always have to do everything in the same order that we've done before. Absolutely. We can rethink some of our neighborhoods and how they're zoned. We want to make them feel safe and clean and vibrant," she said.
Trevathan said one solution is for a more aggressive code enforcement, which requires specific maintenance rules for property owners, which she said will require a balance between homeowners and the city.
Miss Clipping Out Stories to Save for Later?
Click the Purchase Story button below to order a print of this story. We will print it for you on matte photo paper to keep forever.