Hannibal Public School board candidates take on challenging questions at candidate forum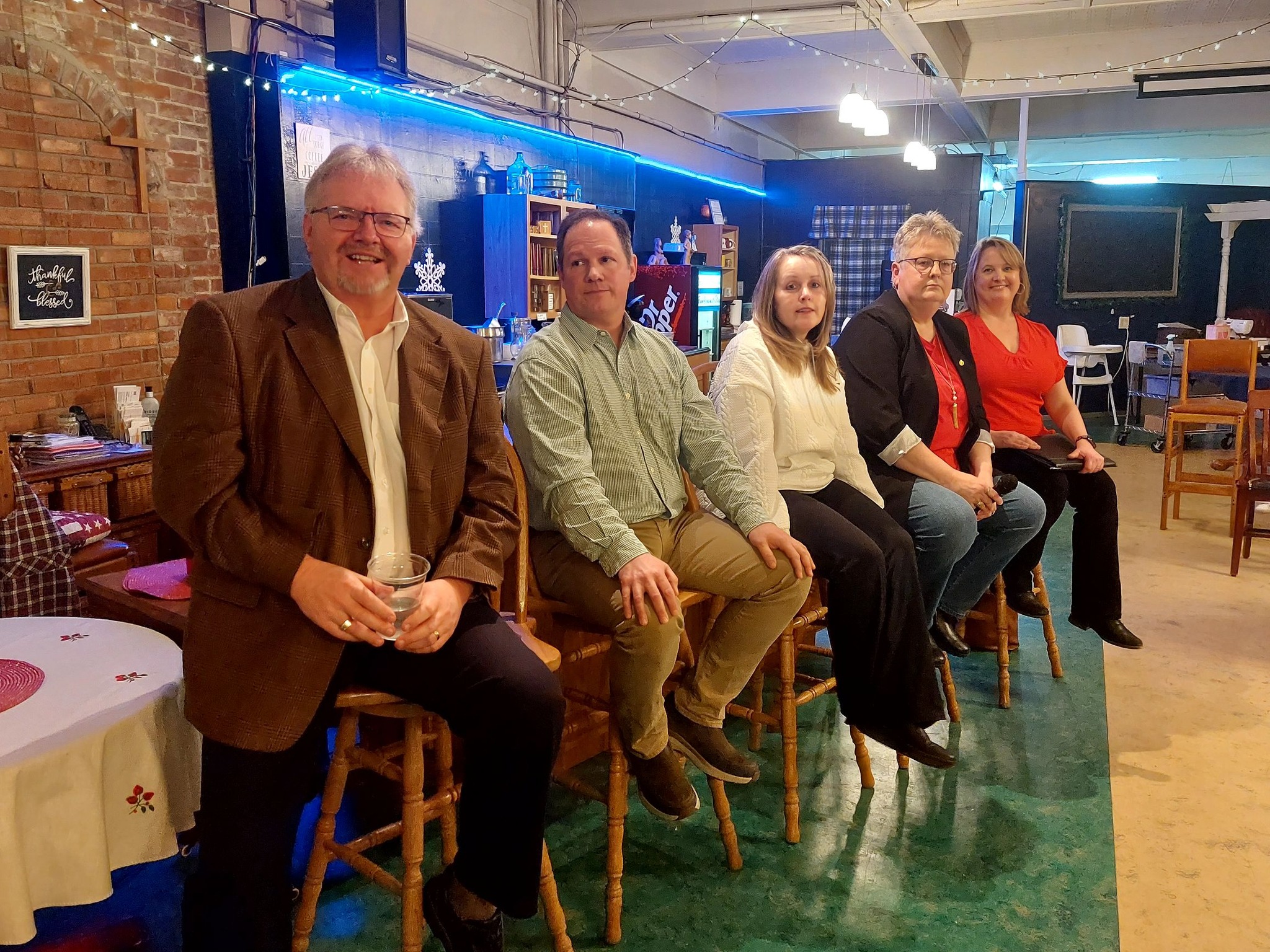 HANNIBAL, Mo. — There are five candidates running for the three seats on the Hannibal Public School Board that will be up for vote on the April ballot.
The candidates met Monday evening for a candidate forum hosted by Northeast Missouri Conservatives at the Hannibal School Board of Education Forum at Greater Days Restaurant. The Hannibal Area Chamber of Commerce will also host its annual candidate form on Thursday, March 30 from 6-7:30 p.m.
The five candidates have backgrounds ranging from education to medical careers.
Blane Mundle is retired after 28 years in education as a teacher, coach and principal with the Hannibal Public School District.
Jeff Evans has been a family physician for 25 years and a parent to five past or present students in the Hannibal School District.
LaDonna Hampton is a community support specialist at Preferred Family Healthcare for eight years after 11 years as a teacher.
Stacey Graves is a retired teacher after 39 years with 31 of those at the Hannibal Public School District.
Anna Lemon is a registered dental hygienist with children in the Hannibal Public School District past and present.
Each candidate took on some challenging questions relevant to the many academic and social issues that schools are currently facing, with each alternating as the first to speak in about two minute answers.
Several of the questions and portions of their answers are highlighted here:
What policies does the board need to implement to improve overall student achievement level?
LaDonna Hampton– We need to focus on academics. We are way behind and we have a long way to go. That's because we are pushing all of these things and we aren't focused on the issue of academics. I think it's creating more problems and causing more behavioral issues as well. If we want a win-win then we have to focus on the real issues.
Stacey Graves: We have to teach up and have high expectations for our kids. I don't think we can sugarcoat. We do have children with special needs that need to be addressed but when you have kids are academic standouts you need to teach up and have high expectations. It's also important for the parents to have high expectations for their kids.
Excellence in education requires teamwork between parents, teachers, support staff and all the way up the bar.
For policy, the COVID thing was just a mess and I think we were on the right track to push-push-push. Coming out of COVID, it takes about three years being out of a program like that before you can see if a policy is coming to fruition. We need to be patient and try to be as aggressive as we can in order to get our kids caught up.
Anna Lemon: Teacher and parent relationship is going to be very important with the success of the students. We have had great relationships with our kids' teachers.
Another driving factor is that I think discipline is very important. It's not easy for teachers and administration to discipline and sometimes it just takes that one kid where it's like "No sorry there is no exceptions. This is what is going to happen and this is how we are going to move forward."
Kids tend to listen and they tend to start showing respect and listening and actually doing what they are supposed to be doing. We found that out just by parenting.
Overall with policy changes, I think we already have the policies in place so we really just need to dive into our curriculum and see what's being taught in our classrooms as far as the basics of reading, English, math, science and really focusing and staying connected to why we are sending our children to school, which is to be educated.
We just need to dissect what we already have.
Blane Mundle: It's very simple as to what drives achievement, if you look at studies and all of the things that have been put out there.
Parents are number one. They are the most important part of the educational system for a child.
Number two are the teacher themselves, their classrooms and what they are studying and their expectations and all of those things.
As a principal you are supported at the central office for discipline.
If a kid comes to school and he has drugs two times and he is affecting 3,000 other kids then he needs to be out of that school and out of that district. He needs to be somewhere that he can learn and given a chance.
We don't want to throw him away but we have 3,000 other kids we have to worry about. When I start looking at those things and those scenarios and possibilities, it infuriates me that we are taking a look at that one kid who is bringing drugs to school or dealing drugs to someone else. We focus all of our attention on them and then we have 3,125 other students that we say nothing about.
We also need attendance policies that hold parents accountable and have high expectations and the kids who are distractions and holding other kids back, need to have another place that they can learn.
Jeff Evans: I agree with the importance of parental involvement, but when you think about motivations for high academic achievement, I think it has a lot of the same motivations that you and I might have for achievement.
You have to believe you can do it and that it makes a difference.
A lot of the kids really don't believe they can do it. Doing it and what "it" is varies because Hannibal is a big district.
You have a good number of kids who aren't really motivated to engage at all because they don't think it makes a bit of difference. So when we craft policies, I think it should probably try to figure out how we can cater to each end of that spectrum and try to find something that means something to the kids.
Sometimes we have been focused on discipline and punishment. You can punish the kids a lot but they have to have some reason why they aren't participating in the process.
You can have policies that hold expectations for them but if they don't believe they can do it and they can't see that it makes any difference then it just doesn't matter to them.
The wave of the future is to find out what matters to them, even as early as middle school, and how we can help them achieve those things and engage them in that. By the time they get out of high school at the end of their 12th grade year, then they have some marketable skills.
There are some kids that tying a lead balloon to their feet wouldn't keep them from achieving and succeeding because they are just wired that way. Other kids have no interest at all, so find a way to craft an education system that meets the needs of both of those and then the ones in the middle is a challenging policy.
What policy should the district have concerning parental access to all student educational materials?
Stacey Graves: When you are raising a child, it takes a village. I do think there has to be some trust.
Put the information out for the parents who want to see what academics their child is partaking in but teachers and administration are professionals and you have to trust them a little bit. We have curriculum managers in place that do such a great job. Personally, I feel like we test too much but that's out of our control, that's the state's bidding.
I think parents need to know what's going on with the education of their child. Is that child going to be successful as an adult? Are they going to be able to seek higher education and realize their dreams?
Yes, they should probably be accessible by public appearance but I think parents should think long and hard before they start sticking their fingers in and controlling the academics. That's just my opinion.
Anna Lemon: As far as parental access to curriculum, we live in a digital world and it's just so easy to put what is going on in the classroom online. The district just got a new website and it looks great.
We have digital access, which makes it easy for our teachers and administrators because everything we are teaching our children and lesson plans can be easily uploaded and living in a digital world makes it easy for parents to access and know and understand what is going on in the classroom.
We do have a lot of parents who are concerned with what's being taught and I think it's important for them to have that information. Putting that out thereis a good idea for our parents.
Blane Mundle: Parents should know everything that is being taught in the classroom. I mean, parents should absolutely know. When I was a teacher parents could come in and ask me any question or look at my curriculum or homework assignments. Why would you not want a parent not to know what their kids are being taught?
Our district supports that. Also, the Board of Education needs to know what is being taught in the classroom. I don't think there is a teacher or superintendent in our district who would want to cover up anything that is being taught.
Jeff Evans: I favor total transparency on curriculum.
As a parent, a lot of times I partner with the kids to help them do their homework or see what's going on there. We need access to what is being taught.
This question is rooted in the idea of parental rights and there have been some districts —mostly coastal— who have tried, especially in the area of LGBTQ and transgender stuff, and so the trust in some ways has been a little bit spoiled with other districts.
I favor parental involvement and access of knowledge even beyond curriculum.
A lot of the issues that have arisen over the course of the last 25 years interacting with the Hannibal School District as a parent, have not been curriculum based but more behavioral based or conversation based. I think parents should know what's going on, not just curriculum alone but also things that aren't necessarily included in the syllabus.
You have coaches dropping the f-bomb on the football fields and classrooms. Things that are happening in health classes where there's a conversation about consent for sex, and one teacher said, "Hey you don't have to ask me about consent for sex" to a classroom of ninth graders.
This stuff happens once a while.
I have had people bashing Christianity on occasion to my children in this district. I have had a lot of things I could bring up that are unseemly in this forum, so I favor parental access for everything — not just curriculum. Behaviorally and any other issues…You have to have teachers and people who have access to our kids to be of the highest moral character.
There have been some issues that have been overlooked in the district and not dealt with forthrightly and that shouldn't happen in this district. It should be dealt with straight on and everybody treated the same to take care of business.
Even if they are connected, even if they are your friends and family in the district it needs to be handled the same. The people we want around our kids we want to have the highest moral character because they are role models.
We do make a neutral playing field here in the district for people with varying beliefs here in the school district but we don't need to be indoctrinating the kids, in a soft way even. We have made a lot of political conversations that I could tell you about —especially during election seasons.
There's a lot of issues involving transgenderism and LGBTQ issues that come back.
I have a kid who has an IEP at one of the schools and he came back asking whether he was a girl or boy after some conversations that happened during gym class.
So those issues come up a lot and they aren't curriculum based but environmental based.
LaDonna Hampton: I believe in total transparency to parents on all issues, and especially all curriculums. It actually can be put online and, in fact, they are passing some senate bills right now that are going to do that.
Some good news is that in the senate bill they are trying to pass right now, there is no indoctrination of the homosexuality and of the other stuff —CRT (Critical Race Theory) and all of that — that's going to be left to mental health. That's coming down through the senate right now. That it would not be in the school and that every individual parent's right to choose what they want for their child.
If they feel like their child is having some issues —which I am not against anyone, I love everyone and want to see them get help.
I don't mind working with LGBTQ or anyone else.
They don't usually put them on my caseload, but I told my boss I love them and treat them with respect just like anyone else but if you put them on my caseload, I am going to tell them that God doesn't make junk. He made you perfect and he made you who you are. That's my personal belief.
I would not force anything on them and I would respect their rights and I would do that in anything, but I really believe that this should come down to a parent issue and shouldn't be up to the schools to be telling our children how to think. We need to start letting our children think for themselves and not telling them, "You need to think like this."
We used to ask them, "What are your thoughts on this?"
A man on YouTube signed up as a 9 year old, just to see what they were shown. The first thing they start showing you is stuff about gays and lesbians and that's called indoctrination. We bring all this stuff into the schools —whether it be that or CRT — and teach people to hate each other then we have problems.
Those are mental health issues and we need to leave that to the parents to teach what they want….
We need to post the curriculum for what it is.
How should a district support children support families, teachers with the genders issue? Please include handling personal pronouns, bathroom issues, sports and educational materials.
Blane Mundle: If you are talking about males in female bathrooms that's not acceptable. If you are talking about males in female sports, that's not acceptable.
I taught biology and I am a specialist in educational leadership. When I was getting my biology degree, I remember them teaching me about male and female. I don't know about all of this pronoun stuff. I think it's ridiculous in many cases.
I will say this. I would not stand for somebody bullying a transgender person because that's bullying.
We should not teach that you can be a male or female because we all that's not true.
We should also be aware that if somebody is being harassed because of their thoughts or issues, is it different than you being harassed for your thoughts or issues? It is a bullying situation.
When we hear about all this pronoun stuff, sometimes I get so sick of hearing that. I just turn off the TV and listen to John Denver. It's ridiculous.
There is male and female.
Surely you have heard of the girl swimmer whose NCA Championship was stolen because she tied with Lia Thomas and she was in the locker room. When you are in a swimming locker room, and I have never been in a swimming locker room but he went into the swimming locker room and his male genitalia was out as they were getting into their swimsuits. That should tell you that she is swimming against a boy.
When they tied, I can't believe they let him walk out and gave her her metal later.
To me, it makes no sense.
If it makes sense to you, then that's up to you.
Jeff Evans: I think everyone should be treated with respect and to treat everyone like you want to be treated. But I favor traditional views on these kinds of issues in schools. I don't think sex should be a big part of what's going on in the school.
I don't think there should be clubs based on what kind of sex you like to have, like gay and lesbian teacher student association or that kind of stuff.
I don't favor transgender special privileges. I think people need to stick with their biological sex and that the movement with the transgender stuff has probably crossed over some lines.
You have created policy that makes a neutral environment so that people can access the public school but yes there are some places in California middle schools that have done surveys where I think that 40 percent of 7th graders identifies as LGBTQ or transgender.
Now these kids are very malleable and formable and so there's a difference between accepting and tolerance verses celebration.
Bullying shouldn't be allowed in any school against anyone in the school district, but at the same time we can't make special classes of people. You end up harboring these things and elevate and celebrate these things to the point you actually induce kids to join their ranks.
Kids want attention. They want to be celebrated and they want people to like them. They want to find something that will differentiate and make them included. If that super inclusive type situation and everybody celebrates it and it almost becomes like an evicted class not to. Then you end up seducing kids to join the ranks when it's not particularly their proclivity.
So you have to be careful to strike a balance between those kinds of issues.
I am not in favor of furries, people who decide they are animals. That seems to be eradicating some school districts. You can dress up as a cat when you go home.
If you harbor a belief in violation to reality then that's called a delusion.
We have been addressing those kinds of things for years but only recently did it become mainstream. Creating environments where everyone can thrive and following common sense and also not making it something that induces kids into certain tendencies.
LaDonna Hampton: I am not in favor of supporting any person who wants to do that.
I don't believe in being mean and I believe that we should be kind and good to one another but I don't think we should enable those things.
I know that when I went to a client's home, the mom was upset and telling me about her son. She said that the school was telling him he had to enable these people who were transgender in the curriculum and he showed me the curriculum. Basically it was encouraging them to support these lifestyles and they had to write something on it and it was a course that was required and he didn't want to do it. He felt uncomfortable about it. I told the mom to talk to the school district.
I don't know if she did, but there are those things happening in our schools and it bothers me. I want to support my parents (clients) who don't agree with those things and I don't support those things either.
I do think there needs to separate bathrooms. I think whenever you encourage that, that it creates mental health condition that worsens over time.
They are looking to be noticed and they will do whatever it is that will get them noticed. We enable those things and that's what happens.
Stacey Graves: My heart goes out to these kids. Be they gay, be they transgender or whatever they are. Many of those kids are ostracized and treated badly at home and I don't care what the proclivities of a child is and I am not saying that we should change the format for everybody else and make that into an issue when it doesn't have to be.
What I am saying is that every child regardless of who they are or what they are, should feel safe at school if nowhere else. That's where I stand.
We should nourish our kids and reach our kids and stop getting sidetracked so much from academics but we have to have empathy for these of difference. They have to feel safe at school because they are not feeling safe at home.
Anna Lemon: As far as the gender issues or pronouns, I don't believe any of that is necessary at school. Girls should not be in boy sports and boys should not be in girls sports. I think that for example, with our district and many other districts around us now have girls wrestling and I think that's great. That competition has been eliminated.
We do not need to have parents questioning whether or not their girls are going to be In the bathroom and there's going to be a boy who shows up. I think the safety of our biological sex of our children is important and I also believe that the safety of all of our children is important. So if we have children that are identifying as trans, and if they are bullied then that needs to be addressed and dealt with.
As far as supporting parents who are having transgender identifying children. We have some really good resources within our community and I don't think our district is the place to deal with that. I think it's important for our district to support them and give them resources on these outside entities so they can seek the confidence in others in those entities.
I also wanted to say that the majority of our teenage students, studies are coming out now that four out of five children that are teenagers who are transitioning into another sex de-transition after puberty. So the studies are there.
There seems to be kind of a wave attacking within our society and it's a society issue that I don't think there's a place for it in our district.
The board is currently discussing that all staff should attend diversity, equity and inclusion training. How should the board access the psychological and emotional pros and cons of such potentially controversial and costly training?
Jeff Evans: I think the first step is to assess whether or not we really have a problem here in Hannibal with racism. We have to deal with that in the field of medicine that I work in as well, so I have been through about six trainings in the last year and a half. So when they came to our organization, I asked them which of the individuals in our organization are racist and aren't able to accept people of diverse backgrounds and skin colors.
They said, "Well we really don't know anyone who is like that."
I said, "Okay, well we need this training so which of our policies are racist and unfairly discriminate based on color or any of these categories.
They said, "We have been very not to make policies that are discriminatory in any way against these."
I said, "Where is this coming come?"
They said, "It's just embedded."
I said, "Well what do you mean it's embedded? Which one of the policies or people are you trying to fix?"
They didn't have an answer. They just told me that it's embedded in society.
I said, "What do you mean by that?"
They said that white people tend to wind up being discriminatory based on their systemic approach to people of color.
I said, "Let me get this straight. What is racism?"
They said that it's painting people with a broad brush based on their skin color.
I said, "Isn't that what you just did to the white people?"
So, I will be honest. I really want to look at this and see if we have an issue with racism first. If there is then I think we need to deal with it head on. But the DBI curriculum being pushed on a national level is very much embedded with Abram Kenning and CRT and some of the other things they have addressed.
The fundamental underpinnings of it is a fundamental assault of American values and other…it's stepping back all of the progress of the race reform in the 60s and I think it absolutely toxic to communities leads to conversations about reparation and it leads to the conversation about professional victim class. It leads to the theory of low expectations for people of color because you think they have an excuse now not to succeed or engage. What's the point? We are victimized and unable to engage in these things.
If there is an issue and you want to include diversity training then I think you have great resources here in Hannibal. You have people like Joe Miller, people who have been through discrimination back in the 60s and you can have them come and inform about that and have a dialogue back and forth about what it means to be a person of color.
Also how to get inside the mindset of some of the people who are in the situation so you can engage them and convince them that they can do it and it matters.
If you get that dialogue going with those people and get into the minds of the kids then you can make a difference. I think force feeding the DBI stuff will wind up making white resentful and the blacks not being advantaged in any way, so we aren't accomplishing anything we are hoping to accomplish in the district.
LaDonna Hampton: I had a kid come out of the classroom the other day and my teacher just told me that I was discriminated against and that I couldn't amount to be anything because I am black. It is something he had just watched, and I could hear in the next room that it was about Martin Luther King, Jr. in the next room. But of course Martin Luther King didn't want us judging by the color of our skin, he wanted us to judge based on each person and I agree with that.
But when kids do well is when they are encouraged to do well and you have high expectations for them. I know that when I first started teaching, the first five years of my teaching I did in a very wealthy area in the outskirts of Chicago, and there were CEOs and doctors and lawyers and they thought that because our last name was Hampton that we owned the Hampton Inn. We were like nope, that's not us.
The parents had very high expectations and whatever expectations you have of your child they are going to fall just below that. They told their kids that not only will you make straight A's but when you are done you are going to get a lawyers degree and if you want to do something after that then that's great. You can do something after that, but you are getting a lawyers degree.
Then we moved in the middle of the reservation and I taught low to middle class students.
The parents expectations were very low and if kids make it past junior high then they were lucky. Very few graduated.
Parent expectations. Teacher expectations. All of those things matter.
But this critical race theory and all of these things are not going to help our school. I don't think that bringing this stuff in will help our schools but will cause more division. I have kids that play together of all different colors and they do fine. It's when they are taught.
Stacey Graves: We are a diverse community and I think we have to trust our school board and superintendent to bring in people who will train and make our faculty, staff, support staff and administration more sensitive to the needs of people of different colors and ideologies. I don't think seeing or hearing anything like that will cause any problems, as it is preventative in nature.
Now we have gone through some tough times this past year. The school has and I think we need to trust them to bring in appropriate training for our faculty, staff, support staff and administration and I think they will do just that. If we say that we don't have a problem here then I think we are putting our head in the sand.
Anna Lemon: The first step is finding out what the issues are and how do you find out the issues? You have meetings and set up meetings and have opportunities for families to come in and share their stories and share their issues that they would like to see addressed. Whether it be race, diversity, etc.
Just in December we had a meeting and it was called sensitivity awareness. So we had an incident with an administrator and the board had a meeting and we had individuals be able to share their stories and concerns about what was happening to them and their children. And so that was a great opportunity for the board and our superintendents to look at "Ok, well what are our issues. We have these issues."
How do we deal with those issues? We elect a board to deal with those issues. They look at those issues, they address them, they find a solution and then they implement that solution. They make sure these families feel safe and heard and that we move forward.
Since December and the first couple of board meetings we have had four options presented as far as diversity training so other entities that will come into the district to implement their training, that has ranged from $10,000 to over $90,000. Personally I don't feel like we need an outside entity to come in. I feel like they can be resourceful in finding other options as far as looking at what they can provide but honestly we have all the resources we need right here.
And our issues are here in Hannibal. So by having Hannibal resources to deal with our issues I think that is where we are going to find our solution.
Blane Mundle: I have had diversity training my whole life because I had a mother and father who didn't see color. I had black friends who came over and spent the night at my house and I still love them to this day. Derwin Conley who is in society today is a great man. Joe Miller, I love Joe Miller.
Everybody knows that we had an incident in Hannibal where a principal posted an image. Was that a difficult issue? Absolutely that was a difficult issue.
I didn't listen to any of the outside garbage, and there's a lot of outside garbage and people who want to start trouble. I went to (the custodian) at the school who is a man of color and about 6"5 and I asked him if there is a racism issue in your building? And if you don't know something then look to the custodians and secretaries because they know everything.
I pulled him into the principal's office and I asked him, "Do you have a racism problem here?"
He said no.
I asked him, "Is your principal racist"
He said no.
I asked him, "What if I fired her?"
He said, "That would be a mistake."
I asked him, "Can you forgive her for what she did?"
He said, "I already have."
If he can forgive her for putting that on social media and I can't then that's a problem.
We need to identify issues we have. I am a fiscal conservative and when I saw $94,000 I about choked for diversity training. If we have a problem then there are great people who can solve it. I have a tremendous amount of confidence in Susan Johnson to make the right decision.
She got criticized by someone because she wanted to vet every single person who comes into our district to speak. By gosh, she better vet every person who comes into our district to speak. We don't want people to cause problems.
Do we have people of color who are racist? Yes. Do we have white people who are racist? Yes.
It's not the color of your skin. It's what's in your heart and mind.
That's exactly what it's all about.
If elected, will you be able to stand alone on an issue if it's in opposition to the superintendents or the other board members? Please give an example of how you stood on your own and influenced people who've had opposing opinions ?
LaDonna Hampton: This just recently happened to me. I had to take a new caseworker out and train her in the community. I went to a families home and they were telling me about some issues they were dealing with with LGBTQ and some problems they were having. I was providing them some materials and letting them know what was going on.
The girl I was training didn't know my relationship with the family because she didn't know the time I had spent with them and what they were asking of me to do. So she went back and reported me to my boss and they brought me in and were telling me about what they heard. I had been sick and was still not at my best, so I was just kind of staring at them but the Lord was dealing with me letting that go.
So I went back and emailed both of my supervisors over the weekend and told them, "You don't put LGBTQ on my caseload because we don't have the same belief. The people who I work with ask me questions and want me to advocate for their rights and that's my job — to resource them to give them the help they need and to advocate for their rights and that's what I was doing that day.
I said, "This isn't right to do that. You can't have it both ways. You can't say if I was out there with someone who is part of LGBTQ then
I would be advocating for their rights if that's what they wanted, but I wasn't out there doing that because that's not what.I was called to do and that's not what they asked of me. I was advocating for them and giving them resources they requested of me."
They went from there and took care of it and all was well.
Stacey Graves: Mark Twain said that it's never wrong to do the right thing. I firmly believe that.
When I was in college at Truman they would not give female athletes letters at the time or join the letterman's club. So the last winter at school, a friend and I we started a petition. We beat the streets and got people's signatures and petitioned to do what we could do. And we had to have 30 people at the next letterman's people.
We had a hundred and there were only six guys there. We just kept attending the meetings and it got passed. It wasn't very popular? No, it wasn't but it was the time of title 9 and it needed to happen for us. We were working just as hard as the guys and felt like we had a right to be there?
Anna Lemon: Would So would I stand alone on an issue that I am passionate about and that was maybe in opposition of our superintendent. The answer is yes. We have already had that issue in 2019. I wasn't on the board but I was a parent and we had a graduation issue but after all of that was resolved and I called Susan and asked to meet with her.
I respect Susan and I told her that I respect her and I told her that I had to do what I had to do because of my child. I wanted to see my daughter walk across the stage because four days after graduation she left for basic training. So I respect her and any person I am in opposition with. I respect that person and have no problem saying how I feel and how I am going to move forward with how I feel but I will always show respect toward opposition and I welcome those conversations.
Blane Mundle: Actually I was also on the board in 2019 and I was one who opposed what was going on because my son was also graduating, so I was on the side of the opposition also.
Another one for me would be when we did away with the early separation agreement. I voted not to do away with the early separation agreement, which I think was 5-2. At that time I wanted a plan in place. I think you have to have a plan in place because our teachers needed something at the end. There were a lot of people —right or wrong— who counted on that money at the end of their career.
I wanted something in place and it's still going on and I trust Susan and I trust the committee that is looking at incentives…
Standing alone is not a problem for me.
Jeff Evans: To disagree as a board member with the Superintendent I think it's important to be able to do it with respect. I have been around long enough to know that the more you talk to someone, you might change your mind about things and sometimes people you talk to change their minds too. So I think you have to understand the reasons behind the decisions on which you disagree.
I have been on a lot of boards over the course of time and something you need to understand about boards is to disagree without being disagreeable but also listening to other people's opinions and keeping an open mind about things because there may be things you don't know or haven't considered.
That being said, there are times when I have been at odds with people on the board. If everybody had the same opinion on a board every time that means nobody is is really thinking or weighing in because everyone is just going with the flow. Sometimes that has happened on some of the boards I have been on where you have the tail wagging the dog.
An example of that might be that early on with COVID, the recommendations were coming out with the CDC about recommendations with masks and vaccinations. So, having been in medicine for 30 years, I looked back at the research and data before everything got kind of strange on the internet. I looked at all the data for making in the last 50 years and that there wasn't anything that really supported that of any significance. So policies came out and vaccines came out.
Initially I was like, "Woohoo we got this silver bullet that's going to end this thing." It became quickly apparent that wasn't the case. Then you saw the bears data that was going crazy. Then the organization I work, as they were forced by the CDC and by the CMS service where they wouldn't get paid and so there was an option for this exemption and so many people and nurses were filing for this exemption and then the organization ended up saying, "Get your exemption but we are not going to be able to get you accommodations for your work, so you will all be terminated if you don't get vaccinated very quickly.
I had already had COVID early on, I worked the front lines at all the clinic and I was at work everyday. I got it early on before they had a vaccination and I wasn't sure I needed it, it was like a bad cold and I got over it fine. I wasn't sure I wanted to take that vaccination because some moral concerns about it. I was among the people who weren't going to be able to go to work anymore.
During the course of that conversation, I am also on the boards in the organization and committees for decision making and so I had a chance to weigh in on all of these conversations and present data and eventually at the end of the day, they reversed what their edict had been which was, "As of this day, you won't have a job."
After that they were willing to accept those exemptions and make accommodations, so that was a great success story.
It could have gone either way but in that situation it resulted in about 1,500 people being able to keep their jobs.
During the course of that I got turned into the Missouri Board of Healing Arts. I got letters from attorneys in our area threatening me with lawsuits because I was trying to "kill people" you know.
There are people who still won't speak to me or see me because of it. But as of last week they have a huge analysis that reports that masks don't do a thing. There was a huge publication saying that natural immunity is superior, and probably more enduring, than the vaccinations.
I don't have trouble standing on my own.
Miss Clipping Out Stories to Save for Later?
Click the Purchase Story button below to order a print of this story. We will print it for you on matte photo paper to keep forever.