Hannibal School Board discusses diversity training and values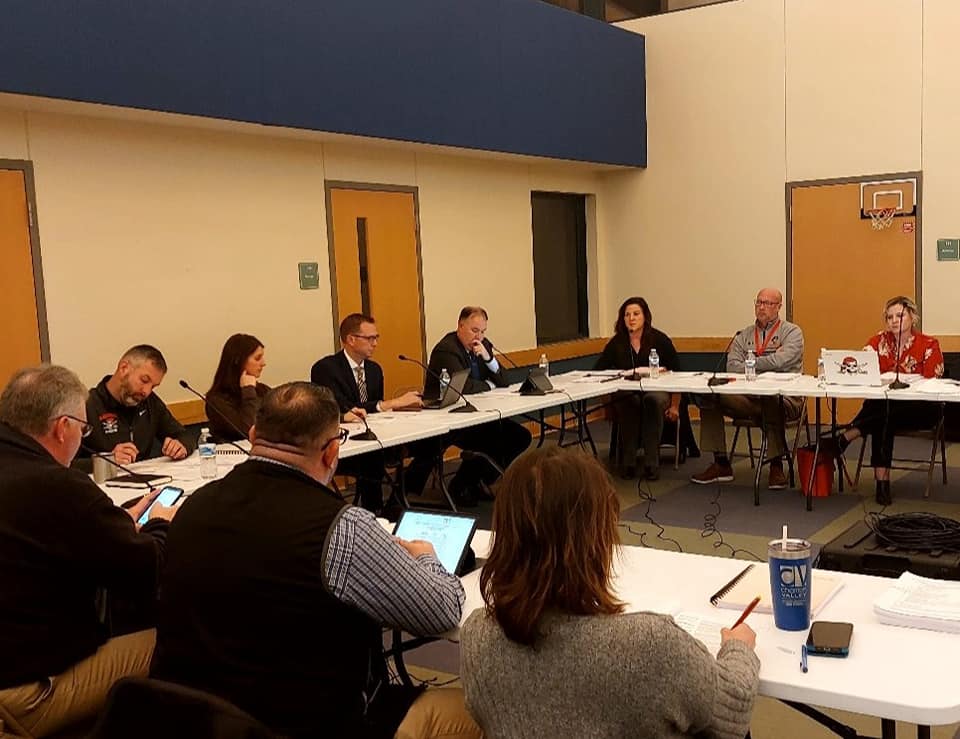 HANNIBAL, Mo. —  The conversation about diversity training continued at the Hannibal School Board meeting Wednesday night.
As part of a regular update Susan Johnson, superintendent of the Hannibal Public School District, said the entire faculty and staff have now completed discrimination and harassment training. Johnson also provided two different proposals she has received for diversity training from culture coach Nikki Lerner and Equity Education Consultants.
The board members discussed the need to vet the training they bring into the district and to include parents and the community before making a decision. Johnson asked everyone to spend time on each of the websites, provide feedback or ask questions.
Lerner's approach would be a two-day training where she would come to the schools' campus or a quarterly virtual training. Lerner included four core competencies she teaches and she also has podcasts on her website where she encourages everyone to listen to for a feel of her training. She suggested listening to Lerner's podcast in the car as a good way to become familiar with her and to kill time in the car.
Equity Education Consultants out of St. Louis gives a one-year training option or multi-year option. The focus of the training is cultural sensitivity, leadership and more. 
Board member Blane Mundle, who has been listening to Lerner's podcasts, said he was impressed with her down-to-earth approach and the way "she talked with you and not at you." 
Board member Scott Hawes questioned the need to go outside of the district for training and cautioned that an outside training source may attempt to change community values.
Johnson said it's more about being able to ask questions and to really understand one another. She said while she feels like knows many of the employees, she also knows everyone might not feel welcome to speak their mind to the superintendent of the district.
"I think it's really about making people feel comfortable to have open and honest conversations," she said.
Mundle agreed and added, "Sometimes it does take someone from the outside to look in and ask the right questions."
Vice President of the School Board Brad Kurz said it's about making sure everyone feels heard.
"What I have been hearing for the past year is that there is a section of our community that doesn't feel heard and doesn't feel comfortable sharing their concerns with us," he said.
Hawes agreed that he wants to see communication and trust.
"But you have to be careful because some of this, these resources are trying to change values," he said. "We need to be careful about how we promote this because the values that could be brought in, I don't think are good values for the direction our country is headed in."
School Board President Michael Holliday, said he doesn't want the board to sold short or let anyone believe that they are going to be spoon-fed their values. 
"There's a lot going on in our country about that right now and that's not what I think any of us on this board is about. I'll leave that to talk-show radio and cable news," he said. "I don't want to have somebody telling us what we should be doing or what values my children or your children should have. This is our community."
Board member Tysa Coleman said bringing an outside party in isn't about trying to impart new values.
"Sometimes it's easier for someone to come in, because from someone inside of the district someone will take that personal," she said. "When you talk about it then you are speaking of a specific situation or speaking on a specific family but this kind of broadens that horizon. People won't take it as personal but can see the whole issue."
Mundle agreed with Johnson and said it's extremely important to vet who is coming into the district or the community and he believed Lerner's training is not trying to change values, but is teaching you to have conversations about your values by bringing parents and the whole community into the discussion.
"Are they trying to force their morals and values on us or are they just leading discussions that we know we need to have in our district so that we can get to a point where  we can be a lot more self-aware and objective and be able to say, 'Oh yeah, we don't want this in our district," he said.
Hawes said he just wants to make sure they aren't putting the responsibility on anyone else to ask the hard questions. "Where is the problem? Let's fix it."
Holliday said those concerns and the discussion they were having was the very reason they weren't just having "knee-jerk reactions on just bringing someone in who isn't completely vetted."
After the discussion, several patrons stood before the board to thank them for looking into the diversity training and for making sure that the training is researched and vetted before adopting it.
Johnson said the meeting was productive and the feedback was positive. She also said they talked about it in open session because being open and honest is what will help school district leaders make the best decision for the community.
"It's difficult to open up dialogue with people who maybe aren't just like you regardless of whether it's a race issue, gender issue, sexual orientation issue — whatever it is," Johnson said. "Everyone needs to feel safe and comfortable and valued. What a great lesson for our staff to be able to know how to do that with one another because that's what we should be emulating to our students."
Miss Clipping Out Stories to Save for Later?
Click the Purchase Story button below to order a print of this story. We will print it for you on matte photo paper to keep forever.