'If you want to change city hall, then you have to be in city hall': Cogdal sworn in as Hannibal City Clerk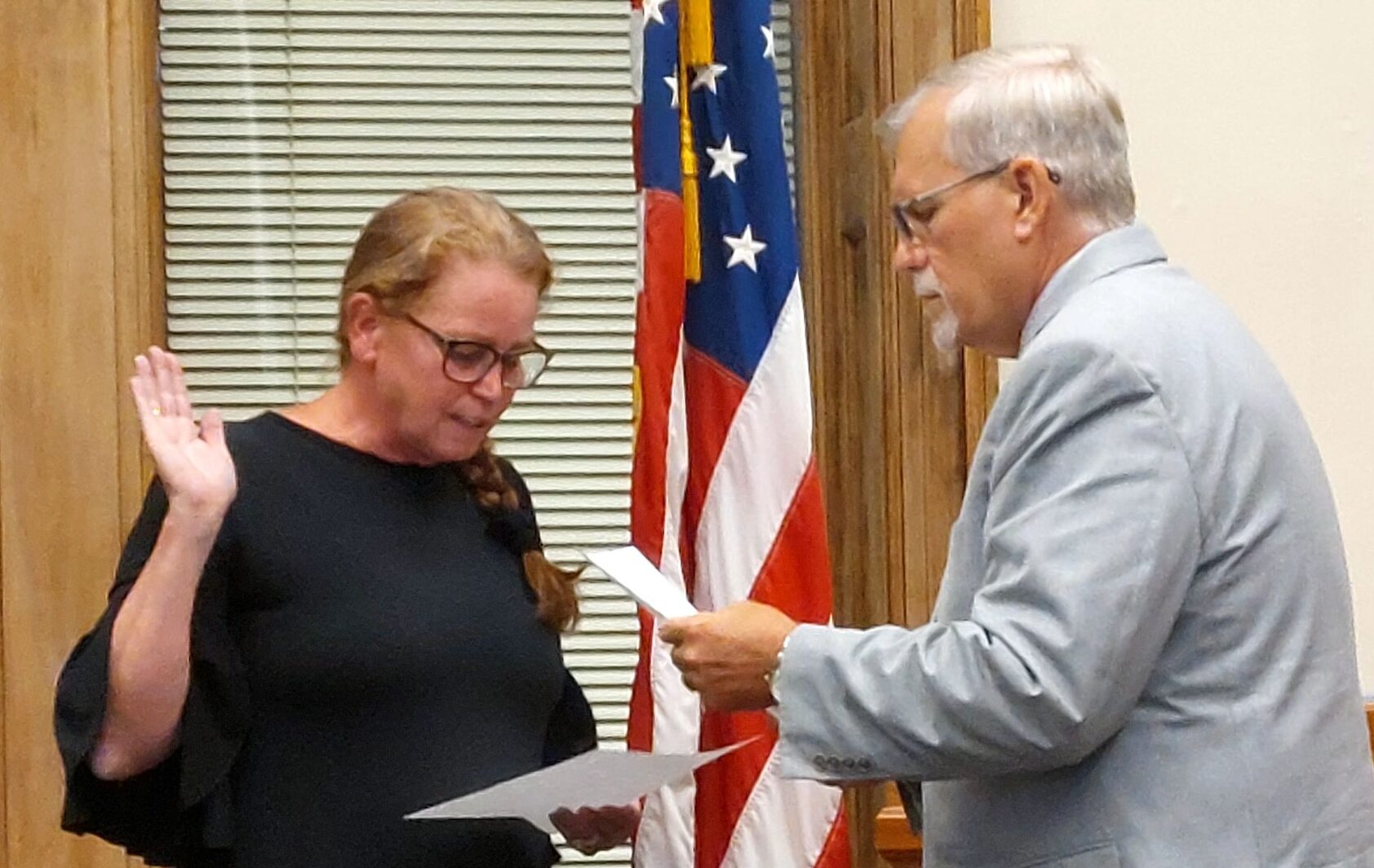 HANNIBAL, Mo. — The Hannibal City Council voted unanimously on Wednesday to appoint Melissa Cogdal as the Hannibal City Clerk, replacing Angel Zerbonia.
The council unanimously voted last month not to retain Zerbonia after an investigation for a hostile work environment. Cogdal has served as the deputy city clerk since June 2022. She took on the city clerk's duties in November when Zerbonia went on paid administrative leave.
Cogdal wishes the transition came under better circumstances.
"The clerk's office has taken a hard hit in the last year. It's unfortunate because the group of people who work here are the best," she said. "All of us have a heart of service for the community, and that's why you work for the city, not for the money."
From fighting the city for safe water practices to winning a seat on Hannibal City Council, Cogdal's journey to city hall was an unexpected path.
The city notified residents of ammonia, or chloramines, in Hannibal's drinking water in 2015. Chloramines would meet federal standards related to disinfection byproducts (DBPs), which the Hannibal Board of Public Works had been in violation of since 2012.
Chloramines in the drinking water raised Cogdal's concern for her 10-year-old nephew, Christian. Cogdal was raising Christian after he lost his mom to kidney disease — and he had precursors for that as well.
Christian's doctor urged Cogdal to speak with the Hannibal Board of Public Works about what the chloramine levels were in the water.
"He said a lot of it depended on the level of chloramines in the water. We also got to talking about the old pipes in the city and how my water always smelled like straight chlorine," she said.
Upon inquiring, Cogdal received no answers from the Hannibal Board of Public Works.
"They kept telling me to contact my doctor. I told them that my doctor recommended I ask them," she said. "So I went to a couple of meetings and started listening. I didn't like what I was hearing."
Cogdal did research and learned she could stand against the water policy. In her stance, she formed a few important partnerships.
She first met Kellie Cookson, founder of the public group Hannibal 2 Oppose Chloramines, at a water meeting held at the American Legion.
Cookson also was appointed to the Hannibal Board of Public Works on Wednesday night.
"Kellie was very good at dealing with the notices and violations we were getting because of the water," Cogdal said. "I was smart on the political side. I knew we could stop it if I could get the council to approve a resolution to do so. I knew if the council wasn't willing to do it, we could form a petition and we could do it that way."
Without support from the city council, Cookson and Cogdal formed a petition. They also enlisted the help of Erin Brockovich, who fought for safe wastewater practices against the energy corporation Pacific Gas and Electric Company (PG&E) in 1996. She inspired the 2000 movie "Erin Brockovich."
Not only did Brockovich come to Hannibal, but her assistant Bob Bowcock made himself available whenever they needed him.
Brochovich wrote about Cogdal and Cookson in "Superman's Not Coming: Our National Water Crisis and What We the People Can Do about It," a book she released in 2020.
Cogdal said many doubted she and Cookson could win the water war, but they knew better.
"We formed the petition and got the signatures in record time," she said. "Everything they said we couldn't do, we were like 'Hold up!'"
Cogdal and Cookson's initiative to ban ammonia in Hannibal's drinking water was approved in 2017. In 2020, Hannibal went live with the new system, a granular activated carbon system.
"We got the whole new system with brand new tanks, and we are on that system to this day," she said. "The system is one of the best you can buy. Our water quality is amazing."
Cogdal recalled how some of pushback along the way guided her to where she is now.
On the Fourth of July in 2016, Cogdal and Cookson's table on stopping ammonia in the water was removed from Central Park.
"We moved our banners and everything right in front of the step at city hall. Then we hung our banner off of city hall that said 'No ammonia,'" Cogdal said.
Former Hannibal Councilman Kevin Knickerbocker noticed her tenacity. He told Cogdal of his plan to resign from council and suggested she run. The City Council chose Cogdal to finish Knickerbocker's term in 2016. She later won the race for the 3rd Ward seat and became the first woman council member in more than a decade.
Cogdal served on Hannibal City Council until 2021. She was replaced by current Councilman Stephan Franke.
"You never know what your path is going to be. I never saw this coming, but if you want to change city hall, then you have to be in city hall," she said. "It was a lot of hard work, determination and good old fashioned footwork, which is exactly how I have survived here since November. Every test that has come before me, I have had to just do research and find the answers."
Miss Clipping Out Stories to Save for Later?
Click the Purchase Story button below to order a print of this story. We will print it for you on matte photo paper to keep forever.