Local foster families to benefit from $10,000 grant awarded to Coyote Hill from the Hannibal Rotary Club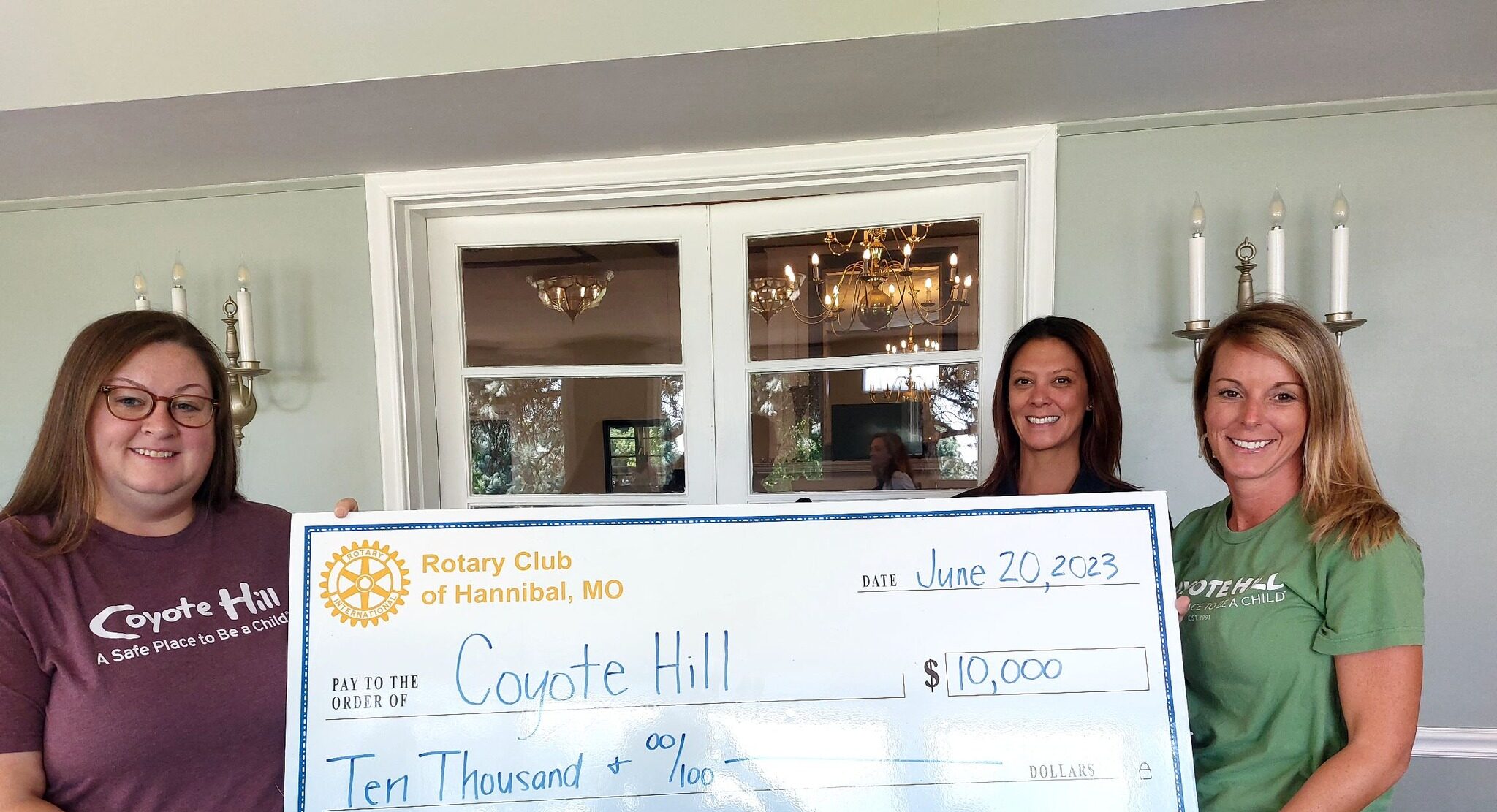 HANNIBAL, Mo. – Local foster children and families will receive a boost in services thanks to a $10,000 grant presented Tuesday afternoon to Coyote Hill, a foster care licensing and support organization, from the Hannibal Rotary Club.
Members of Hannibal Rotary chose Coyote Hill out of a number of applicants for the grant. Hannibal Rotary President Heather Temple said the group wanted to help local foster children with funds raised over the last fiscal year.
"All funds we raise are pumped back into the community, but this year we happened to have a really great year so we wanted to give a $10,000 grant to an organization that directly impacts foster children in the community," Temple said. "Coyote Hill was our choice for that."
Hannibal Area Coordinator for Coyote Hill, Brittany McCaskey, said they are thankful and honored to receive the grant. She explained several ways the funds would be used to benefit foster families in Marion, Ralls, and Monroe Counties.
One is the Coyote Hill program Memory Makers.
Foster families can apply for up to $500 per year to help cover expenses for vacations or other activities such as baseball registration and equipment, summer camp, and more.
"These kids haven't had these memories. Often, their families can't or don't know how to meet those needs," McCaskey said.
The grant money will also help fund Coyote Hill community groups, which are set to start in September.
The groups will offer support groups for foster moms, dads, biological children, and foster children. The kids' groups will be taught vacation bible school style lessons, and how to manage emotions such as anger, disappointment and sadness.
Older kids will learn how to make a budget, find a job and more.
Family enrichment is another way the Rotary grant will benefit foster families. McCaskey said they are there in any way to support the needs of their foster homes.
"We know our families very intimately and talk to them on a weekly basis, so we know what's going on," she said. "If they are having a hard week then we know how to meet those needs. We are contacting churches to do meal trains."
Direct Services such as home repairs is another way they support families. Whether it's from an angry child punching a hole in the wall or the water heater going out, Coyote Hill helps foster families maintain safe homes.
"A water heater doesn't directly go to the child, but the warm water does," she said. "We have staff who can come in and help repair their homes, or we figure out what organization we can work with to help cover costs."
McCaskey reported that Marion County has 250 foster children with only 100 foster homes. Foster children are often moved up to three hours away due to lack of local foster homes, which makes contact with biological parents harder.
"Coming into foster care alone is traumatic, losing your parents and often siblings as people aren't usually equipped to take in two or three kids at a time. They are often split up," she said. "But moving two or three hours away takes them from everything they know – teachers, friends, extracurriculars."
McCaskey said Coyote Hill wants to heal the children of today to save the children of tomorrow.
"We really want to make generational changes," she said. "Ten years ago we had just under 100 kids in foster care and now we have over 200 just in Marion County. It is drastically going up."
Coyote Hill now has 21 licensed foster families with four pending. Six families are signed up to foster in fall.
How you can help foster families
Coyote Hill is seeking volunteers in the Hannibal area to help with childcare during meetings on the second Thursday of each month.
An informational meeting for those interested in foster will be held on July 27 at 6 p.m. at Mission 180, 201 N. Hawkins in Hannibal.
To learn more about fostering, visit coyotehill.org.
Miss Clipping Out Stories to Save for Later?
Click the Purchase Story button below to order a print of this story. We will print it for you on matte photo paper to keep forever.