Mission:Able – One boy's love for fence painting brings together an annual event for those with disabilities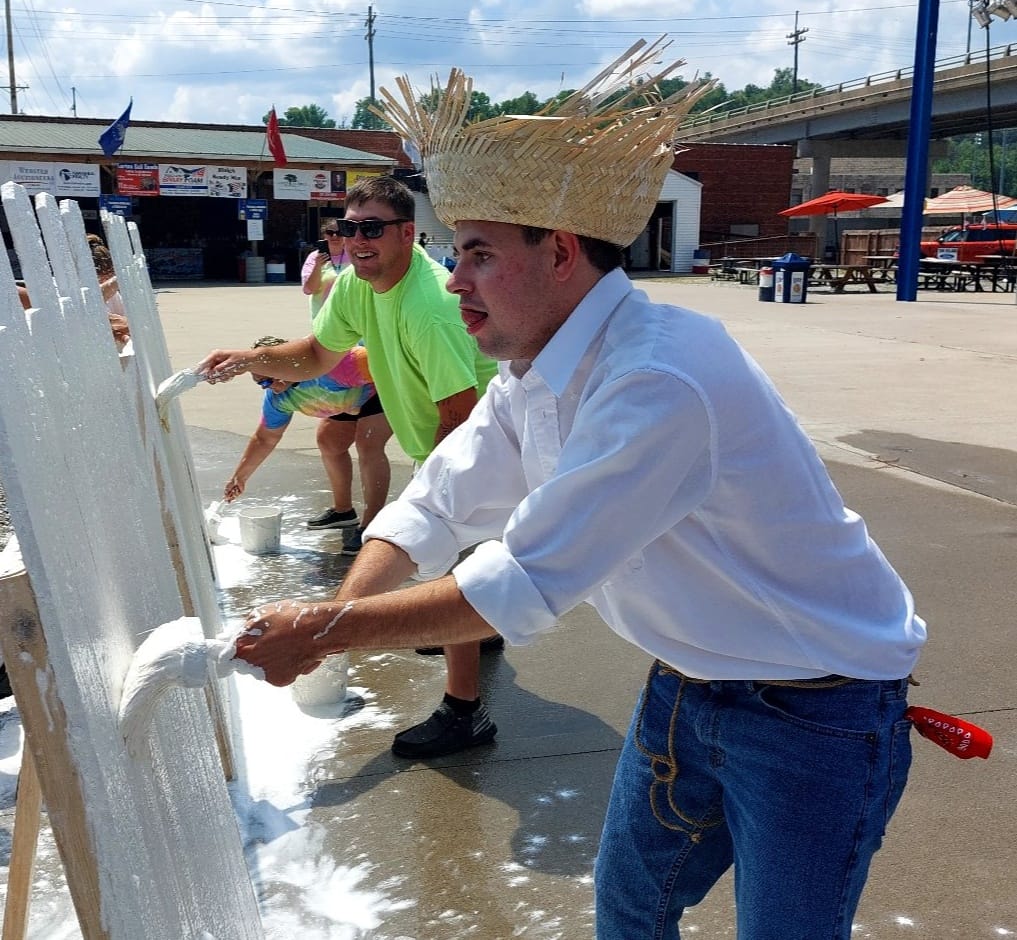 HANNIBAL, Mo. — Caden Friedlein, who has cerebral palsy and wears a cochlear hearing device, anxiously waited his turn to grab a brush and slosh paint on a fence.
He beamed as he talked about his favorite activity. Caden waits for the fence painting event all year long.
His parents, Shawn and Amy Friedlein, and his grandmother, Gloria Friedlein, were there to cheer Caden on. They said fence painting is something Caden connected with immediately when he saw it. In fact, the event started three years ago because Caden fell in love with fence painting after watching it at National Tom Sawyer Days.
The third annual Mission:Able fence painting event by Hannibal Jaycees took place Monday morning near Tanyard Gardens. The event mirrors the traditional Tom Sawyer Days fence painting but is geared to people of all ages with disabilities and special needs.
Each painter took on the job at their own pace and according to their needs. Whether they needed a partner to assist them or just encouragement, volunteers were there to make it fun for everyone.
Some participants painted with precision, carefully whitewashing each picket, and others focused on speed and making sure volunteers got as covered as the fence – which they were encouraged to do.
Caden's love for the event doesn't come without sacrifice.
He participates by taking his cochlear implants out so he doesn't get them wet, and he removes his leg brace to keep paint off it.
"He is able to still compete, but he is sacrificing to do it because he loves it so much," Friedlein said.
When they first saw his excitement over the activity, the Friedlein family created their own fence painting event, setting up fences at home for the family to whitewash.
Friedlein said they have received community support from the beginning.
From the manager at Lowe's surprising the family by donating the fence lumber for their at-home event to the Hannibal Jaycees taking it to the next level with an annual fencing painting event, Friedlein is blown away by the support.
"If it wasn't for the Jaycees, this would have never happened. Thankfully there were people in the Jaycees I had been friends with for a long time, and they knew Caden as he was growing up," he said.
Friedlein approached the Jaycees about doing an event for Caden, and others, to participate in. The following year, his friend and member of the Jaycees, Darin Thrasher, called him to let him know the plan was in the works.
"We absolutely love it. Each year we get more," said Emma Dooley, director of Mission:Able. "We don't give first, second, third places. We just let them paint a fence."
The Mission:Able event has grown to include a special time for those with individuals and special needs to enjoy carnival rides with accommodations they need. The Junior Jaycee committee members buddy-up and ride with those who don't have someone to accompany them on rides.
Dooley said about 75 individuals came for the carnival rides this year. She said she plans to add more Mission:Able events every couple of years.
"Each year I think it will get bigger and bigger," she said.
The Jaycees also host a Mission:Able Haunted House Night in October at their annual Warehouse of Nightmares to accommodate special needs such as turning off the strobe lights.
All Mission:Able events are free to participants.
Friedlein also helps support the event by donating T-shirts and trophies. He and wife, Amy, sponsor the event through their businesses — Shawn's Landscaping Contractors, Mega Rush Diesel in Palmyra and Custom Cuts in Quincy.
Deborah Maher, a family friend, also helps sponsor the event.
For Friedlein, watching the event come together brings emotions he doesn't know how to express.
"I don't know what the word is to explain it, but it makes me feel good. I like seeing the kids' faces. It's all about them," he said.
Miss Clipping Out Stories to Save for Later?
Click the Purchase Story button below to order a print of this story. We will print it for you on matte photo paper to keep forever.