Calftown building where 2008 fatal fire occurred hit again by fire
QUINCY — A building on the northeast corner of Seventh and State, where three people died in a fire in 2008 and a man was convicted for setting the fire and murdering them, was ablaze again Wednesday night.
Quincy Fire Chief Bernie Vahlkamp said the call came in at 5:48 p.m. Wednesday, and it quickly went to a second alarm. Grey smoke was visible across the Calftown skyline within minutes.
"There was fire coming through the roof when we pulled up," assistant fire chief Scott Lucey said. "But when we pulled out at Ninth and Vermont (from Central Fire Station), as soon as we turned on Vermont and went south, I called dispatch said, 'Smoke visible.'"
Vahlkamp said a third crew was called in at 6:25 p.m., which meant all of the reserve trucks responded. Sixteen firefighters were on the scene, and another 14 came in off-duty to backfill the Central Fire Station in case another call came in.
Andy Caley, who owns Caley Custom Construction of Quincy with his wife, Dana, bought the property at 649 State for $20,000 through their limited liability company, Microplex Properties, on May 26, 2021 from Abbott Development. The Caleys are owners/partners in Calftown Corners, which is listed as the owner of the former Broughton Real Estate office at 735 State among other properties in the neighborhood.
Andy Caley said the plans were to renovate the building to provide affordable housing upstairs with a commercial business downstairs.
"It's devastating," he said. "I don't know what we're going do. We went to get (the building) insured, and it was not insurable. So we were going to try to get it fixed up so we could insure it. Now this."
Andy Caley said he was having dinner with his family in Hannibal, Mo., when he learned of the fire.
"I was literally just thinking, there's so much stress because I'm a contractor, and we've been under lots of pressure lately," he said. "I thought tonight, this is gonna be alright. I was just really enjoying my family, and somebody called and said, 'Your building's on fire."
He said the last time he was in the building was "two or three months ago." He had boarded it up and locked it up.
There was electricity to the building, but Ameren crews quickly arrived to shut it off. There was no gas service to the building, but Ameren crews worked to close off a gas main to the east across Seventh Street. However, a crewman working the backhoe hit the gas line, and crews scrambled to seal it.
Valhkamp said fire crews are expected to remain on the scene for most of the night. An investigation is under way.
"The building has been vacant for quite some time," Lucey said. "It's very suspicious. A fire just doesn't get started like that in the middle of the day."
No one was inside when the fire started.
State Street was blocked at Sixth and Eighth streets as firefighters attacked the blaze.
Vahlkamp said once the fire is contained, fencing will be erected around the building. Because the roof is gone, as well as the floor on the second floor, Vahlkamp said the walls are very unstable.
David Bentz was convicted in October 2009 of three counts of first-degree murder and two counts of aggravated arson in connection with an Oct. 25, 2008, fire in the same building that left three people dead.
Bentz admitted he was in an apartment he formerly shared with his wife the night of the fire. Bentz told a former roommate and friend he set a couch on fire in the corner of the apartment because he was mad at his wife.
David Jones, Samuel Burton and Linda Wilson were killed in the fire. Bentz's wife, Heather Cole Bentz, was not in the apartment during the fire.
MRN Editor David Adam also contributed to this story.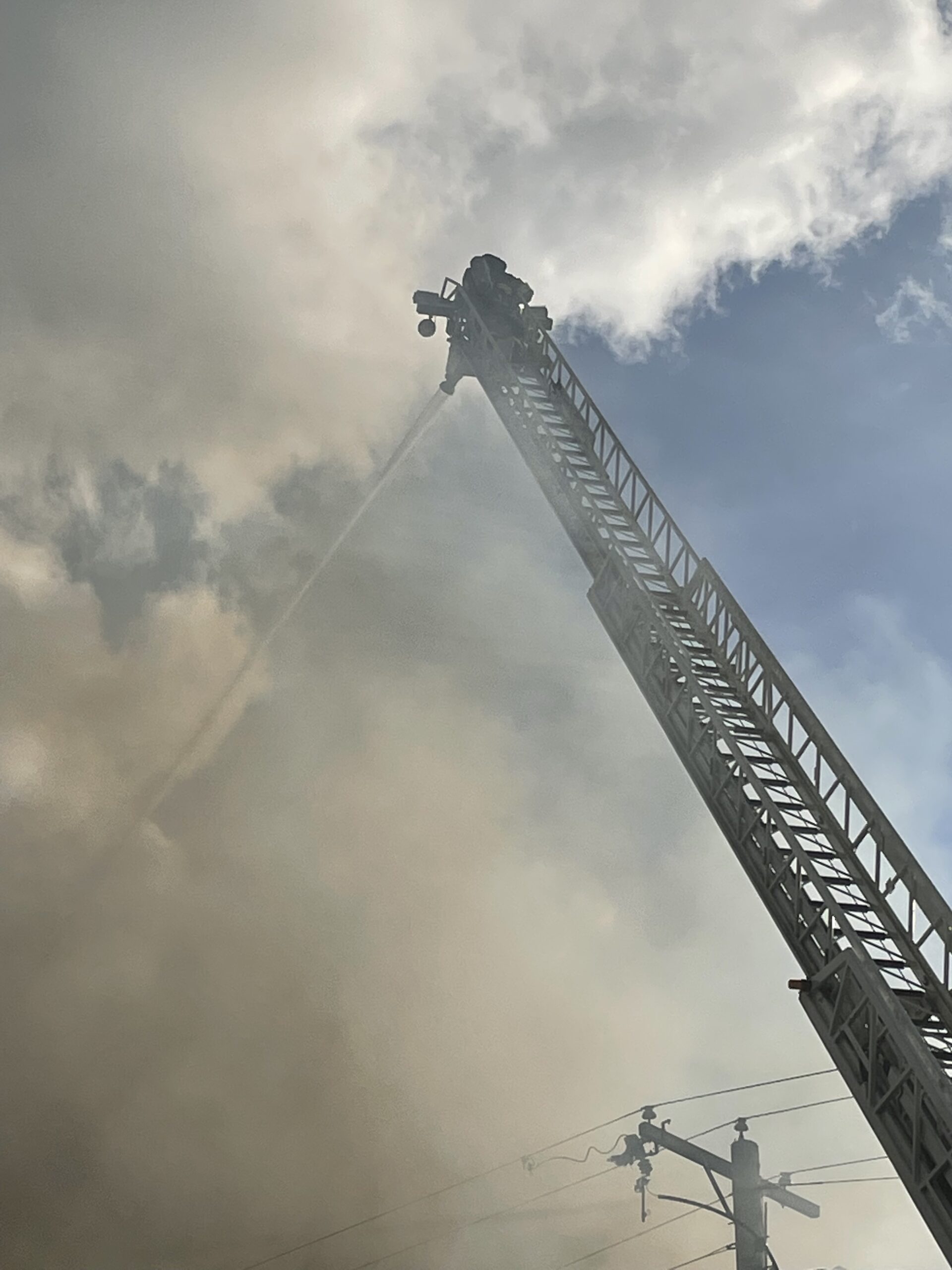 Miss Clipping Out Stories to Save for Later?
Click the Purchase Story button below to order a print of this story. We will print it for you on matte photo paper to keep forever.