Quincy Community Theatre unveils schedule of eight shows for 2024 season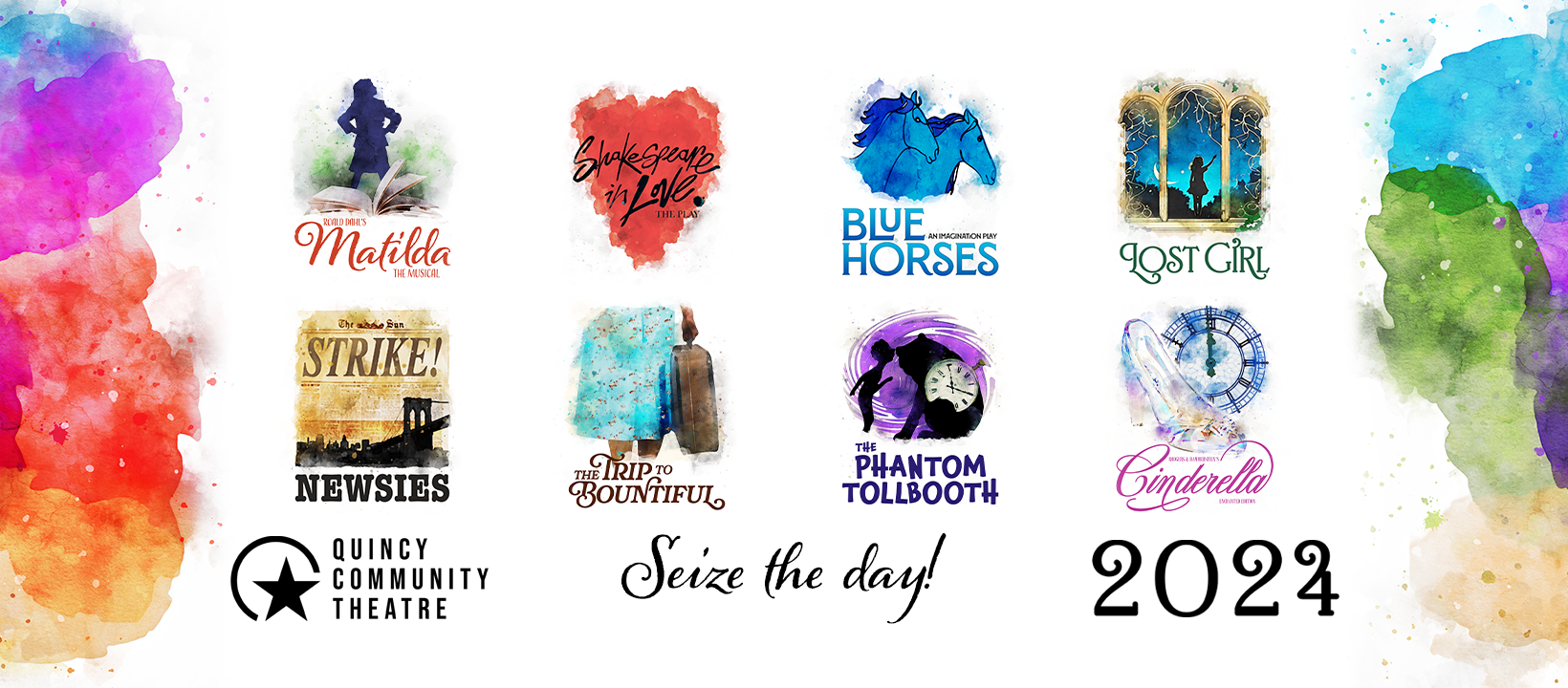 QUINCY — Quincy Community Theatre recently unveiled eight shows as a part of next year's season, as well as a season tagline which is a line from the summer musical, "Newsies."
The 2024 season ticket is:
Roald Dahl's "Matilda the Musical" (Feb. 16-18 and Feb. 22-25) Student Theatre Production — Matilda the Musical revels in the anarchy of childhood and the power of imagination. Matilda Wormwood is a little girl with astonishing wit, intelligence and psychokinetic powers. She's unloved by her cruel parents but impresses her schoolteacher, Miss Honey. During her first term at school, the two forge a bond as Miss Honey begins to recognize and appreciate Matilda's astonishing personality. Matilda's school life isn't completely smooth sailing, however. The school's mean headmistress, Miss Trunchbull, hates children and loves to punish those who don't abide by her rules. Matilda has courage and cleverness in equal amounts and could be her classmates' saving grace.
Shakespeare in Love (April 19-21 and Feb. 25-28) — The beloved, Oscar-winning film comes to life onstage in an extravagant production that's both wildly funny and irresistibly romantic. Young Will Shakespeare has writer's block … the deadline for his new play, "Romeo and Ethel: The Pirate's Daughter," is fast approaching but he's in desperate of inspiration. Enter Viola, a headstrong noblewoman and admirer of Will's, who disguises herself as a boy so she can skirt the law and appear (as a girl) in his play. But when the playwright and his muse fall in love, the plot undergoes some surprising rewrites. Mistaken identities, courtly intrigue and backstage bickering are all part of the fun in this romantic comedy.
Newsies (July 19-21 and 25-28) — Set in turn-of-the century New York City, Newsies is the rousing tale of Jack Kelly, a charismatic newsboy and leader of a band of teenaged "newsies." When the titan of publishing raises distribution prices at the newsboys' expense, Jack rallies newsies from across the city to strike against the unfair conditions and fight for what's right. This is based on the 1992 motion picture and inspired by a true story.
The Trip to Bountiful (Sept. 13-15 and 19-22) — Nothing will stop Mrs. Watts from returning to her beloved hometown of Bountiful, Texas. Not her overprotective son, her bossy daughter-in-law, her lost pension check, or even the town sheriff. What she longs for most is to go home one last time. But is home a place, a feeling, or only a memory?  
Rodgers and Hammerstein's Cinderella (Enchanted Edition) (Dec. 5-8 and 12-15) — Celebrate the holiday season with one of the most beloved stories of all time. Be transported to a world where fairy godmothers are real, pumpkins can turn into carriages and a glass slipper can lead a prince to his one true love. This musical retelling of the classic fairytale features some of Rodgers and Hammerstein's loveliest music, including "In My Own Little Corner," "Impossible" and "Ten Minutes Ago."
Additional family/student theatre productions for 2024 include:
Lost Girl  (June 13-16) — What ever happened to Wendy Darling in the years following her childhood adventure with Peter Pan? Even though she has left the nursery window open all these years in the hope of Peter's return, long gone are the flights of fancy, pirates, princesses and Neverland. Wendy decides that she must find Peter to reclaim her kiss and move on with her life. Along the way, she meets other girls who went to Neverland and learns she is not alone. Lost Girl is a coming-of-age exploration of first love and lasting loss, continuing the story of J.M. Barrie's beloved character – the girl who had to grow up.  
The Phantom Tollbooth  (October 17-20) — Told with whimsy, humor and moments of danger and intrigue, Norton Juster's enduring fantasy adventure novel is brought to life on the stage. Milo, a very bored young boy whose bedroom is overflowing with toys, receives a strange package containing a make-believe tollbooth. As he drives through it in his toy car, he is transported to a magical world of imagination and allegory. Milo soon realizes that all is not well in the Lands Beyond, and he and his new companions, the watchdog Tock and the braggart beetle Humbug, set out on an epic journey to rescue the Princesses Sweet Rhyme and Pure Reason. Along the way, Milo learns valuable lessons that give him the ability to best each obstacle with knowledge and humor.
QCT on the Road: Blue Horses: An Imagination Play  (Touring May 1-June 1 ) — While stargazing on a summer night, four young friends, each with their own obstacles to overcome, play a fantastical, imaginative game of "wish upon a star." Each player tells a story of their heart's desire as their friends take on roles to help the central character act out their wish. The wishes range from an intergalactic bicycle that rockets to distant planets, to a twin who is "smarter" to help solve the everyday problems of schoolwork, to magical shoes that give a shy young girl the courage to jump in and play. Finally, the friends help solve the struggle of a young artist's wish to be seen as "normal," even though she colors her horses blue. As the game goes on, each player's story helps them understand and assist one another in the trials and tribulations of growing up, gaining self-confidence and making friends.
Current season ticket holders may renew their seats beginning Oct. 9, with guaranteed seating renewals for fixed season ticketholders through Oct. 19. Season tickets are available to new season ticketholders beginning Oct. 23.
Aspiring actors of all ages, backgrounds and experience levels are encouraged to audition this year. Along with volunteer actors on the stage, volunteers are needed backstage to help with set construction, costumes and the tech crew.
For more information about the 2024 season, auditions or volunteering, call the QCT box office at 217-222-3209 or visit 1qct.org. Box office hours are 10 a.m. to 5 p.m., Monday through Friday. 
Miss Clipping Out Stories to Save for Later?
Click the Purchase Story button below to order a print of this story. We will print it for you on matte photo paper to keep forever.