Quincy man dating Becky Bliefnick details relationship, when they last spoke during Tuesday afternoon testimony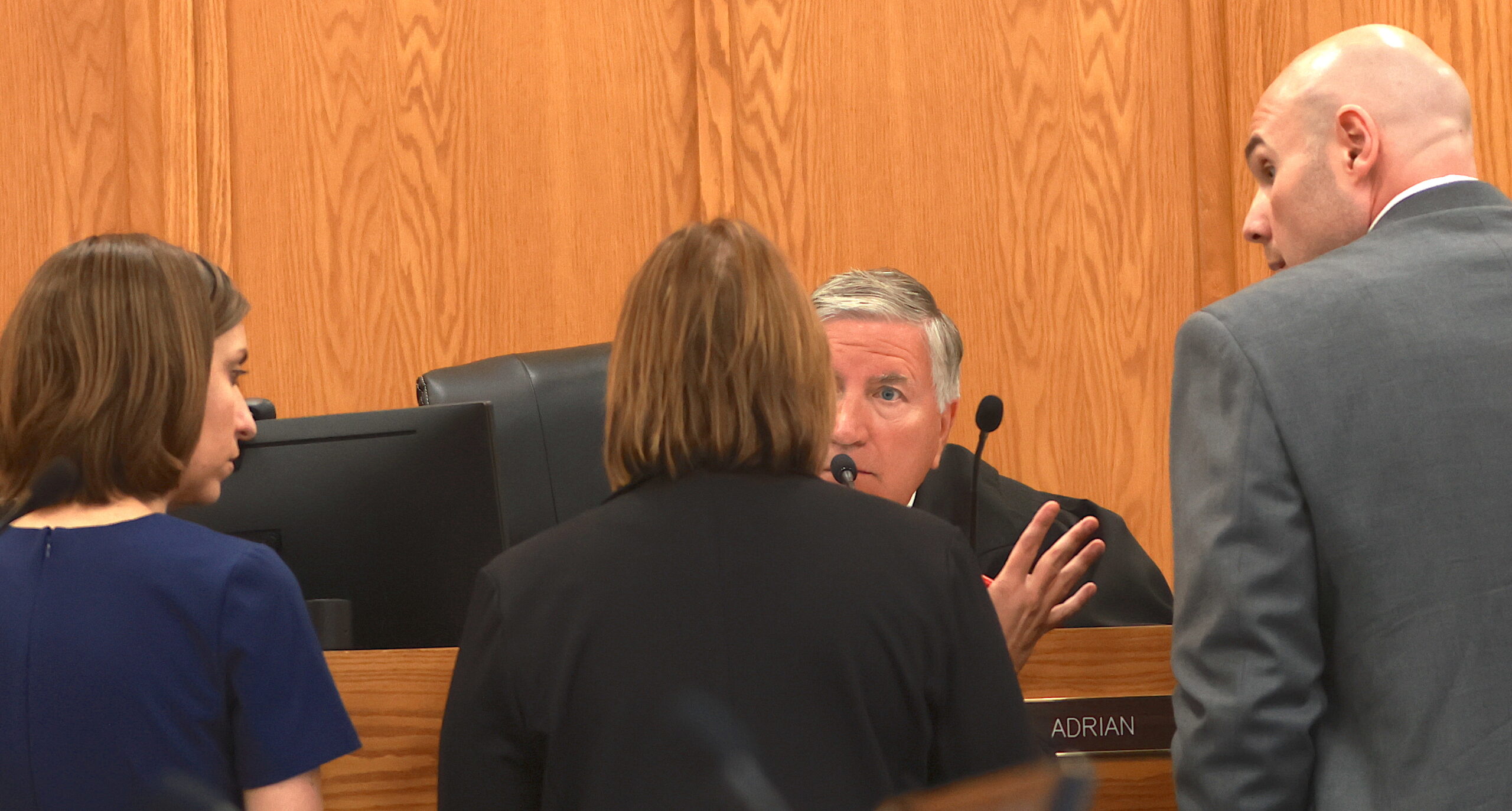 QUINCY — A Quincy man who testified he had been in a "dating type of relationship" with Becky Bliefnick since January 2020 said he saw her for the last time on the night of Feb. 21 and talked with her on the evening of Feb. 22 — hours before she was found shot to death in her home.
Tim Bliefnick, Becky's estranged husband, is on trial this week in Adams County Circuit Court for the Feb. 23 murder of Becky in her home on Kentucky Road. Ted Johnson was one of four witnesses called to testify Tuesday afternoon. The trial expected to resume at 9 a.m. Wednesday.
Assistant State's Attorney Laura Keck asked Johnson a series of questions about text messages and phone calls with Becky from Feb. 14 through Feb. 23. Johnson admitted arriving at approximately midnight at Becky's home, having sex with her and spending the night before leaving at 5:30 a.m. on Feb. 14.
He said the next time he saw Becky was on Feb. 21, a day after she had surgery in St. Louis. He picked up food from Qdoba and delivered it to her house, staying for about an hour.
"I helped her carry some bottles of water and some books upstairs," Johnson said. "I helped her into bed that evening. Pulled the covers over where she was going to go to sleep. I kissed her on the forehead and told her to sleep well.
"That's the last time I saw her."
Johnson said he exchanged text messages on the evening of Feb. 22 with Becky about doing laundry and paying bills. Becky told Johnson she was free to drive the following day.
"Pretty excited about that lol," Becky wrote. "Might not be too comfortable, but I'm allowed to do it."
The two exchanged more texts, and after about a two-hour break, Johnson texted at 9:18 p.m. to Becky, "Getting all your stuff done?"
Johnson then called Becky at 9:47 p.m., and they spoke for 26 minutes.
"She told me how she was feeling after the surgery," he testified. "She was excited that she was going to get pick up the boys the next day. She told me that she was excited to drive, she'd done laundry and she was really sore, but she was OK."
Johnson said he sent a text, "Good morning," to Becky at 6:41 a.m. Feb. 23. He texted again at 8:30 a.m. and said, "I hope you slept well." At 12:39 p.m., he texted her, "Marco?" He hoped she would reply, "Polo."
He didn't know about Becky's death until she received a Facebook message from her sister, Sarah Reilly, that evening. He said he later talked with Det. Nick Eddy with the Quincy Police Department for close to four hours. Johnson said Eddy took a photo of his shoe, and he also submitted to gunshot residue testing and allowed Eddy to look at his phone.
Johnson was asked if he owned a handgun. He said he owned a .40-caliber Smith & Wesson. He said he previously had a 9mm handgun, but his ex-wife was awarded it in a divorce settlement.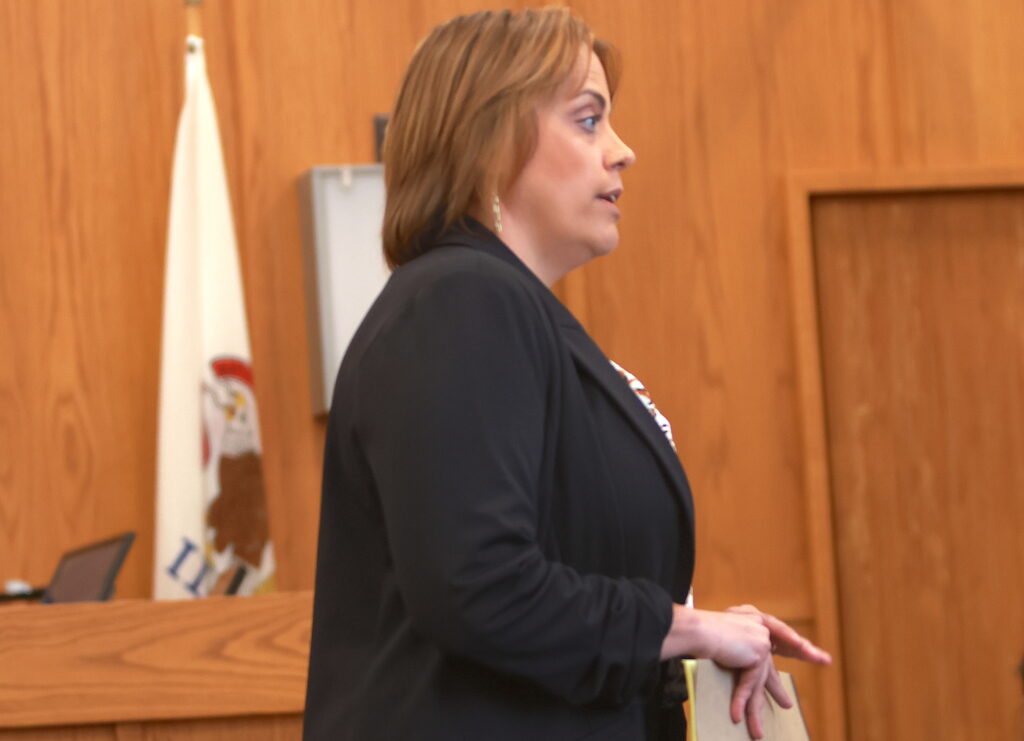 Attorney Casey Schnack asked if Johnson was seeing other people in February. He said, "Talking to, but not exclusively dating." Johnson told Keck earlier he became romantically involved with Becky during the summer of 2022.
When asked about Becky's attitude about the divorce this past February, Johnson said, "She was actually very excited for it to be done."
Schnack asked Johnson if he knew Becky was taking valium after her surgery. He said he didn't know if it had been prescribed to her, but she had said in a text on Feb. 22 that she had taken one.
"So you knew she was taking controlled substances at the time," Schnack said. "Also at this time, you were holding over $13,000 of her cash in your gun safe, were you not?"
"I'm not aware of what was in the bag," Johnson replied.
"Did you ever see the contents of that bag?" Schnack asked.
"Only when Detective Eddy pulled it out of my safe and unzipped it," Johnson said.
"There was several thousands of dollars in cash in that bag, was there not?" Schnack asked.
Johnson said he only knew that cash was in the bag, but he didn't know how much. He said he had been holding the bag for Becky for "a month or two."
Schnack asked what Johnson did on Feb. 23. He replied that he went to work at 7 a.m. and left "sometime after 4 o'clock." He then said he went to his parents' home to feed his horses.
Johnson also admitted he traveled to Kirksville, Mo., on Feb. 22, to meet with the guardian ad litem for his children to discuss a change of custody in his own divorce case. He said a female co-worker came to his house for about 90 minutes on the evening of Feb. 22.
"Did you ever leave your home Wednesday evening going into Thursday morning?" Schnack asked.
"I don't recall," Johnson said.
"Is there anybody who stayed at your house that night?" Schnack asked.
Johnson said no.
Miss Clipping Out Stories to Save for Later?
Click the Purchase Story button below to order a print of this story. We will print it for you on matte photo paper to keep forever.