Quincy native's latest work of fiction involves characters found when cleaning parents' home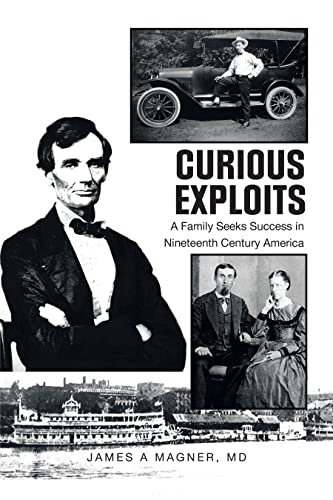 QUINCY — You never know what you may come across when cleaning out your parents' home after they have died.
"There was a box full stuff from the 19th century," Quincy native Jim Magner says. "My parents when they died … my brother and I cleaned up the house. We found old photos and stuff that they had collected from other dead relatives. We shouldn't just throw it out."
Having published four books, Magner saw a great opportunity to expand on his 2020 release, a novella called "The Legacy of a Steamboat Cabin Boy." It's a story of a boy who gets accidentally mixed up with criminals along the Mississippi River around Cairo.
"And he knows where they've accidentally dropped a strongbox of gold in the river," Magner said. "It's abandoned. He's sort of a scientific person, and in 1880, he figures out how to locate and then recover the strongbox."
Magner has a scientific background. After attending St. Francis School and graduating from Christian Brothers High School in 1969, he attended the University of Illinois-Champaign. He attended medical school at the University of Chicago, becoming a doctor of internal medicine with a specialty in endocrinology.
After taking a position with Bayer, he moved his family to New England, where he lives today.
His current book, "Curious Exploits: A Family Seeks Success in Nineteenth Century America," is a work of historical fiction. Magner mixes the fictional characters from his fourth publication with the real-life residents of Quincy he discovered in his parents' attic.
"I wanted to write a sequel to show what happened to the money, so I use real people with real events for a lot of this story, and then carried the book forward with these Irish fictional characters (the McCarthys), who were sort of distantly related to the Metzger family," he said.
The story began with Martin Metzger and his wife traveling to the United States in the mid-19th century from Wurttenburg, Germany. With a newborn in tow and seven other children, they landed in New Orleans looking to start a life in Texas. The family eventually migrated up the Mississippi to Quincy, where they put down roots. The novel follows the lives of the Quincyans into the mid-20th century.
"There are three generations of the Germans,' Magner explains. "Martin starts in 1846 and brings his family. Then his son is John, who was a brilliant man, and he became a big-time businessman in Quincy. He was the fire chief of Quincy for many years, and then he was one of the founders of the Western Catholic Union."
Magner points out his relatives, and other Quincyans, experienced much of what others did in the growing United States — the Gold Rushes, Lincoln's debates, the cholera epidemic and the Mexican-American War, to name a few.
Wanting to build off "The Legacy of a Steamboat Cabin Boy," Magner saw a path to his goal after finding the boxes in the attic.
"I could mix in real people who actually lived in Quincy," Magner stated. "And then I had all these materials from the deceased relatives. Instead of writing a fictional book with a few real people in it, I ended up writing a book that was mostly real people who really did the things that are in the book … about 200 real Quincyans."
Published in April, "Curious Exploits" is available in multiple formats on Amazon.
Magner is excited to provide this book to readers in his hometown.
"I hope people in Quincy will read it, because they will see some of their own relatives that they didn't even know about," he said.
PUBLISHER'S NOTE: Jim Manger purchased space on Muddy River News. JRG
Miss Clipping Out Stories to Save for Later?
Click the Purchase Story button below to order a print of this story. We will print it for you on matte photo paper to keep forever.