'Sometimes looking back at everything is hard, but my tears now are of praise' : Billie Vavra moves from addiction to ministry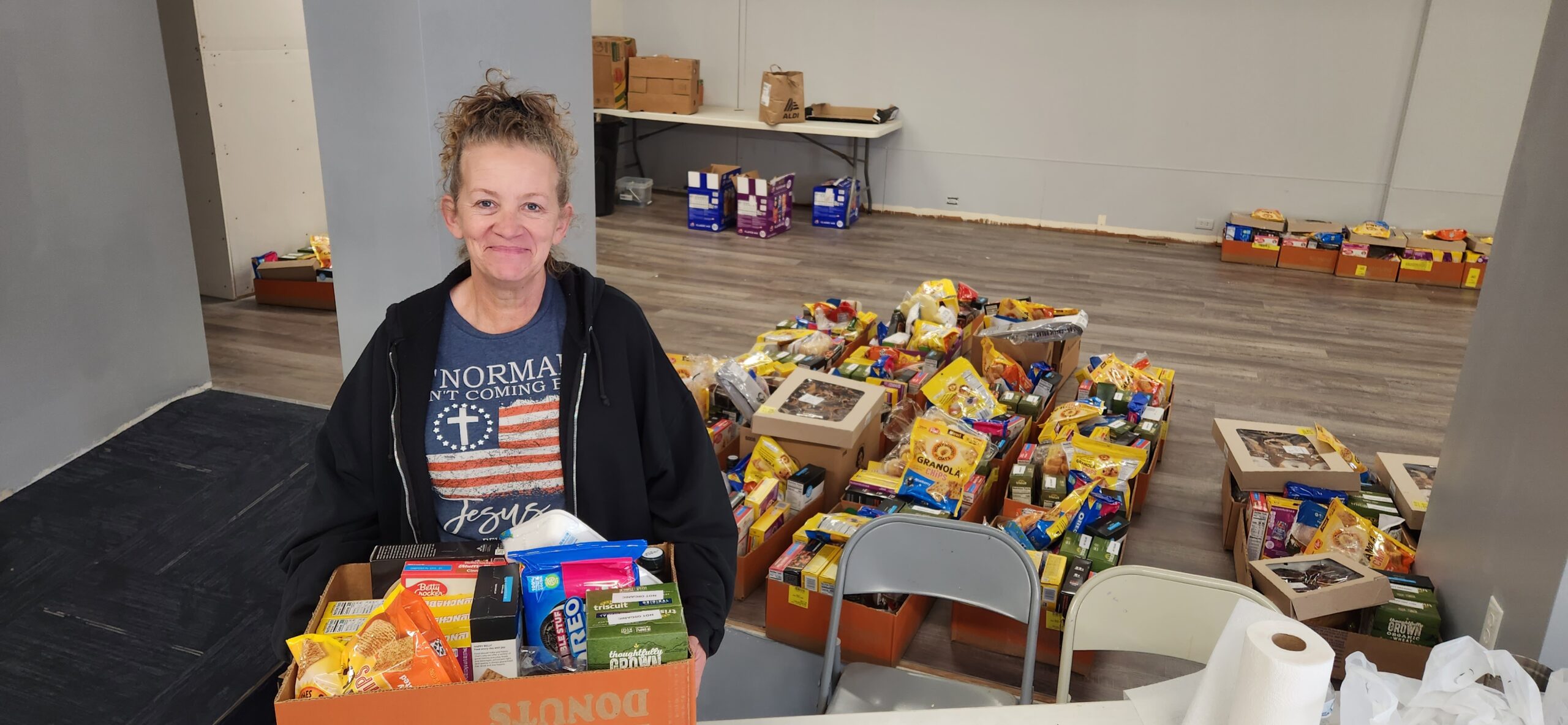 HANNIBAL, Mo. – "That is me walking through that door," said Billie Vavra, the Director of
Food Programs at Harvest Outreach Ministries.
Each weeknight, Vavra makes certain a different volunteer group is in place and ready to serve a free hot meal to anyone who comes to the new Loaves & Fishes Building at 413 Broadway in downtown Hannibal across from Central Park.
Vavra takes pride in the fact that every individual coming in is greeted with, "Welcome! We are glad you are here!" Normally around 60 plus individuals hear that each weeknight when they come in the door to get that free meal.
Vavra has served in this position since July of 2022, but for her this work is much more than a job. It is a calling and one that is personal. She never expected to be in this role, but she is, and she loves it. That becomes clear as you watch her work.
Though Vavra now devotes her life to this ministry, her life was once much different. That different life Vavra once lived lets her understand and empathize with everyone turning to Loaves & Fishes for help.
Vavra once was addicted to methamphetamine. Children's Division was involved with her and at her worst, they said she would never see her children again. She served time in prison. She was on probation. She got sober and then relapsed.
Vavra struggled to put food on the table for her kids and even when married, there were years when their annual household income was less than $12,000. She made meals out of nothing – she remembers her kids bragging that she made the best peanut butter and jelly sandwiches. That was all she had to feed them.
"Sometimes looking back at everything is hard," said Vavra. "But my tears now are of praise."
Vavra was tired of her old life. She was sick and tired of using drugs. Life led Vavra away from Hannibal for several years – she lived with her son in Indiana and used that time to heal.
Vavra credits Christ with how far she has come.
In the summer of 2022, a friend reached out to Vavra sharing she had a great job opportunity she wanted Vavra to come learn about in Hannibal. At that time, Harvest Outreach was in need of a Women's House Supervisor and a Director for the Food Programs. She was being encouraged to apply for both jobs with the organization.
"I had full intentions of declining the job," said Vavra. However, she met with leaders of Harvest Outreach Ministries and learned about the programs of their organization. They encouraged her to try out the position for just 30 days.
"I was 9 days in and I quit my job in Indiana and moved back," said Vavra. "I just found my place here. In two years, I had been trying to find my place in Indiana. I never found it. It took just nine days with the women in the house and my church family to feel at home."
While working as the Women's House Manager, Vavra oversaw the women in the house and helped encourage them on their walk with sobriety. She lived in the house and helped keep women accountable. Additionally, she made certain women made it to appointments and their jobs.
Vavra got married in the Summer of 2023 which meant she had to transition out of this role. But, Vavra was happy to hand over the Women's House Supervisor position to another woman who had been living at the house. Her transitioning out of the home also meant there would be room for another woman to come live in this supportive, sober living environment.
Vavra still works as the Director of Food Programs. In that role she coordinates the volunteer groups that provide Loaves & Fishes meals nightly. She coordinates the distribution of 75 plus food boxes every Friday that contain food from the Food Bank of Central and Northeast Missouri as well as food that is "rescued" from Walmart, Aldi, and McDonalds. When there are not volunteer groups to serve the weeknight meals, Vavra finds food, prepares, and serves the meal.
The building where these food programs take place was purchased in late 2022 by Harvest Outreach Ministries. The building has been undergoing renovations which are finally almost complete. With the completion of this building, Vavra now has had it placed upon her heart to see how that building can even better assist the individuals turning to their organization for help. Her next quest to ensure individuals coming through the door are not only fed, but connected to the resources they need to transform their lives.
Vavara makes the mission of Harvest Outreach Ministries and United Way of the Mark Twain Area come to life within the Hannibal community.
Harvest Outreach Ministries will benefit from United Way of the Mark Twain Area's BE A LIGHT Campaign. Throughout the month of October, United Way is highlighting Harvest Outreach as the Community Impact Agency of the month.
Harvest Outreach Ministries is one of the 17 local non-profit organizations that will benefit financially from United Way's BE A LIGHT Campaign.
Miss Clipping Out Stories to Save for Later?
Click the Purchase Story button below to order a print of this story. We will print it for you on matte photo paper to keep forever.