'This is a public health safety issue': Quincy attorney, judge want comprehensive tests done on courthouse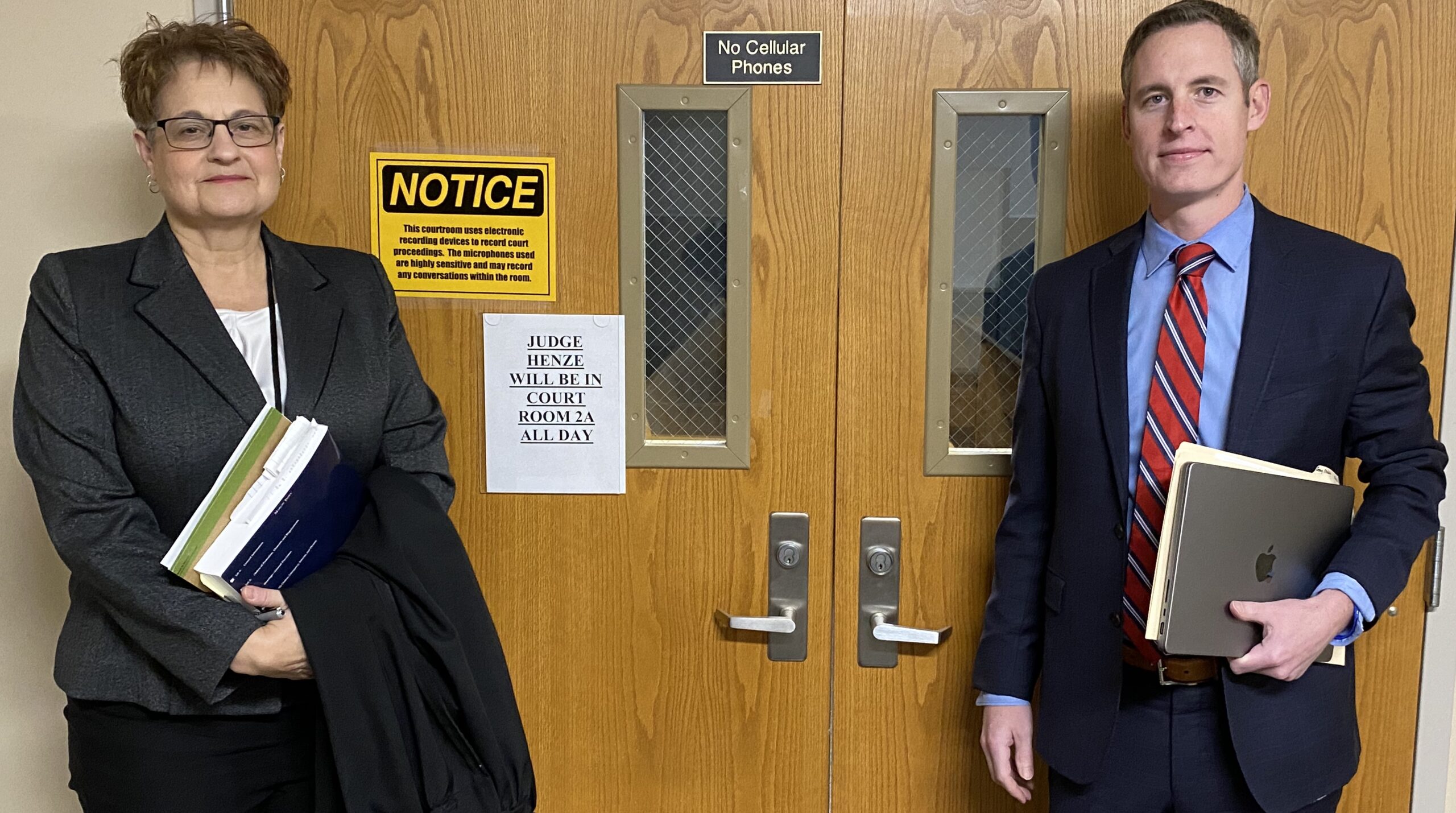 QUINCY — Quincy attorney Ryan Schnack has been diagnosed with chronic inflammatory response syndrome — a condition he says can be debilitating, but it's also treatable and curable.
"If I'm exposed to mold, my immune system goes crazy," he said. "If I get toxins in my body, my body has an abnormal response. I have a lot of muscle twitching and burning pains. It feels like I'm on fire."
Doctors have yet to give Holly Henze, an associate judge in the Eighth Judicial Circuit, a diagnosis for her ailments. She says she has had lightheadedness, headaches, tinnitus, stiff joints, hot flashes, twitching, unexplained rashes and what she calls "the crawlies" — tingling in her limbs and different parts of her body.
She's been tested for multiple sclerosis, cancer, allergies and pulmonary functions. She's been told she has Idiopathic neuropathy. Idiopathic means "unknown origin."
"My insurance company wants to rule out every possible disease. Then I can ask for a referral out of network," she said.
What Schnack and Henze believe they have in common is their medical problems stem from their workplace — the Adams County Courthouse. They spoke to the Transportation, Building & Technology Committee at its Dec. 13 meeting about possible mold issues in the courthouse and jail.
Transportation, Building & Technology Committee to meet Tuesday
The Transportation, Building & Technology Committee for the Adams County Board is scheduled to meet at 5:30 p.m. Tuesday. One of the items under "New Business" is discussion of a mold testing and cleaning project. When the full County Board meets at 7 p.m., it is expected to review and approve bids for mold remediation and duct cleaning for the 77,000 square-foot courthouse, built in 1950 and renovated in 1997.
The County Board will meet in Courtroom 2D — the courtroom Henze used until she complained about her health issues to Frank McCartney, chief judge of the Eighth Judicial Circuit. Henze now uses Courtroom 2A.
Adams County Sheriff Tony Grootens received bids from St. Louis-based Fungus-A-Mungus and Safestart Environmental from Buffalo Grove, Ill. He gave them to the Transportation, Building & Technology Committee.
Committee chairman Dave Bellis said the bid from Fungus-A-Mungus, which assesses mold-contaminated properties and designs remediation plans, is "about $42,000." He said the bid from Safetstart is "about twice as much."
Schnack hopes the committee is willing to spend the extra money.
"The credentials for Safestart are much better than Fungus-A-Mungus for this type of inspection," he wrote to courthouse employees and committee members in a recent letter. "I am asking for your support so we can obtain the best investigation possible, not just the cheapest."
Henze wants test to cover radon, asbestos, mold and sewage
The jail on the third floor of the courthouse has sat empty since the Adams County Sheriff's Department and inmates moved into a $32 million facility at Sixth and Vermont in May and June of 2020.
"What we would like to see (the County Board) do is award the bid to a company that will do more comprehensive testing and not just come in and test for mold," Henze said.
"We know from our research and reading about other public buildings and courthouses, it's not just usually a mold issue. We've known for years that the inmates just for fun clogged up the toilets, so you have sewer issues. It was typical to be sitting in a courtroom and, then drip, drip, drip … well, the toilets got clogged again. That's raw sewage coming out. Just because they moved the jail, that hasn't taken those toxins away.
"We want someone to test for radon, asbestos, mold, sewage … we're looking for a company that's more comprehensive. Of course, that makes the bid more expensive."
Schnack has been an attorney in Quincy since 2008. His issues were first noticed in April 2022. He met with his primary care physician, then was referred to a neurologist who thought he may have upper motor neuron disease — also known as amyotrophic lateral sclerosis (ALS) or Lou Gehrig's Disease.
"I'm thinking I'm going to potentially die," Schnack said.
Schnack: Dust samples from jail more than 5,000 times higher than standard levels
Further evaluations in Salt Lake City, St. Louis, Minneapolis, Indianapolis and Denver led to change to the chronic inflammatory response syndrome diagnosis. What Schnack learned during the process is he believes his condition's root cause is mold exposure and sewer gas. One of his doctors told him to obtain dust samples from environments he spent time in.
A microbiologist in a New Jersey laboratory tested the samples. Schnack said the spore concentration count of Aspergillus penicillioides was at 47,000 in the former Adams County Jail (on the top floor of the Adams County Courthouse), with safe levels less than 500. The spore count of Wallemia sebi was at a level of 840,000, with safe levels considered less than 2,500.
"This is about 5,000 times higher than what standard levels should be," Schnack said. "I believe the former jail is significant is because our HVAC system filters air from our former jail into the lower levels of the courthouse. Moreover, my doctor has never seen levels this high, and he specializes in this area."
When Schnack spoke with Safestart about the results from the microbiologist, he said they told him, "Our courthouse is a sick building."
Schnack says he must consider an alternative work environment if he believes remediation plans at the courthouse don't solve the problems. As for Henze, she says she would just continue to live with her symptoms.
"I'm not ready to retire," said Henze, an attorney or a judge at the courthouse since 2002. "I love what I do. It's sad that there's a possibility that my dream job is making me ill."
Case at Massachusetts courthouse was settled for around $100 million
Both believe other employees at the courthouse are sick as well because of working conditions.
As part of the bid process, Safestart sent a questionnaire to county employees. Schnack said 115 people responded to the questionnaire, and 69.5 percent of them said they had traditional health symptoms (allergies, itchy eyes, burning) they believed were a result from working in the courthouse. Thirty-five percent of them reported having inflammatory symptoms similar to Schnack.
Schnack and Henze point to recent health issues at the Roderick L. Ireland Courthouse in Springfield, Mass. Some people who worked in the courthouse died from conditions like ALS. One of the neurologists involved linked specific mycotoxins from the courthouse to the individual that died from ALS. 
Ultimately, the case settled for around $100 million.
"It appears we have similar issues at our courthouse," Schnack said. "You can see visible mold and sewage leaks in our courthouse in numerous areas — vents, walls, floors, ceilings, etc. Judge Henze picks up mold chunks flying from the vent into her office every day. The courthouse sewer pipes have been leaking for years. It is not uncommon to see buckets around the courthouse catching sewage from leaking pipes in the ceiling."
'I cannot recover in a building infested by mold, bacteria, asbestos and sewage'
Schnack typically wears a mask when he appears for any hearings in the courthouse. He leaves as soon as he's finished.
"My goal is to recover. I cannot recover in a building infested by mold, bacteria, asbestos and sewage," he said. "I love this community. My family has been living here for four generations. My wife and I decided to come back to Quincy to raise a family here. We owe it to ourselves, the general public, judges, clerks, state's attorneys, public defenders, inmates, all courthouse employees, and anyone who walks in the building to provide a safe environment.
"We're breathing in particles and toxins that we can't see. I have the tests to prove I'm right. It's unfortunate, but I'm throwing myself out there because it's not only for me but for everybody."
"This isn't just a courthouse issue. This is a public health safety issue," said Henze, who said she has no plans to return to her old courtroom. "It's a community issue. My goal is just to get this out there and and then hope that the decisions (on remediation) made are well reasoned."
Miss Clipping Out Stories to Save for Later?
Click the Purchase Story button below to order a print of this story. We will print it for you on matte photo paper to keep forever.