Troup plan would create five-person committee to help choose fire, police chiefs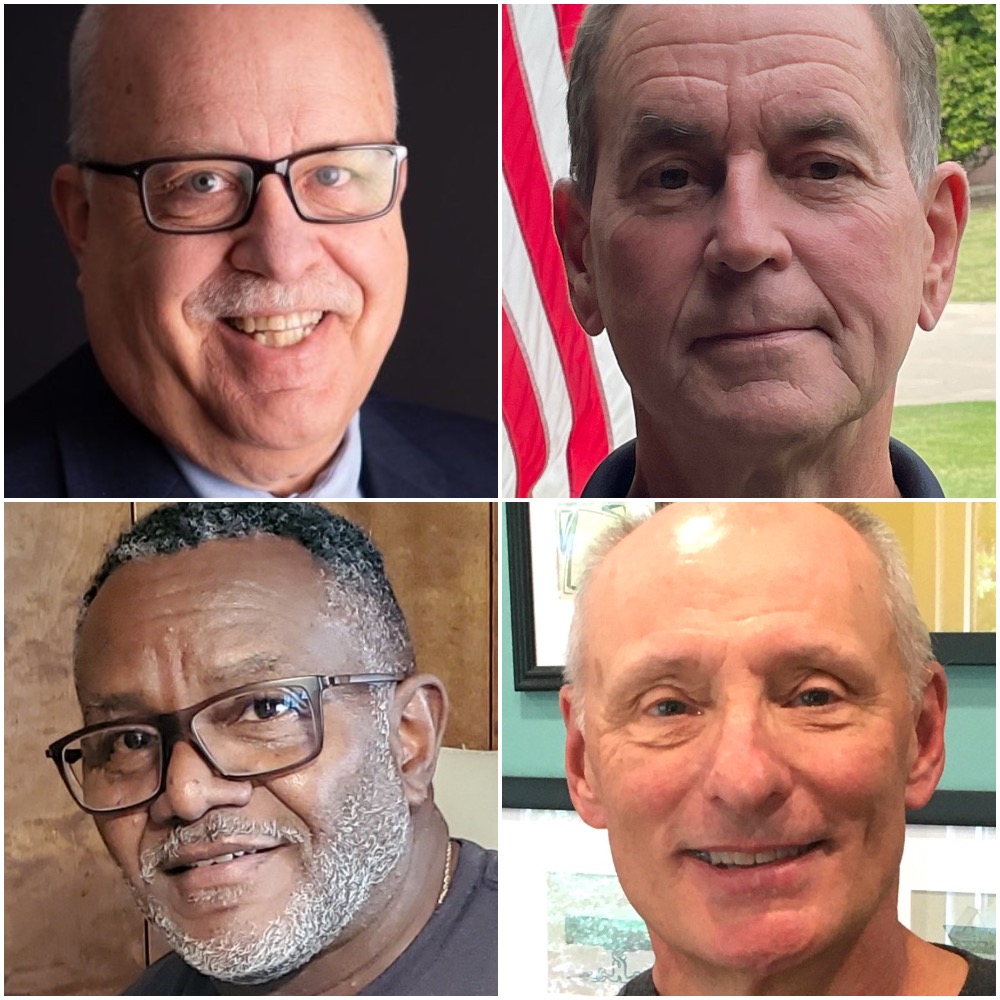 QUINCY — Quincy Mayor Mike Troup outlined an eight-point plan Monday morning to be added to his proposed ordinance that would change how future police and fire chiefs would be hired.
Troup met for approximately an hour with Steve Meckes, Kerry Anders and Barry Cheyne — members of the city's Fire and Police Commission — in the City Council chambers that was attended by one member of the media and Jeff Bergman, a 2nd Ward alderman.
Troup told the commissioners he met last week with all but two of the city's 14 aldermen to discuss issues that "would be helpful in the ordinance." He also said he met last Thursday with the chief, two deputy chiefs and two members of the unions for both the city's fire and police departments.
However, Anders pointed out Monday's meeting was the first between the commissioners and the mayor since Bernie Vahlkamp was appointed as fire chief on July 7 — a span of 83 days.
Troup's first ordinance proposal was debated at the Sept. 7 City Council meeting. It called for the mayor to appoint the fire chief and police chief with the advice and consent of the City Council. The Fire and Police Commission currently appoints the fire and police chiefs, along with all other officers and members of the fire and police departments.
The proposed ordinance was tabled on Sept. 20. Aldermen voted 7-7, with Troup providing the tie-breaking vote.
Troup outlines eight-point plan to replace police or fire chief
"When this first came out, there was a lot of confusion and uncertainty," Troup said. "As an example, one of the comments was that the mayor could appoint whoever they wanted to a chief position. That was never the intention. I understand why someone could think that way."
If the mayor wanted to remove a police or fire chief, Troup's plan calls for the mayor to ask the City Council to vote. The chief must get 10 of the 14 possible votes to keep their job.
Once it is determined a new chief must be hired, Troup's plan calls for the mayor to work with aldermen to present a budget and a time schedule, as well as determine if a search for the chief would include only internal candidates or a search outside the department. The mayor's office would then post the opening.
Applications for the job would come to the mayor's office. The mayor's executive assistant and the city's human resources officer would screen the applications and forward the best applicants to the fire and police commissioners to ensure they meet qualifications.
A committee consisting of the mayor, one Democratic alderman, one Republican alderman, one of the commission members and an at-large person would then interview the applicants.
Committee would consist of two aldermen, mayor, commissioner and at-large person
"I can't have two commission members because that triggers a violation of the Open Meetings Act," Troup said. "This means we have a five-person committee of local taxpayers doing the interview. Who's the at-large person? I would think somebody like the president of QU or the president of John Wood … somebody like that."
The interview committee would determine if the fire and police commissioners would conduct testing of the applicants, or if the Illinois Fire Chiefs Association would be used, as it was when Bernie Vahlkamp eventually was selected as the fire chief in July.
The interview committee would then present its choice to the City Council.
"That has all been added into the revised ordinance," Troup said. "I wasn't halfway through (talking to) the aldermen as of (Sept. 30). To have it on the agenda (Oct. 4), I had to have the actual revised ordinance completed by 10 a.m. Friday. I couldn't get that done."
Fire Chief Bernie Vahlkamp thought Troup's plan was "fairly similar" to the original proposal.
"He still has the full authority to pick who his committee members are, so it still makes it basically a mayoral appointment," he said.
Troup: Fire and police chiefs 'need to be held accountable'
"We had a good discussion. We went back and forth on a couple of points," Police Chief Rob Copley said. "It's better than the first ordinance that was on the agenda for this matter. I'm still not a fan. I just don't want to see the politicizing of the two public safety departments. Yeah, he's doing work on it, but it just hasn't sold me yet."
Troup told the commissioners he "fully supports public safety," but he also believes the fire and police chiefs each "need to be held accountable."
"The city does not have unlimited funds to support police and fire," he said.
"We've got lots of other responsibilities besides law enforcement and public safety. Nearly two-thirds of the city of Quincy's general funds are spent on police and fire. Seventy percent of our property taxes are paid directly to the police and fire pensions. Our staffing for police and fire represent over 50 percent of the total city's employees. One hundred percent of the city's collection from gaming revenue goes to fund fire and police pensions.
"Yet there's no role for the mayor or the City Council in the selection of those department's leadership."
The City Council determines the budgets for both the fire and police departments.
Troup unhappy with process for hiring Vahlkamp
Troup was one of the four "stakeholders" who met with the candidates for the fire chief position. However, he was not happy with the process for hiring Vahlkamp.
"You chose who those four (stakeholders) were," Troup told the commissioners. "You put the mayor on there, but the mayor didn't have a choice as to who the other stakeholders were. That was all determined. You kept 60 percent of the vote as to who should be the next chief. Twenty percent of the vote went to the stakeholder group. Where did the other 20 percent go? The other 20 percent that you chose went to people (the Illinois Fire Chiefs Association) who don't live in Quincy, don't pay taxes in Quincy, don't do anything in Quincy. I don't think that was right."
Meckes asked Troup: "Was that covered with you before? It was covered with Kyle (Moore, the previous mayor)."
"And you. It was covered," Cheyne added.
"We were told originally, Barry, that we were going to have a higher weight on the choice than 20 percent," Troup replied.
"I don't believe that was ever used," Cheyne said. "The Fire Chiefs Association was always at 20 percent, the stakeholders were at 20 and we were at 60. That was talked about through the process."
Troup: '(Copley) says he's going to retire this fiscal year. Let him retire'
Troup also noted Copley signed a three-year contract extension in 2018 and claims the chief told people he was going to retire once it expired.
"He told me in May, shortly after I was sworn in, he's going to retire this fiscal year," Troup said. "I believe he had the same conversation with you when (former Fire) Chief (Joe) Henning was saying, 'Hey, you get to do two chiefs this year.' Now (Copley's asking to be extended. Well, I'm opposed to extending (Copley's) contract beyond April, because April's the end of our fiscal year. Why do we have to extend a contract? He says he's going to retire this fiscal year. Let him retire.
"We don't need to extend (Copley's contract). If you do extend it, and he decides to retire, what does that do to us? It creates a higher expense level for the city of Quincy to accept his retirement."
Meckes asked why Monday's meeting was the first discussion between the commission and Troup.
"You guys wanted to negotiate with the media, not with me," Troup said, referring to a letter signed by the three commissioners stating they believe they are best suited to address all hiring and promotion matters. "You went to the media. Did you call to have a meeting with me?"
"Did you call to say you were going to make a proposal?" Meckes asked.
"I don't have to. I'm not accountable to you," Troup said. "Who do you think appoints you guys? I don't report to you. I work with the aldermen. The aldermen are who needs to be fully aware."
"Usually you have the decency that if you're going to change somebody's ordinance, you talk to him about it," Cheyne said.
"That's what I'm doing now," Troup said.
"It's way late," Cheyne replied.
"Do you want to end it now?" Troup said.
"I say it's way late," Cheyne said again.
"Do you want to end it now?" Troup repeated.
"You can go on, Mayor, and do whatever what you want to do," Cheyne said.
Miss Clipping Out Stories to Save for Later?
Click the Purchase Story button below to order a print of this story. We will print it for you on matte photo paper to keep forever.