'We're not just the fire department': Citizen's Fire Academy opens eyes for participants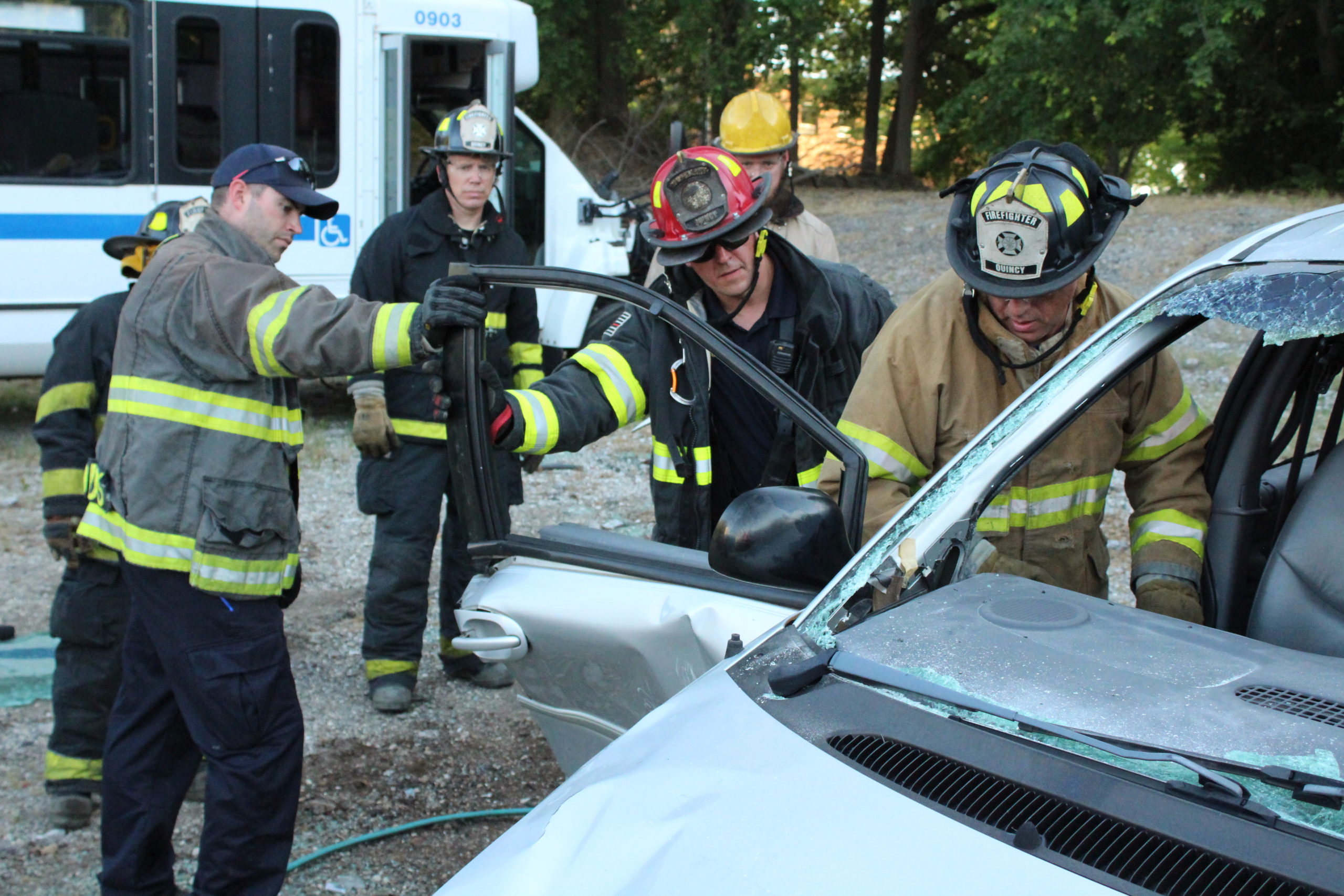 QUINCY — Sarah Reynolds initially declined the offer to participate in the Quincy Fire Department's Citizen's Fire Academy.
"I said I'd have to look into it," she said with a laugh. "I just thought the fire department was the fire department. I had no idea what they do."
She does now.
Reynolds is one of eight people participating in the Citizen's Fire Academy, which has or will meet for three hours on five Tuesday nights this summer at the Quincy Regional Training Facility, 1900 Seminary Road. Participation is free. Sessions include brief classroom discussions, but the primary focus is on live demonstrations.
"It's good for everybody just to get an understanding of public safety," said firefighter Tyler Staicoff, who coordinates the sessions. "It's also good for us, because we get to engage with the citizens.
"We have a diverse group of people. There are citizens who are older and just want to see what it's like. We also get younger guys or women who may be interested. This could be recruitment for us. It could be something they want to do as a career. Then we also have two aldermen (Jeff Bergman and Tanner Freiburg) who are city officials, and this helps them better understand the things we do."
Experiencing what firefighters do
During the fire academy's third session earlier this month, the participants learned about the steps taken to extract someone from a vehicle that was involved in a crash. They also learned to rappel, using a rope to scale from the top of a building. Other sessions included learning about CPR, water rescues and going through simulated emergency situations.
"We're going to be kicking doors in," Reynolds said excitedly.
Staicoff says sessions are designed for people to go through the same procedures and situations facing local firefighters.
"We had a lady who was a little hit and miss about rappelling down the side of a building, but we coached her through it and she couldn't believe she was able to do it," he said. "We're firefighters. We're not superheroes. There are certain things that we also have fears of.
"Not everybody is as physically fit as we are, so coming out here and cutting up a car, you find by getting your hands on the tools that we use how physically demanding it is just to spread open a door on a car to get to the victim. This job is very physically demanding. In this class, if you're not in great shape, if you have underlying conditions, if you have health issues, we understand. We're not here to hurt anybody. We just want to educate people about what we do. If you need to sit out and just watch, that's OK."
Staicoff also said the sessions inform participants about what goes on when firefighters aren't in emergency situations.
"We're not just sitting in our recliners, waiting for the ball to go off," he said. "We have to inspect hydrants to ensure they work. We go into businesses to make sure they're up to code. There's a lot that happens that taxpayers don't realize. This class shows people what we're about, how physically demanding this job is and all the services we provide.
"We're not just the fire department."
'A complete eye opener for me'
Reynolds, 55, a legal assistant with a local law firm, says she "sits at a desk all day." She has enjoyed the physical challenges the sessions provide, but she believes the entire experience has made her a more educated taxpayer.
"They do water rescues. They do ice rescues. They do vehicle extraction. They stabilize people with drug overdoses. They save heart attack patients. They do the mobile triage," she said. "If there's a pet in a building fire, they rescue that pet. That's part of their job. I really had no idea they actually are interwoven with a lot of the other medical services and emergency services in Quincy. There are so many tiers to what this organization does.
"This has been a complete eye opener for me. I now have a face for something that once was just a theory or an idea to me before that. My appreciation of the Quincy Fire Department has gone up tenfold easily."
Call the Quincy Fire Department at 217-228-4459 to learn when the next Citizen's Fire Academy will be offered.
Miss Clipping Out Stories to Save for Later?
Click the Purchase Story button below to order a print of this story. We will print it for you on matte photo paper to keep forever.