'Why are you still living there?': Housing advocates making weekly statements at Quincy City Council meetings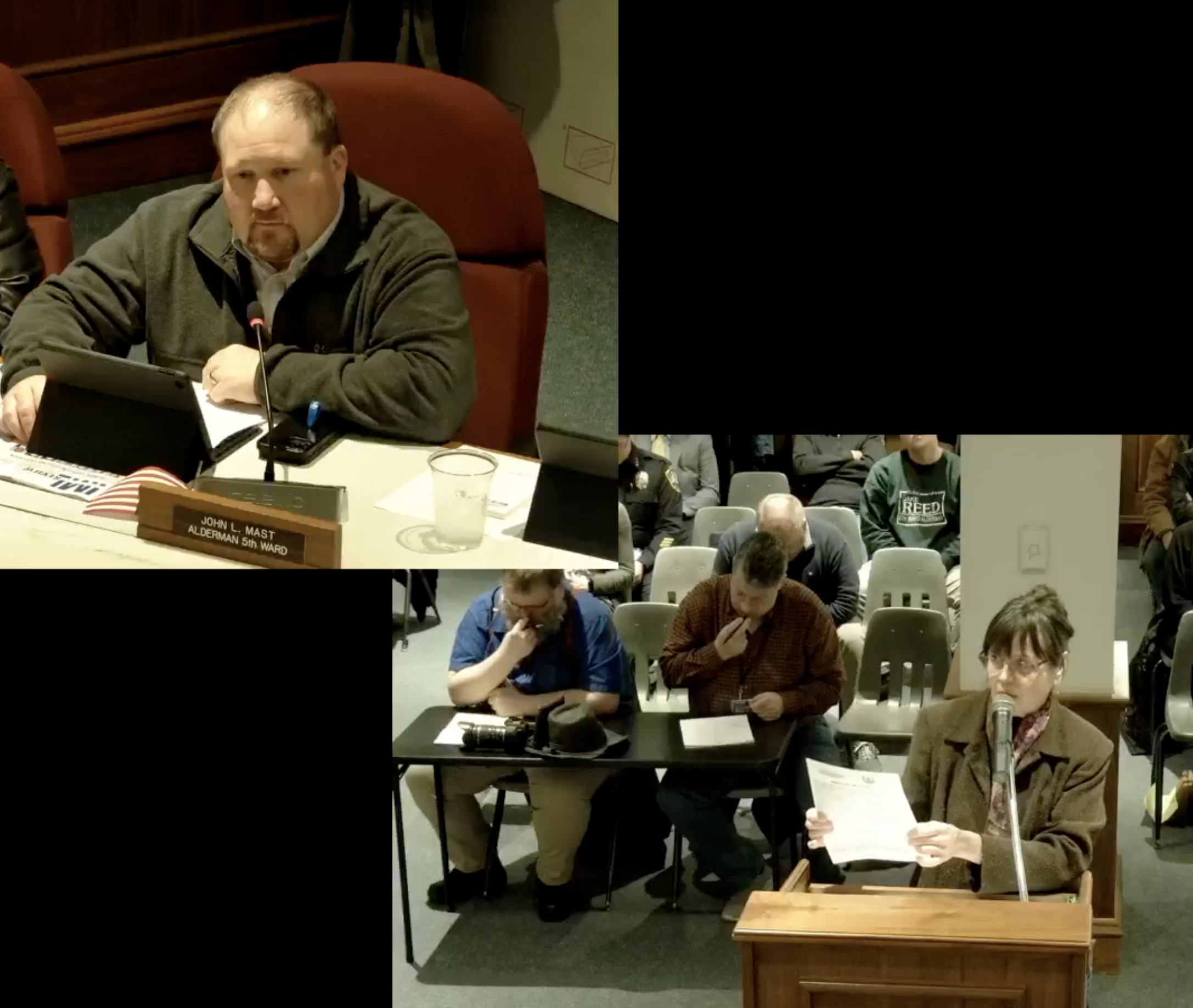 QUINCY — For the last few weeks, Brennan Hills, who ran for mayor as a Democrat in 2021 and is now running as an independent for 7th Ward alderman this year, has been addressing the issue of rental housing in Quincy.
The Quincy City Council allows public comment at the beginning of each meeting for speakers to discuss whatever they would like. Hills and Lisa Wigoda, an advocate for the Safe and Livable Housing Committee, used the forum Monday night to ask why the city isn't enforcing the existing housing codes.
Two renters, Laurie Poe and Drew Hauser, who live in a rental in the 1100 block of State, presented a city document from October, 2022 that showed their apartment had multiple code violations including a leaking roof, collapsing ceiling, faulty wiring and no smoke or carbon monoxide detectors.
As of Monday, they claim the landlord has yet to fix the problems.
"Since there are so many problems with your apartment, I guess my my question would be, why are you staying there?" Asked Alderman John Mast (R-5th Ward). "If the city disallowed you to live there, where would you go?"
"I'm not sure," Poe said. "Probably to a hotel."
When Mast repeated the question to Wigoda, she turned the tables.
"They live in a place where there are code violations and the code was put into place by the city," she said. "We are there to advocate for tenants. We're not here to condemn the tenant."
Mast then followed up and asked what the committee was doing to help residents find better housing. Wigoda said they help the renters file the complaints because they shouldn't be forced to move.
Jack Holtschlag (D-7th Ward) said renters could consider housing at the Quincy Housing Authority because the government has direct control over that.
Aldermen also heard from Comptroller Sheri Ray regarding the projected Fiscal Year 2023-24 budget, which the council will vote on in May. She said the initial budget projection is $49.7 million, which is going to end up being down nearly $6 million from the current budget.
Ray said while that may appear "dramatic", the city still has about $7 million in excess revenue thanks primarily to additional Personal Property Replacement Tax dollars.
In other action, aldermen approved:
A short-term loan of up to $600,000, as needed, from the Cash Reserve Fund to the Quincy Transit Lines to pay operating expenses.
A five-year contract with Epic io, Fort Mill, SC in the amount of $51,300.00 for 24-hour analytical video surveillance services at the recycling drop-off locations.
A proposal from C. Rigg's Curb Appeal in the amount of $32,079.50 for lawn maintenance of city-owned properties and rights-of-way.
A bid from Rees Construction Company in the amount of $312,737.90 for the North Avenue Reconstruction Project which includes new asphalt pavement, curb and gutter, and driveway approaches.
A bid from Rees Construction Co. in the amount of $663,969.05 for the North 26th St., Elm to Chestnut, reconstruction project which includes new asphalt pavement, curb and gutter, sidewalks and extension of water main.
A quote from Alarm Systems, Inc. in the amount of $8,596.79 for the replacement of the fire alarm panel and controls at City Hall.
Miss Clipping Out Stories to Save for Later?
Click the Purchase Story button below to order a print of this story. We will print it for you on matte photo paper to keep forever.