With jury selection set to begin, trial is delayed as Yohn asks for attorney to be assigned; plans to 'fire him later' and continue defending himself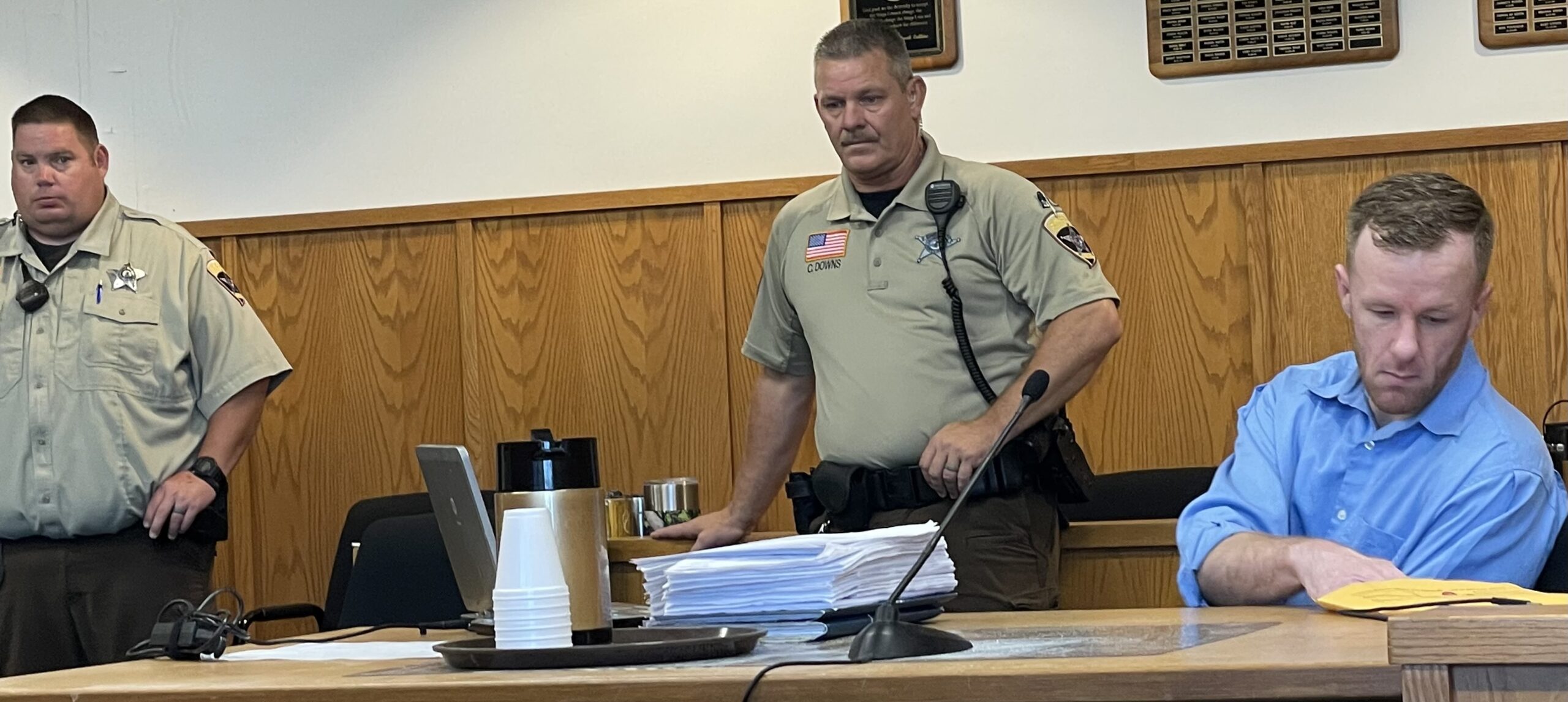 QUINCY — The trial of Bradley Yohn in Adams County Circuit Court on Tuesday morning started with Judge Roger Thomson addressing a series of motions filed by Yohn last week.
It ended moments before jury selection was set to begin when Yohn told Thomson, "I can't do this." Thomson eventually set a July 6 hearing for an attorney from the public defender's office to be assigned to the case.
Yohn, 35, is defending himself Pro Se against charges of home invasion, aggravated kidnapping, aggravated vehicular hijacking and aggravated criminal sexual assault with a weapon — all Class X felonies — in Adams County filed in November 2021. The crimes reportedly were committed Nov. 9 at the home of Christine "Tina" Schmitt, who died on Dec. 12.
After an hour-long hearing to address motions filed by Yohn, Thomson then had a pre-trial meeting with Yohn and the prosecuting attorneys, Josh Jones and Laura Keck from the Adams County State's Attorney's office. The courtroom was cleared, and Thomson laid out his rules and how he wanted the trial to proceed.
After another break, the potential jurors were about to be brought into the courtroom when Yohn made his comment. He complained about the composition of the jury list, claiming it wasn't fair that "good people who have jobs and cars" were going to be on the jury and how he "didn't stand a chance" in front of them.
Yohn asked for a continuance, but Thomson denied it because it would merely delay the start of the trial. Thomson then explained Yohn's options, including having an attorney appointed to him — an offer that had been made but denied by Yohn during previous hearings.
Yohn took the offer on Tuesday. However, he also said he wanted to continue representing himself in the case, and he would take the attorney for now but planned to "fire him later" and proceed defending himself pro se.
Instead of appearing in court as he had in the past wearing in orange and white striped prison attire, Yohn was dressed in a powder blue dress shirt and khakis for Tuesday's motion hearing.
The first motion addressed was a motion to dismiss the case.
"My constitutional rights and due process have been violated time and time again," Yohn said. "This pretrial process has been completely unfair in nature. It is evident not only in court proceedings and documents, but we also have the lack of cooperation of disclosure for discovery against the defendant's wishes and objections.
"The defendant has been violated in many manners, including a physical nature by corrections (officers) and the denial of obtaining material and correspondence and creating a defense in this county."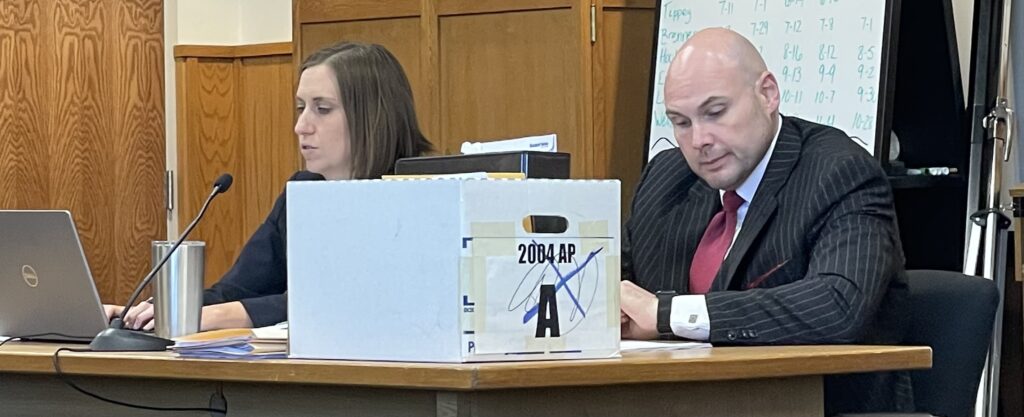 Yohn claimed he has requested for the defense's discovery three times, but what he has received "lacks information of vital nature."
Thomson asked Yohn what information did he believe was missing. Yohn listed statements from potential witnesses, search warrants, a knife, a navy blue blouse, a truck reportedly used during the incident, footage from a surveillance camera at Wal-Mart, phone transactions and several other items.
Thomson then asked Jones about the discovery. Jones replied, "Everything we have in our file has been turned over to the defendant. … It's not my job to show him where every piece of evidence is. My job is to provide him with that discovery. It's his obligation to look through that. If he can't figure it out, that's not on the state."
Yohn said he has received several digital audio recordings from Jones, but he couldn't figure out how to hear them.
"I've listened to them. They work," Jones said. "Just because he can't figure out how to get them to work, it's not our obligation to show him how."
Thomson asked if Yohn was requesting for additional time to review the audio files. Yohn said no. Thomson denied the motion to dismiss the case.
Yohn also made a motion about getting copy of an audio recording of Karen Blackledge, who reportedly was with Yohn when she illegally entered Schmitt's home on North Bottom Road. Blackledge pled guilty April 1 to one count of home invasion and one count of aggravated sexual assault, both Class X felonies. Blackledge has agreed to a plea to serve 40 years in the Illinois Department of Corrections, with two 20-year terms served consecutively.
"She could have told the truth (in the recording)," Yohn said. "I'm going to need that in a timely matter."
"There is no audio from Karen Blackledge. It doesn't exist," Jones said. "I don't have it. I can't turn it over if I don't have it."
Thomson asked Yohn if an audio recording of Blackledge interviewed by a detective with the Springfield Police Department was included in discovery.
"No, your honor, it is not," he replied. "If the prosecution can pull up on their thumb drive … the evidence I'm seeking that they say I have, I will dispose of the rest of these motions. Actually, I'll give the prosecution their 70 years if they can pull that information off either set of them derives. That's pertinent information. My life is on the line, your honor."
"Well, Judge, I will tell you this. He has gotten it, because I've listened to the jail phone calls where he's talking to Karen Blackledge about the context of that interview," Jones said, "If he's willing to plead guilty, we'll pull it up right now."
"We're not going to play the game of that, unfortunately," Thomson said.
Yohn made a motion for a memoranda of state's witnesses ("I have no idea what that is," Jones said), a motion for standby counsel, a motion for the disclosure of the list of the state's rebuttal witnesses and multiple motions to suppress evidence and/or testimony. Thomson denied most of them. The ones he granted were to suppress evidence that Jones said would not be presented during the trial.
With each motion, Thomson asked Yohn if he wanted continuances to file subpoenas for information. Each time, Yohn said no.
Thomson did scold Yohn when he didn't directly answer a question about a request for a continuance.
"I'm being very peaceful, your honor," Yohn said.
"Mr. Yohn, we're going to set the groundwork right now," Thomson replied. "Do not speak over me because the court reporter can't take down both of our statements. Because I get to be the judge in the case, I'm going to be the one who talks while you sit silent. Then I'll listen to what you have to say."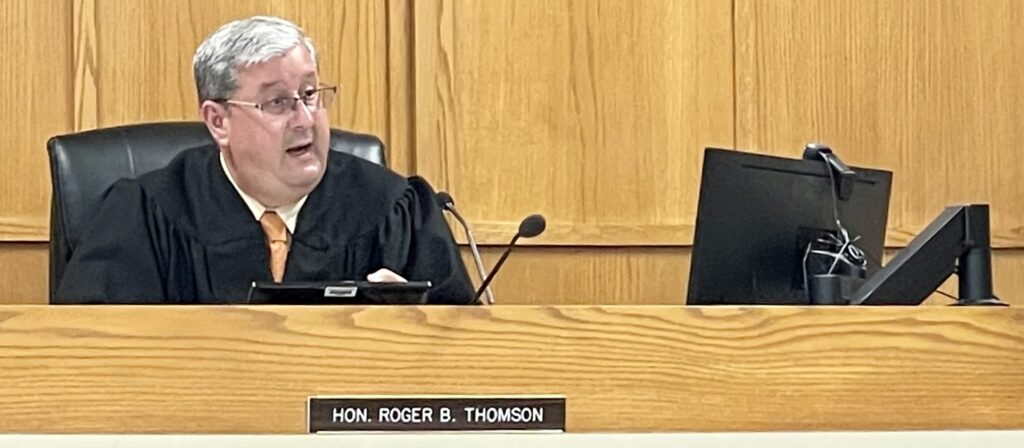 Miss Clipping Out Stories to Save for Later?
Click the Purchase Story button below to order a print of this story. We will print it for you on matte photo paper to keep forever.