Duncan: Taking the leap on a zipline to win over fear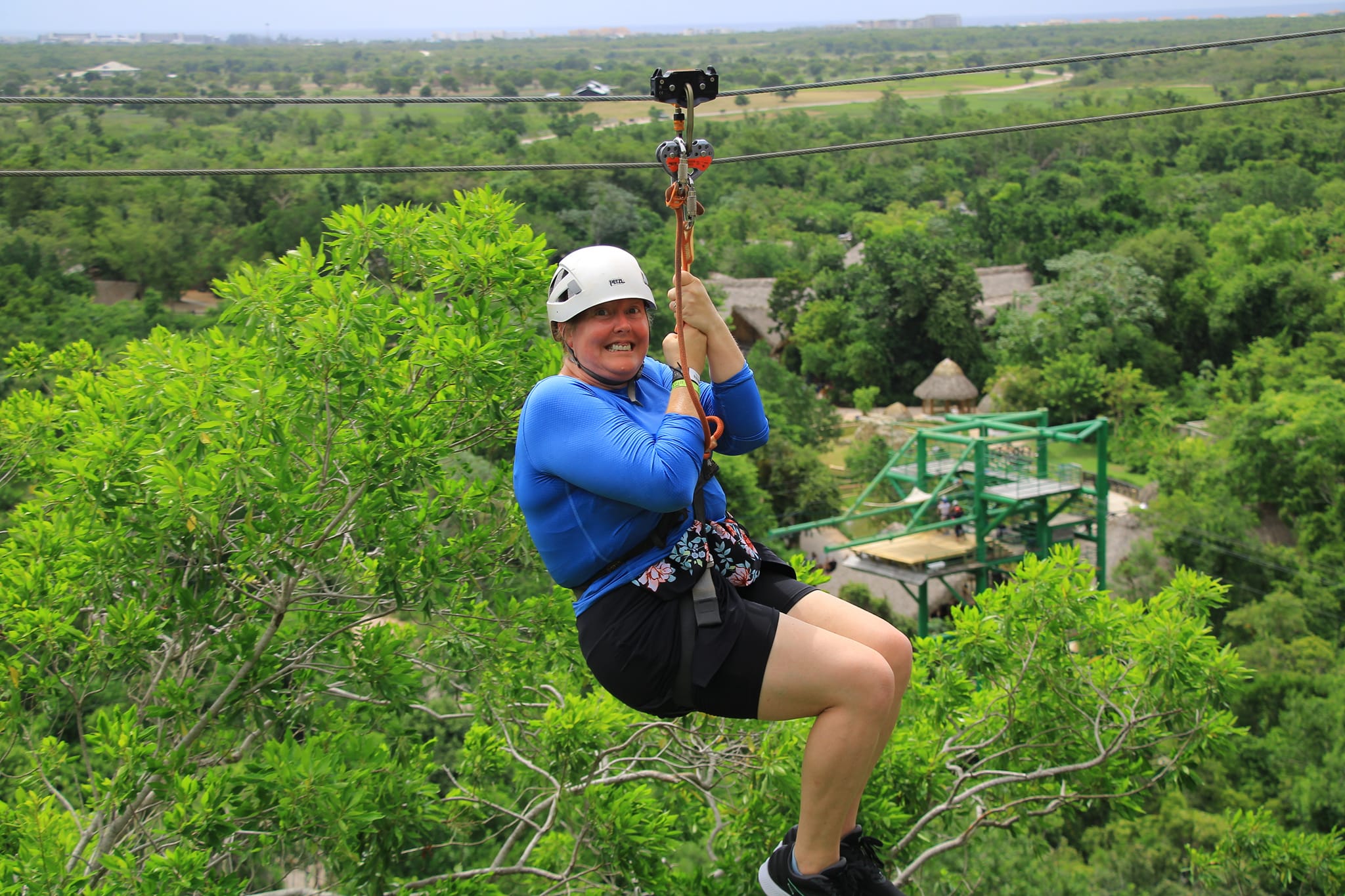 I stood on the platform, suited up in gear to safely attach me to a zipline. I was about to soar above the treetops instead of falling to my death. 
I had prepared for this moment in the months leading to our Dominican Republic trip. Scape Park is an adventure park with nine interactive ziplines, each one progressively higher and harder to get to than the next.
I am afraid of heights, but I knew my family would love it. I resolved just to do it anyway. 
My sacrificial self is a lot better in theory than in practice, but I didn't tell anyone that. As soon as we got to the park, my bravery fled about as fast as the tiny people who were shooting across the sky. Yet my feet kept pace with my husband and two teenage boys as we progressed in the line. 
Moments later, a man shoved a helmet on my head and wrapped me in equipment, adding a few pounds to the walk up four flights of stairs.
"There's no way you can do this," I told myself as I watched others screaming across the first line.
I fell behind my family, graciously letting them know they could go before me. They looked suspicious as I waved them on and watched.
One son went across. Then another son. Then my husband. 
I knew if I went across, there was no turning back. I was afraid to make the jump.
My family screamed at me to join them on the other side, and a whole bunch of supportive people behind me yelled, "You can do it, Mama!" in a variation of languages.
For an instant, I returned to 1990-something when our minivan, held together by duct tape and fueled by five bucks in gas, sat in a parking lot on the road between Marblehead and Quincy. 
Dad turned to mom, who sat in the passenger seat taking deep breaths. 
"Do you want to go on?" He asked gently.
"Mom, you can do it," I whispered.
She turned to me, her eyes shimmering with hurt and fear. "I don't think I can, honey," she said. 
Mom was agoraphobic. A person with agoraphobia is afraid to leave environments they know or consider to be safe.
Mom spent most of her life watching out the window as everyone else lived their lives. The longer she stayed inside, the harder it was to go back out. Years would go by, and while we asked her to get help, she was too afraid.
During the last week, Mom had inched her way past Marblehead. Making trips every night after Dad got home from work and when it got too hard for her, we would turn around and go home.
I was hopeful we would finally make it to Quincy, because if we got there, I was promised french fries from Burger King. We didn't have a Burger King in Hannibal, and one of my young goals in life was to eat french fries from every fast food joint in America. 
That hasn't changed.
Truth is, there was more to it than that. I wanted to see Mom win. I wanted her to take the leap and see that pain turn into joy.
At the time, I was around 12 years old. I didn't understand the complexity of it. I likely still don't know, but my heart breaks when I think about how much it must have hurt that day when we turned the car around and went home where she stayed for a very long time.
None of that changes my love and respect for my mom. She went through periods where she did win, even opening a ceramic shop in downtown Hannibal and teaching a painting class. Mom was a talented artist. But the fear always returned, and it led to worse conditions later like severe OCD.
I battle social anxiety and bouts of depression. My kids have seen me lose those fights before. I know even on those days I'm still a good mom, just like my mom was.
That day they got to see me win. They watched me take the leap.
With my knees knocking, I swung my legs out from underneath me and asked Jesus to come along for the ride. I screamed the whole way, but when I caught the looks on my kids' faces, I knew victory over fear.
Funny.
Even though the hike to each platform was higher and harder to climb, the first one was by far the scariest. I squealed with glee on the highest zipline, which was well above the tree lines.
There's so much truth to that.
That first step is often the hardest to take, but it's so worth it. Looking down from the top of the mountain you just climbed is such a beautiful sight.
Miss Clipping Out Stories to Save for Later?
Click the Purchase Story button below to order a print of this story. We will print it for you on matte photo paper to keep forever.