Fives are wild, the spiders are biting, and I'm rubbing somebody wrong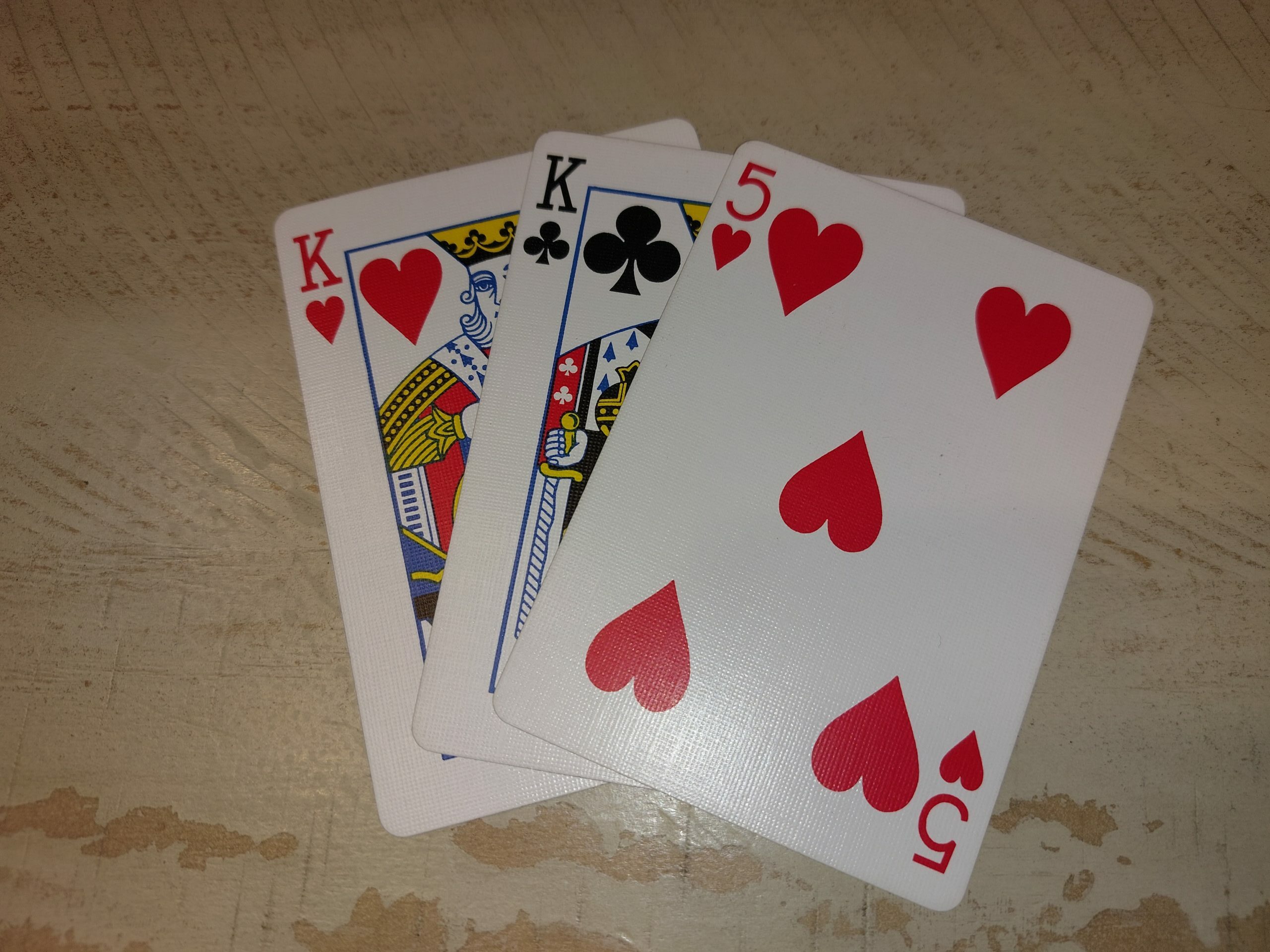 Fives were wild and I had two of them along with a pair of Kings. I threw two chips in with caution to the wind.
My leg twitched a little as I did.
It was two days after returning from our honeymoon, and we were in the basement for a poker night with friends from Shawn's work.
Shawn was in charge of cleaning the basement, so spiderwebs hung off the rafters in sheets.
And I swore one was climbing up my leg. I hadn't won a hand all night, though, so I rubbed it while waiting on another card.
Another King! Oh yeah. Five of those babies.
Shawn's boss looked at me from across the table.
"I'll raise you fifty cents."
I threw that in and another buck just to weed to people out.
Meanwhile, I dug my leg into the table leg and prayed a brown recluse wasn't hiking underneath my pants.
Shawn's boss cleared his throat.
That's right – I had him around the neck. He was noticably uncomfortable.
So was I.
Under the table, I was rubbing my leg up and down on the pole with my foot following up the side.
I looked at my hubby's boss, who was also once my boss at the restaurant where I met Shawn.
I smiled despite my burning leg.
"You gonna bet?"
"Uh…"
Suddenly my foot landed on another foot, and I noticed some kind of material – the pole I was fervently rubbing on seemed to be wearing pants.
My eyes met with our boss/friend who looked like he'd just swallowed something that went down the wrong way.
I swear he was choking.
Four days ago he'd sat in a rose decorated pew at Salt River Christian Church, watching me vow my love to Shawn in front of God and a whole roomful of people, including Shawn's granny who screamed when I passed her down the aisle.
"Look at that! She ain't got no shoes on!"
(And that's when I realized I forgot to put on my wedding shoes).
That night I was wearing tennis shoes, though, and they were currently entangled with my husband's boss.
He clamored out his chair and I clapped my hand over my mouth.
"Oh dude – no! I thought you were the table leg!"
He sat back down, put his head on the table to allow color to return to his face, and we all laughed so hard we forgot about the game.
And that's how I lost a poker game with five Kings.
At least my itchy leg went away though. Apparently extreme embarrassment clears up spider bites.
Miss Clipping Out Stories to Save for Later?
Click the Purchase Story button below to order a print of this story. We will print it for you on matte photo paper to keep forever.