'I don't hold hands, I don't kiss in public and don't call me honey'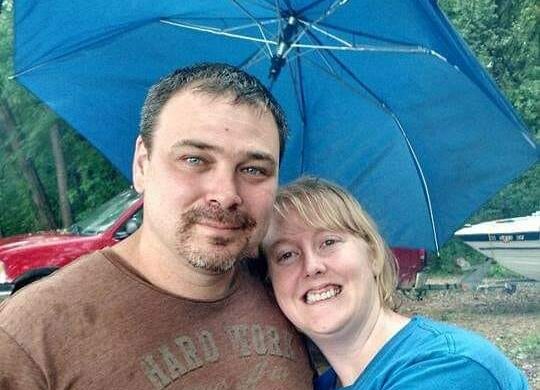 We were on a July float trip when my boyfriend decided to let me die in the raging current of the Salt River.
Well, that's the way I remember it at least.
My arms flailing to catch nearby logs and sticks, I watched his backside go up the hill to lunch while I loudly vowed to kill him if I didn't drown to death.
This intrigued a few friends enough to grab some sticks and run downstream to help get me out.
"I told you not to jump off the raft," Shawn said. He handed me a sandwich under my glare.
I didn't kill him, but I did marry him, and I think he considers that the same thing.
He's not really the nurturing type. He has greatly improved over the years, though, and I have no doubt my husband would jump in that river to save my life now.
We have two kids, and no one else in the house knows where anything is. I have his social security number memorized, and he can't do online banking to save his soul.
The boy is mine.
There is another who has held his heart over the years.
His wallet.
His wallet decides whether or not date night will be surf n' turf or sample day at Sam's. The buffet was where he held his hand over his heart to take the "all you can eat" cheapskate vow.
The same man who at our wedding responded to our preacher's "repeat after me" with "ditto" was now, with tears in his eyes, promising to cherish every cent he paid for dinner "until dessert do us part."
Our first date was a romantic trip to Taco Bell. He boasted the sky as our limit as long as it didn't exceed $14.50.
Buying the night crawlers for the second part of our date and sitting under the moonlight, he looked at me awkwardly. This was a new trait for us after years of friendship.
On the brink of diving into the something deeper though, we were headed into unfamiliar waters.
With these words, my best friend became more.
"I don't hold hands. I don't kiss in public. And don't call me honey."
It's funny how things change and how we have changed over time.
In our nearly 20 years of marriage, there has been a lot of softening and a lot of cracking. There have been storms that nearly ripped us apart.
Fighting over the checkbook, arguing over things with the kids and one incredibly stupid one while I was doing the dishes and he had to dodge a few flying forks … well, we have been to some hard places. Our marriage isn't a fairytale testimony. It's more about what grace can do when you are willing to love through Jesus.
Truth is, that boy I met and that best friend who turned into more is now a husband who I have both fought with and fought for.
You know, those rules he gave me at the beginning are just history now. Other than one.
I have called him a variety of names over the years. None of them have been honey.
Miss Clipping Out Stories to Save for Later?
Click the Purchase Story button below to order a print of this story. We will print it for you on matte photo paper to keep forever.