Illinois gets its first credit upgrade in 20 years. It took $138 billion in federal relief for it to happen. – Wirepoints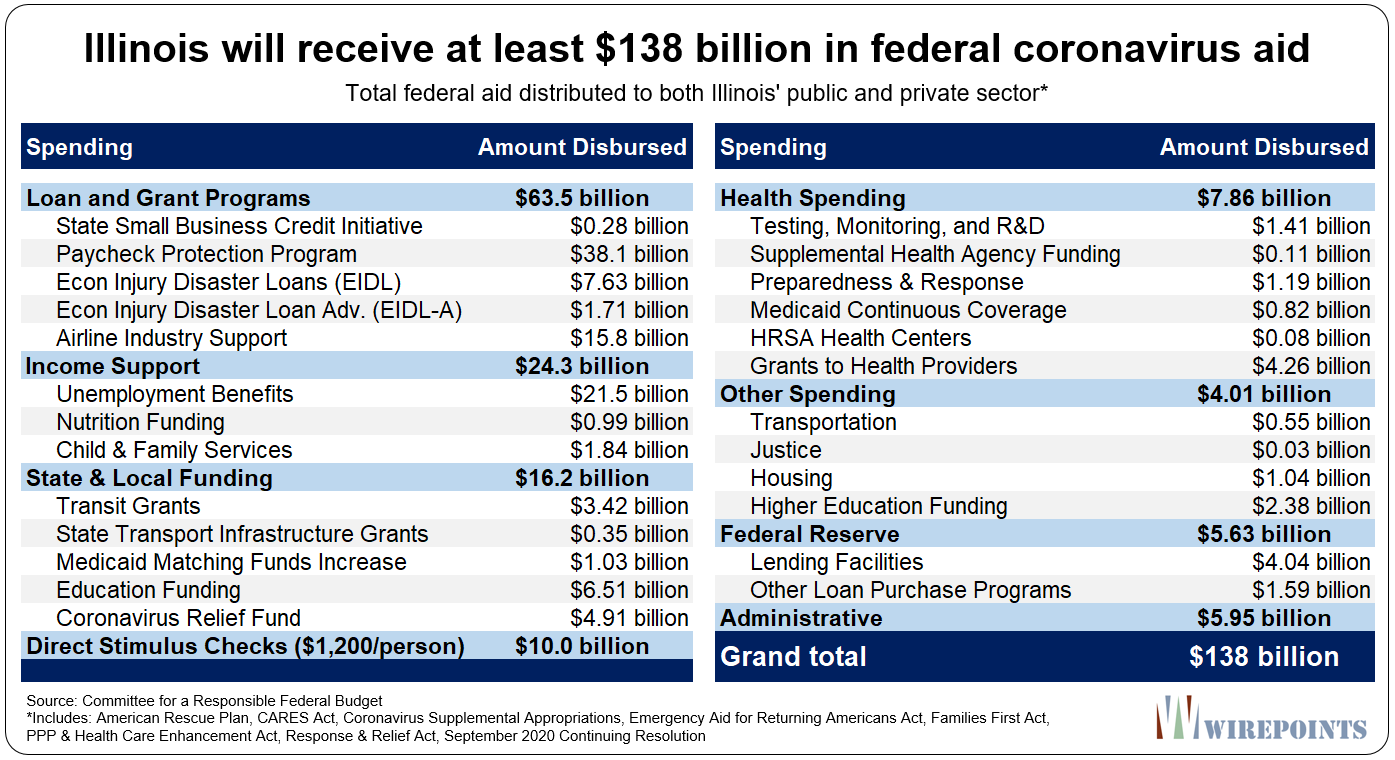 from Ted Dabrowski and John Klingner of WIREPOINTS. –
llinois has just received a credit rating upgrade from Moody's to Baa2, a level two notches above junk. It's the state's first upgrade in some 20 years and a major turnaround given that just one year ago Illinois faced the prospect of becoming the first state to ever be rated junk. In mid-2020, shutdowns ravaged the state's tax base, Sen. Don Harmon asked for a $42 billion bailout from Congress and the state projected billions in multi-year budget shortfalls.
What changed so dramatically in such a short period of time? Ignore the claims by Illinois lawmakers of their heroic acts of "balanced budgets," "fiscal discipline" and the like. Even if those claims were true – and they are not – they couldn't by themselves create such a swing in Illinois' short-term fortunes.
Credit, instead, the massive $138 billion in federal funds from the multiple COVID relief and stimulus packages – as compiled by the Committee for Responsible Federal Budget – that are now flooding Illinois' public and private sectors. Those billions have significantly reduced the probability of a bond default – which is ultimately what Moody's really cares about.
Individuals have received some $32 billion via unemployment benefits and stimulus checks. Another $38 billion was distributed to local businesses through the paycheck protection program. The airline industry in Illinois got $16 billion. K-12 education will get some $6.5 billion.
And there is more to come. The CRFB numbers don't include, among other items, the $13 billion that Illinois' state and local governments will get from the American Rescue Plan.
The amounts are staggering, and putting aside the fact that the feds are printing and/or borrowing the money, the cash has juiced Illinois' economy, boosted tax revenues and papered over Illinois' fiscal problems – at least for a little while.
As our colleague wrote recently, "All that aid, direct and indirect, significantly boosted the state's economy. Personal income for the state's most recently reported quarter ending in March is 17% over pre-pandemic highs according to BEA numbers. That in turn has pushed state tax revenues back up to pre-pandemic levels or even higher, which is good news for bondholders."
It's no surprise, then, that Moody's granted the state an upgrade. Moody's job is to measure the risk of bondholders getting repaid by the state. By statute, bond payments have a priority over everything else and there's a permanent appropriation to fund them. If bondholders aren't better off today with $130 billion-plus injected into Illinois, they never will be.
On the other hand, the upgrade means little to ordinary Illinoisans. Lawmakers have done nothing to fix the state's structural problems. They haven't reduced property taxes or enacted pension reform. They haven't improved the business climate or reduced government costs. If anything, they've made things worse by recently increasing Chicago pensions and giving public sector unions even more power.
Once the federal money dries up, Illinoisans will be even worse off than they were before all this started, as pension debts continue to mount and property taxes continue to grow.
Only last year, Moody's raised its estimation of Illinois' pension debt at its five state-run funds to $313 billion (June 30, 2020 valuation), up from $260 billion the previous year. (By comparison, the state's puts its official shortfall for those five state-run funds at just $141 billion.) 
Miss Clipping Out Stories to Save for Later?
Click the Purchase Story button below to order a print of this story. We will print it for you on matte photo paper to keep forever.