Letter to the Editor: Adrian should not be retained as judge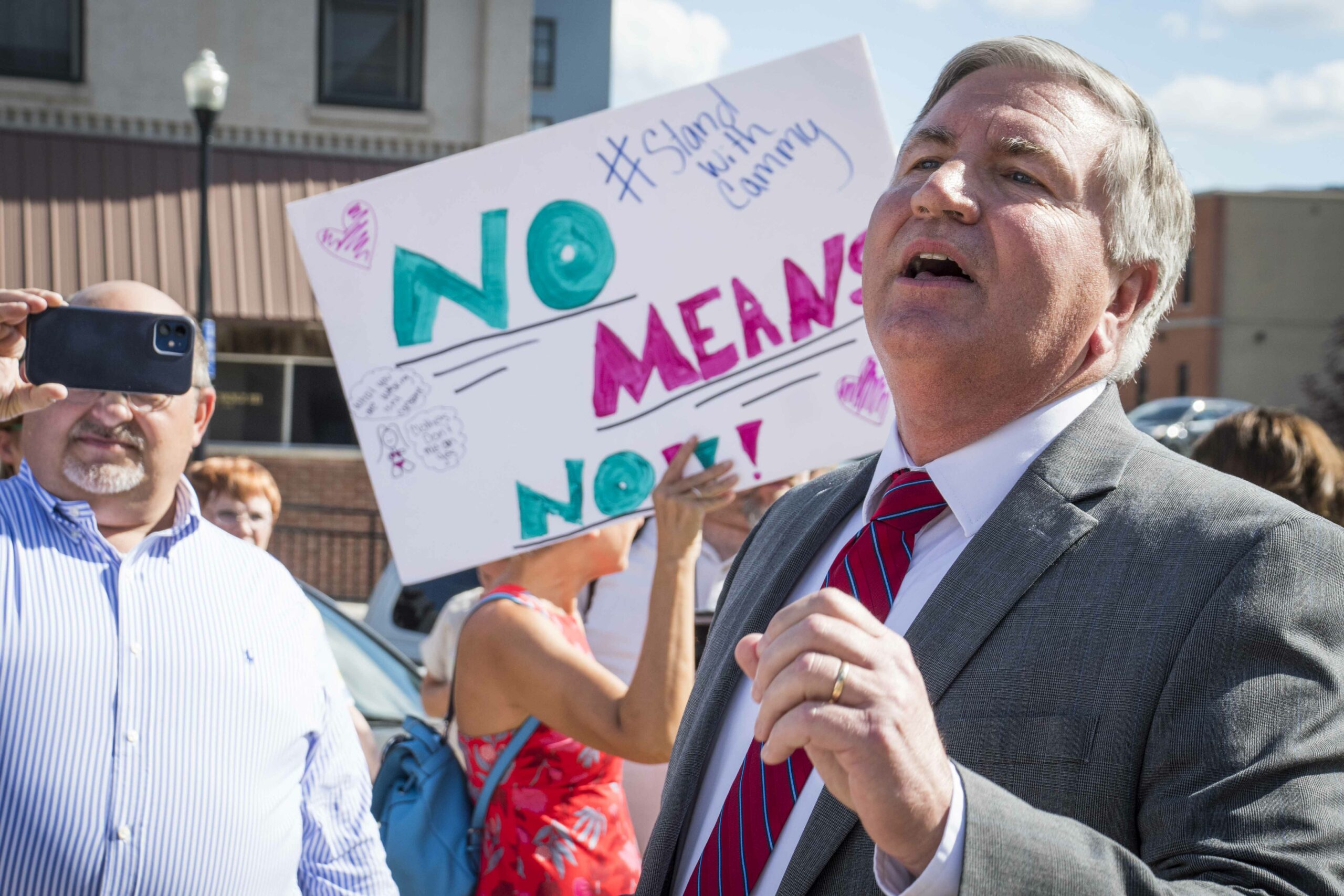 Robert Adrian's announcement on Tuesday, July 12 that he was seeking retention as a judge was an unusual step.
He targeted one specific case to mention in his retention campaign announcement: the Drew Clinton rape case. He purposefully exploited this controversy in our community in an attempt to further his professional career at the expense of the victim who has to keep seeking justice. It isn't helpful or healthy to entertain the retention of a judge who literally laughs and jeers at the victim and the public he should be serving with compassion and justice.
Further, he made justice a partisan issue and by pointing to the "left" and "being cancelled" as his reasons for asking this community to retain him.
He did so with Drew Clinton's attorney, Drew Schnack, standing in the crowd wearing a MAGA hat and a crude T-shirt. How can anyone feel confident that such a person will be a fair judge and not have a special connection to the attorney in that case or to people who espouse a specific political point of view?
In fact, Adrian admitted he could not be fair.
He threw Joshua Jones, a prosecutor in good standing, out of the courtroom saying he couldn't be fair to Mr. Jones because he liked a press release criticizing Mr. Adrian's ruling. This action was a clear violation of his judicial authority. Adrian does not have the authority to decide who can practice law in front of him. That is for the Illinois Supreme Court to decide.
In October of 2021, Adrian found Clinton guilty beyond a reasonable doubt of forcible sexual assault. He imprisoned the defendant for 5 months because he found him to be dangerous to the public. These decisions were not taken lightly, and they weren't taken because Adrian thought the defendant was not guilty — at least we hope they weren't taken lightly. He sat through three days of testimony, sifted through the facts, found Clinton not guilty on some charges and knew the defendant was guilty of the other and found him guilty. He imposed appropriate consequences: pre-trial detention and conviction.
Something happened between the conviction and the sentencing. In the January 2022 sentencing transcript of the Clinton case, Adrian said:
"This is what's happened (sic) when parents do not exercise their parental responsibilities, when we have people, adults, having parties for teenagers, and they allow coeds and female people to swim in their underwear in their swimming pool. And, no, underwear is not the same as swimming suits. It's just — they allow 16-year-olds to bring liquor to a party. They provide liquor to underage people, and you wonder how these things happen. Well, that's how these things happen."
Victim blaming and shaming is why victims don't come forward. The reason for rape is the action of the rapists, not swimming in your underwear or drinking alcohol.
Adrian clearly has a narrative in his head: people who drink are responsible for what happens to them. But he failed to hold Clinton accountable for his behavior. With such a narrative, Adrain cannot serve as a judge in any capacity — small claims, traffic, family, civil or criminal.
Mandatory minimums for forcible rape exist for a reason. Rapists are dangerous people. Adrian knew he was dangerous. That is why he had a cash bail. Adrian found him guilty because he knew he was guilty, but he chose to circumvent the law at sentencing and ignore the 16-year-old who was raped. In his sentencing, he failed to consider the victim at all and stated:
"This court is required to do justice. This court is required to do justice by the public, it's required to do justice by me, and it's required to do justice by God. It's a mandatory sentence to the Department of Corrections. […] By law, the court is supposed to sentence this young man to the Department of Corrections. This court will not do that. That is not just. There is no way for what happened in this case that this teenager should go to the Department of Corrections. I will not do that."
In his announcement, Adrian asked for help to "educate the public." He claimed that the failure of the various legal attempts to get him to reinstate the verdict were "because the reversal of the original conviction was right." He claimed the writ of mandamus failed because he was right. Either he does not know the law, or he is lying about the ruling. The writ of mandamus failed because judges have so much power that he could not be reigned in with the writ of mandamus. Either way, a man like him is not entitled to serve the people of Adams County.
Adrian should educate the public, as well as his supporters, about the fact that he is under investigation by the Judicial Inquiry Board for these reasons:
reversing his conviction to avoid imposing a mandatory minimum;
throwing a prosecutor in good standing out of the courtroom;
making false and misleading statements to the JIB.
He should also educate the public that he has a very close relationship with Drew Clinton's attorney, verified by the fact that he moved his announcement to that attorney's law office private parking lot. This very "announcement" may be another violation of judicial ethics by making blanket statements about anyone who disagrees with him and seeking the shelter from the consequences of his decision with the attorney he favored with his ruling.
Robert Adrian should not be retained. Vote No to retain Robert Adrain on November 8.
Allison Huber, Lindsey Lane and Katherine Daniels
Quincy, Ill.
Huber, Lane and Daniels live in Quincy and are members of the grassroots non-partisan Stand with Cammy group.
Miss Clipping Out Stories to Save for Later?
Click the Purchase Story button below to order a print of this story. We will print it for you on matte photo paper to keep forever.