Sam Leake: The gentleman from Ralls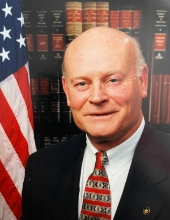 I knew Sam Leake as a farmer and family friend before he decided to run for State Representative in the late 1980's.
His second son, Scott, was one of my best friends from Kindergarten through graduation at Mark Twain High. Scott's wife, Rhonda, also grew up two blocks from me in Perry. We were also close friends and we all still, thankfully, keep in touch.
So spending days and nights on the Leake farm on the Ralls/Audrain County line was a regular thing growing up. Sam and his wife, Sharon, also taught our CCD classes in high school for the Catholic kids in Perry and Center who attended St. William's Church.
Sam died early Wednesday morning at Hannibal Regional Hospital. He'd been having health issues the last few years.
He was first elected to the Missouri House of Representatives in 1988. D.R. "Ozzie" Osbourne represented Monroe and Ralls Counties from 1966 until his death in 1984. His wife, Lois, filled the seat until she retired in 1988, which led to Sam running and winning.
Democrat Days used to be a big deal in Hannibal back when Democrats were a big deal in Missouri instead of the distant minority party they are today. Every March, party faithful gathered in the chlorine-soaked humidor otherwise known as the Holiday Inn Holidome to eat, drink, network, drink, dance, drink, listen to speakers and, oh yeah, drink.
As a young journalist, I cut my reporting teeth by that pungent pool, interviewing a young state senator from DeSoto who was about to get his ass kicked by Republican Jack Danforth in the 1988 U.S. Senate race (Jay Nixon ended up doing okay later, eventually serving as Missouri Attorney General from 1993-2009 and Missouri Governor from 2009-2017).
Sam was also at Democrat Days in 1988 and garnered the support of a great majority of his fellow Dems, even though he wasn't a lawyer like most office holders were.
Sam started out as a barber. Went to school for it and everything. He also farmed and that ended up being his life's work, along with he and Sharon raising four kids.
After Sam won his election, I dragged a camera on a bus with him and his fellow freshman legislators on an orientation tour. They toured some state facilities and Sam and I shared a hotel room during the trip.
Sam gained the respect of his peers in the Missouri House pretty quickly. His deep and extensive knowledge about farming made him a natural to eventually chair the House Agriculture Committee. He even made a run at Speaker of The House in 1996, but fell short.
From the Southeast Missourian, January 21, 1996:
After a week's wrangling, caucusing and deal-making, the Missouri House of Representatives finally elected a new speaker to replace Bob Griffin, at 15 years the longest serving speaker in the state's history. The new House leader is 38-year-old Rep. Steve Gaw, a Moberly Democrat and, like every speaker since 1940, a lawyer.

Rep. Gaw is in only his second two-year term, having been first elected in 1992. By his own account, Gaw was late to emerge as a serious contender for the top post. Until 36 hours before his selection as the compromise candidate of a badly splintered Democratic caucus, Gaw watched as other Democrats contended for the post. The entire process of brokering a new speaker was stage-managed, behind the scenes and occasionally in front of them, by the wily Griffin, with even more well-concealed assistance from Gov. Mel Carnahan and his staff…

Gaw emerged after House Democrats couldn't unite to elect Rep. Sam Leake, a Ralls County farmer who had won the caucus nod in a November meeting. Leake couldn't nail down enough support from Black Caucus members and a handful of other dissident Democrats. The Black Caucus, in particular, is brazenly demanding hiring quotas throughout state government in a bid some members are openly calling their share of "the spoils of the majority party."
So because the Gentleman from Ralls wasn't liberal enough for some members of his party, he fell short of the second most powerful position in Missouri state government.
Sam left the House in 2000 and accepted a seat on the Missouri Tax Commission, which he held until 2006. After that, it was back to Perry, the private sector and his family.
The current Missouri governor, Mike Parson, doesn't have a four-year college degree. He served in the U.S. Army and was a rural Missouri sheriff and cattleman who eventually served in the Missouri Legislature before being elected Lt. Governor. He became governor after Eric Greitens resigned June 2018 amid allegations of sexual assault and campaign finance impropriety.
To call Sam Leake a "common man" isn't an insult at all. A good man with common sense is an attribute that all politicians should aspire to have and it certain doesn't require having letters behind your name to accomplish great things.
Sam Leake did a lot of good for his friends and neighbors in Ralls County. He certainly deserves his eternal rest.
Services for Samuel Dean "Sam" Leake, 78, of Perry, will be held at 11:00 A.M., Saturday, March 18, 2023 at Cannon Dam Opry in Perry with Pastor Randy McDonald and Pastor Jason Yancey officiating. Burial will follow in Lick Creek Cemetery.
Visitation will be Friday evening from 5:00 P.M. to 7:00 P.M. at the Cannon Dam Opry.
Arrangements are under the direction of Bienhoff Funeral Home.
Miss Clipping Out Stories to Save for Later?
Click the Purchase Story button below to order a print of this story. We will print it for you on matte photo paper to keep forever.