A Catholic University welcome mat for Jewish students feeling embattled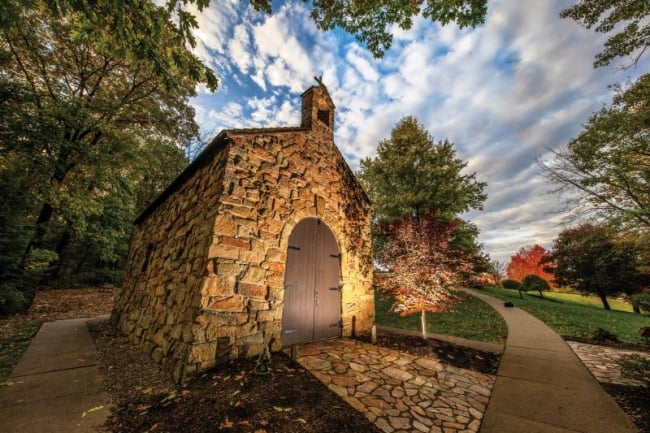 STEUBENVILLE, Ohio — Franciscan University of Steubenville in Ohio isn't just Catholic. It's "passionately Catholic," according to the tagline on its website. It is known as a traditionalist hardliner on church teachings, according to some Catholic scholars.
So it caught some people by surprise when the university announced last week that it would not only welcome Jewish students but would also expedite the transfer process for them in the wake of widely reported incidents of antisemitism on American college campuses related to the conflict between Israel and Gaza.
Franciscan University leaders were unequivocal about their outreach to Jewish students and about their view that other colleges need to do more to protect them.
"With too many universities preaching tolerance but practicing prejudice, we feel compelled to do more," The Reverend Dave Pivonka, president of the university, said in a press release on Wednesday "We are witnessing a very troubling spike in antisemitism and serious threats against Jewish students. We want to offer them the chance to transfer immediately to Franciscan."
Some onlookers praised the plan as well-intentioned while also expressing some skepticism about whether the idea is realistic or whether it favors Jewish students over other students also facing hostility on campus.
Kenneth Stern, director of the Center for the Study of Hate at Bard College, said while he believes Franciscan University's transfer offer comes from a "good, compassionate place," he doesn't think Jewish students should flee from campuses where they're having to engage with opposing viewpoints.
Seeing pro-Palestinian activism on campus might feel like "a gut punch" to some of Jewish students, but most campuses aren't "under siege," he said. "I think it's helpful in a strange way for Jewish students to be in a place where they might feel deeply distressed by what they're hearing, because they're going to hear that for the rest of their lives. I don't want them to be harassed and intimidated, but I don't think it's helpful for them to be sheltered from … the outside world."
Massimo Faggioli, professor of theology and religious studies at Villanova University, also saw the initiative as a "double-edged sword" while he believes university leaders have only "the best intentions."
"As citizens, as Christians, and as Catholics we have to really show support for the victims and those who are hated for their religion or their ethnicity," he said. But the invitation to Jewish students alone seems to prioritize Jewish-Christian relations over Muslim-Christian relations and could be "misinterpreted as an attempt to forge an alliance that is not just religious but has political aspects."
Stephen Hildebrand, vice president for academic affairs at Franciscan University, said the institution's leaders grew increasingly troubled as events unfolded at campuses across the country and students began taking sides on the war Israel is waging in Gaza in response to the attacks by Hamas.
"It is a great source of distress and sadness that the recent Hamas terrorist attacks—in themselves unspeakable evils—have led to yet further increases in threats of violence against the Jewish people," he said in the press release.
Some Jewish students have reported being called religious or ethnic slurs and decided not to wear yarmulkes and other items that identify them as Jewish.
Students with opposing views have held rallies, protests and vigils for the dead, harassed each other on social media, and in some cases, come to blows, prompting many campus leaders and some professors to urge calm. An Israeli student at Columbia University, for example, was reportedly attacked with a stick while handing out fliers about the deaths and kidnappings in Israel on campus. Some Muslim and pro-Palestinian students have reported harassment and threatening incidents as well. Members of student groups at Harvard that signed an open letter holding "the Israeli regime entirely responsible for all unfolding violence" have been doxed and threatened.
Franciscan University doesn't have any Jewish students among its record-breaking current first-year class of 770 students or its total student body of 3,683. There's no Hillel, Jewish student group or kosher kitchen on the premises, and a Google search for "synagogues in Steubenville, Ohio" yields a 2013 article about its last synagogue closing and congregants commuting across state lines to Pittsburgh synagogues a half hour away.
But Father Pivonka said in an interview that he believes the campus is a possible safe haven for Jewish students precisely because of its Christian ethos.
Jewish students are "feeling unsafe by some of the protests which are turning violent. They're feeling unsafe by threats that are being made by people not listening to their story," he said. "… We believe that every individual is created in God's image and likeness, and they deserve respect and dignity and to be treated with charity."
The university will allow students to transfer mid-semester and attend the university either in-person or online. University officials reserved some rooms at a hotel next to campus in case some students take them up on attending in person. Jewish students wouldn't have to take the theology courses required for other students, and if students keep kosher, Father Pivonka said the university would do its best to accommodate them.
The idea to invite Jewish students came up while university officials were preparing for a conference that starts today about the future of Jewish-Catholic relations. It is being held with the Philos Project, an organization that advocates for Christians in the Middle East and encourages Christians to study Judaism to better understand their faith. A Philos Project representative told Pivonka about the antisemitic incidents on other campuses, and he wanted to do something about it. He ran the idea of an expedited transfer process by the Board of Trustees, faculty members and student life staff members and got all the necessary approvals.
He recognizes that Franciscan University is a "small school in Ohio" and Jewish students might not flock there, but he hopes other Catholic universities, especially those in areas with larger Jewish populations, will follow suit.
The president of Walsh University, another Catholic university in Ohio, announced plans to sign a statement against antisemitism, at the conference in Steubenville, alongside other Catholic university presidents.
Mixed Reactions
Shaul Kelner, associate professor of Jewish studies and sociology at Vanderbilt University, said he was initially "surprised" to see the university's offer to Jewish students, but the response also makes sense to him as the conflict rages on in Israel and Gaza.
"People who care about the issue or care about what's going on over there are looking for ways to help and try to make things better," he said. "And a lot of people are feeling very helpless."
University administrators likely felt this was a way "they could act locally to make things better for a group that's being affected," Kelner said.
He stressed that the conflict is taking a toll on Jewish students, and although he doubts they'll leave their campuses en masse for Steubenville, Jewish high school students and their parents who are having conversations about college are already asking "what schools are creating climates that are hostile to Jews and what schools are not" as a part of their decision-making process.
"The trauma is not just the victims in Israel," he said. "There's deep collective Jewish trauma of pogroms that's being activated in this too. Issues of trauma, mental health issues for Jews in the states are real, and they're serious and they're bad."
Phil Cunningham, director of the Institute for Jewish-Catholic Relations at Saint Joseph's University, a Catholic institution in Philadelphia, said there's also been a new openness among Catholic higher ed institutions in general to build bridges with Jewish communities since Vatican II, the ecumenical council of the Catholic Church in the 1960s. Church leaders condemned antisemitism after the Holocaust and encouraged engagement with Jewish communities at that convening. There are now at least 30 academic centers in the U.S. and abroad, many at Catholic institutions, that are part of the Council of Centers for Christian-Jewish Relations and dedicated to mutual learning and understanding.
"There is a rather deep-seated curiosity about knowing about the Jewish roots of Christianity," said Cunningham, who is also a theology and religious studies professor specializing in Jewish-Christian relations.
There have been other recent examples of Christian-Jewish outreach in higher ed. Notably, Belmont University, a private Christian institution in Nashville, announced plans earlier this year to recruit Jewish faculty members, breaking a longstanding tradition of only hiring Christian professors. Yeshiva University, a Modern Orthodox Jewish institution, partnered with the Philos Project to develop a master's degree program in Judaic studies, with a certificate in Hebraic studies, for Christian students.
For his part, Stern believes Jewish students are better off staying on their current campuses and processing the conflict in their classes and programs and with the support of faculty and staff members because campuses are supposed to be environments where students can have these kinds of hard discussions. He added that Muslim and pro-Palestinian students have also dealt with harassment on campuses in recent weeks, and all student groups should be able to engage in these conversations free from threats.
Franciscan University also has a reputation as "one of the beacons" in Catholic higher ed for strict, conservative-leaning interpretations of Catholic tradition, Faggiolo said. So, he finds it hard to imagine a contingent of Jewish students feeling at home there. He noted that last year, the university hosted a conference called "Restoring a Nation: The Common Good in the American Tradition," headlined by Republican Senator J.D. Vance.
The university is also one of 15 campuses in the Cardinal Newman Society, an organization described on its website as an "antidote to secularism" at a time when "many Catholic schools and colleges, which should be devoted to truth, have misled young people by turning away from Catholic teaching and practice …"
Faggioli also described the university as known for its "energy and commitment to evangelization," and while he doesn't believe that was the intention of the transfer offer, he worries it may be perceived that way.
Pivonka said if a Muslim or Palestinian student wanted to transfer because of discrimination due to the current conflict, the university would consider it, but this initiative is focused on antisemitism.
And evangelizing "never even crossed my mind," he said. "This was an invitation that we wanted to able to offer to the students who felt threatened and not safe. I think Christian charity demands that."
Miss Clipping Out Stories to Save for Later?
Click the Purchase Story button below to order a print of this story. We will print it for you on matte photo paper to keep forever.