Adams County Board approves new cameras for 'new' jail, opposes state's new gun law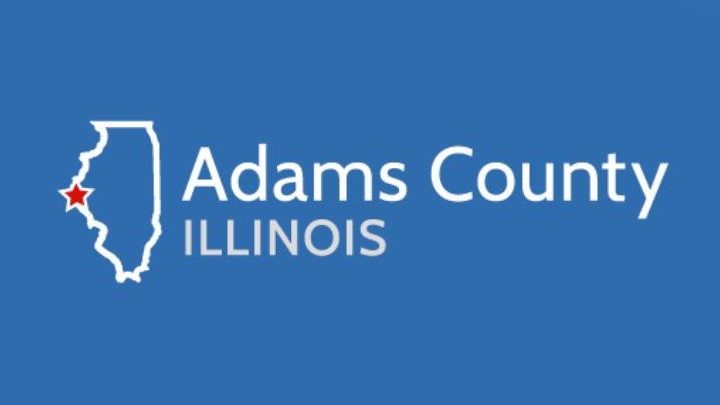 At Tuesday night's Adams County Board meeting, a bid for $700,000 was approved to replace the camera and door access systems installed in the Adams County Jail.
Verkada, a San Mateo, California-based company, won the bid over two other companies. The new system will be cloud-based and replace a system less than five years old.
Also, approved was an annual maintenance cost of $99,000 for the Verkada system which is locked in over a 10-year period. Adams County Sheriff Tony Grootens said it's been an ongoing issue.
"They've have been having trouble with the cameras for some time," he said. "What they did is not take the bid that was the quality bid just to save money."
The original system was chosen to match the systems already in use in county buildings at the time. Not only will around 300 cameras be replaced in the jail, but over 50 in other county buildings.
Fortunately, there is funding still available from the original construction capital bond to fund the project.
"It's part of the original jail funds," Grootens said. "We're not going into the general fund. The new system is an upgrade and it's going to be nice."
In other news, the Board approved a bid to update the County Board Room sound system providing additional microphones and cameras. NGS Services of Quincy was awarded the bid of $98,000. The dollars for the project will come out of the general fund.
Bids continue to go out to test the old county jail for mold cleanup. A bid of $35,000 has already been received and paperwork has been submitted to a Chicago-based company for another bid.
Serv-Pro of Quincy has already done some work.
"They did a little bit of cleanup," Grootens says. "But we didn't want to do too much more, because as mold is disturbed, it spreads. The likelihood of it being black mold, or the bad mold, is not very high … like 5 percent."
The Adams County Board also filed a resolution opposing Illinois House Bill 5522, which Governor JB Pritzker signed into law while the County Board meeting was session. The bill bans the sale, distribution and manufacture of high-power assault weapons, .50 caliber rifles and ammunition, and large-capacity magazines while still allowing people who already own such weapons to keep them.
After signing the bill in Springfield, Pritzker was asked about some state Republican legislators and others who have said they will not comply with aspects of the law.
"You don't get to choose which laws you comply with in the state of Illinois," the governor said. "There are, of course, people who are trying to politically grandstand who want to make a name for themselves by claiming that they will not comply. But the reality is that the State Police is responsible for enforcement, as are all law enforcement all across this state. And they will in fact, do their job or they won't be in there.
"…Remember that anybody who doesn't comply there are consequences for that. We've given people I think a year, about a year right for people to comply, to fill out the paperwork and so on and and we expect them to do that."
The Board voted to support the resolution 20-0 with one present vote. That was Todd Duesterhaus (D-1), the lone Democrat in the county's governing body. Gov. Pritzker is also a Democrat.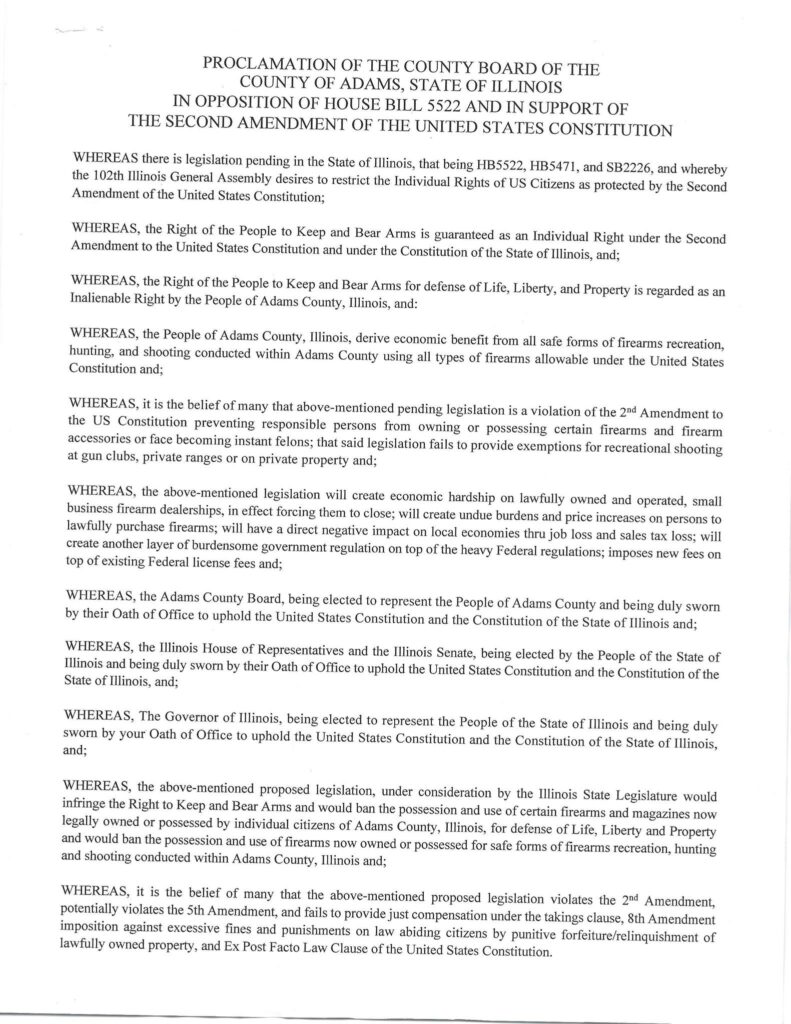 The County Board also passed:
A resolution appropriating $2.5 million in County Motor Fuel Tax Funds for the maintenance of various County Highways in the County for 2023.
A resolution for use of Surface Transportation Funds to pay one half of the County Engineer's salary and appropriating money from the County Motor Fuel Tax Fund to pay the other half.
A bid for the water main extension and conversion along North 52nd Street serving Adams County facilities including the highway department, 9-1-1 Center and Juvenile Detention Center.
Miss Clipping Out Stories to Save for Later?
Click the Purchase Story button below to order a print of this story. We will print it for you on matte photo paper to keep forever.