Don Madigan? Ex-FBI agent likens former House speaker to mafia boss in perjury trial of former Madigan aide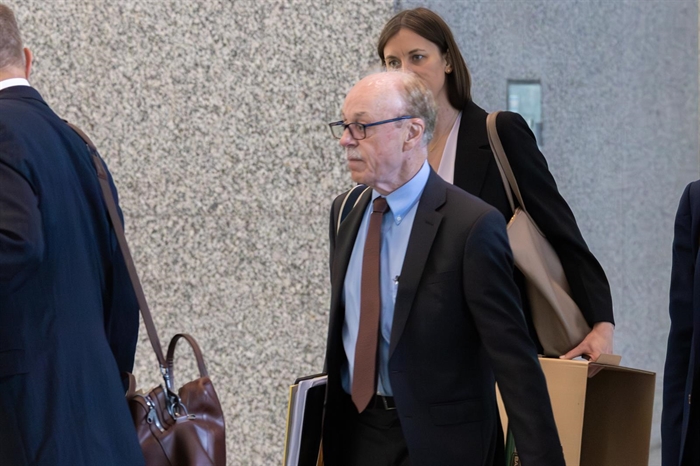 Former House Speaker Michael Madigan has long been known as "The Velvet Hammer" for the way he quietly wielded power.
But in a federal courtroom Monday, the man once considered Illinois' most powerful politician may have been given a new moniker:
Don Madigan.
Testifying in the perjury trial of Madigan's longtime chief of staff, Tim Mapes, a former FBI agent who headed the blockbuster corruption probe likened Madigan's style as one more fit for the head of an organized crime family than a legitimate political operation.
"Mr. Madigan ran his organization, as close as I can compare it to, almost the head of a mafia family," former Special Agent Brendan O'Leary testified, noting that Madigan rarely used the phone, texts or emails to communicate orders.
After O'Leary left the witness stand, FBI Special Agent Ryan McDonald, who participated in the raid on McClain's house in May 2019, provided far-reaching context for the jury buttressing the government's position that it is implausible for Mapes to tell the grand jury he was unaware of McClain's assignments or activities with Madigan.
Assistant U.S. Attorney Julia Schwartz walked McDonald through a series of increasingly concerned emails between Mapes and McClain in 2019 and early 2020, as news reports were percolating about the burgeoning investigation into Madigan's political operation.
In July 2019, Mapes forwarded a Tribune story about the ongoing investigation and wrote in an email to McClain. "Lots of questions but not this format," according to a copy of the email shown to the jury.
McClain delivered a somewhat vague reply that seemed part legal disclaimer, part paranoia about where the information was coming from.
"On the advice of counsel I can't talk about this but rest assured as a Citizen it will gradually be disclosed/leaked by the feds through their communications arms of the better government association and the Tribune," he wrote. "We should close this session up and not talk about it any more."
Mapes, noting that McClain had retired from his longtime job as a ComEd lobbyist a few years before, replied that he understood.
"Hope all goes well with you from your perspective. You retire and now this," Mapes wrote.
The chat was among several back-and-forth emails between the two men, often in response to developments ranging from the raid on McClain's home to the ComEd deferred prosecution agreement in which the utility admitted to wooing Madigan with jobs for pals, interns and an associate's law firm.
In another email from July 16, 2019, McClain told Mapes, "There are about forty people that I cannot talk with right now, Bradley included," a reference to John Bradley, a former state representative who went into lobbying.
"Everyone is isolated which is part of the psychological pressure being brought to bear," McClain wrote. "I do not think we should talk in person or on the phone."
On Nov. 14, 2019, the day after the Tribune broke the news that McClain's phone had been tapped by the feds, Mapes emailed McClain the news clip and wrote: "Hang in there. Hope you are taking care of yourself and Cinda," referencing McClain's wife. Mapes said his son, Devin Mapes, "also continues to be concerned."
In another November 2019 email to McClain, Mapes wrote that his "general google search" placed McClain's photo prominently above that of then-President Donald Trump, an attempt at making a lighthearted joke between the two friends.
A month later, after the Tribune revealed that four sources had spoken to federal investigators about broad aspects of Madigan's political operation, Mapes again reached out to McClain, writing in an email, "Wish I could talk with you. Back involved in this for background."
The Tribune story reported the sources said FBI agents and prosecutors asked about connections between Commonwealth Edison lobbyists and Madigan, lobbyists giving contracts to people tied to the speaker, and city, state and suburban government jobs held by his associates. They also said authorities had numerous questions about the speaker's relationship and dealings with McClain.
McClain emailed back to Mapes, saying, "It is just not in your best interest for you and I to be talking or to be seen together. The intensity is severe."
"I know," Mapes wrote back. "Hope you are hanging in there."
The two were still emailing each other in May 2020, two months before ComEd was charged with bribery in the first public move in the case.
"The feds are still after me and 'our friend,' " McClain wrote to Mapes, choosing the nickname of "our friend" that McClain often used for Madigan.
Miss Clipping Out Stories to Save for Later?
Click the Purchase Story button below to order a print of this story. We will print it for you on matte photo paper to keep forever.