Hannibal mayor candidates tackle public questions in candidate forum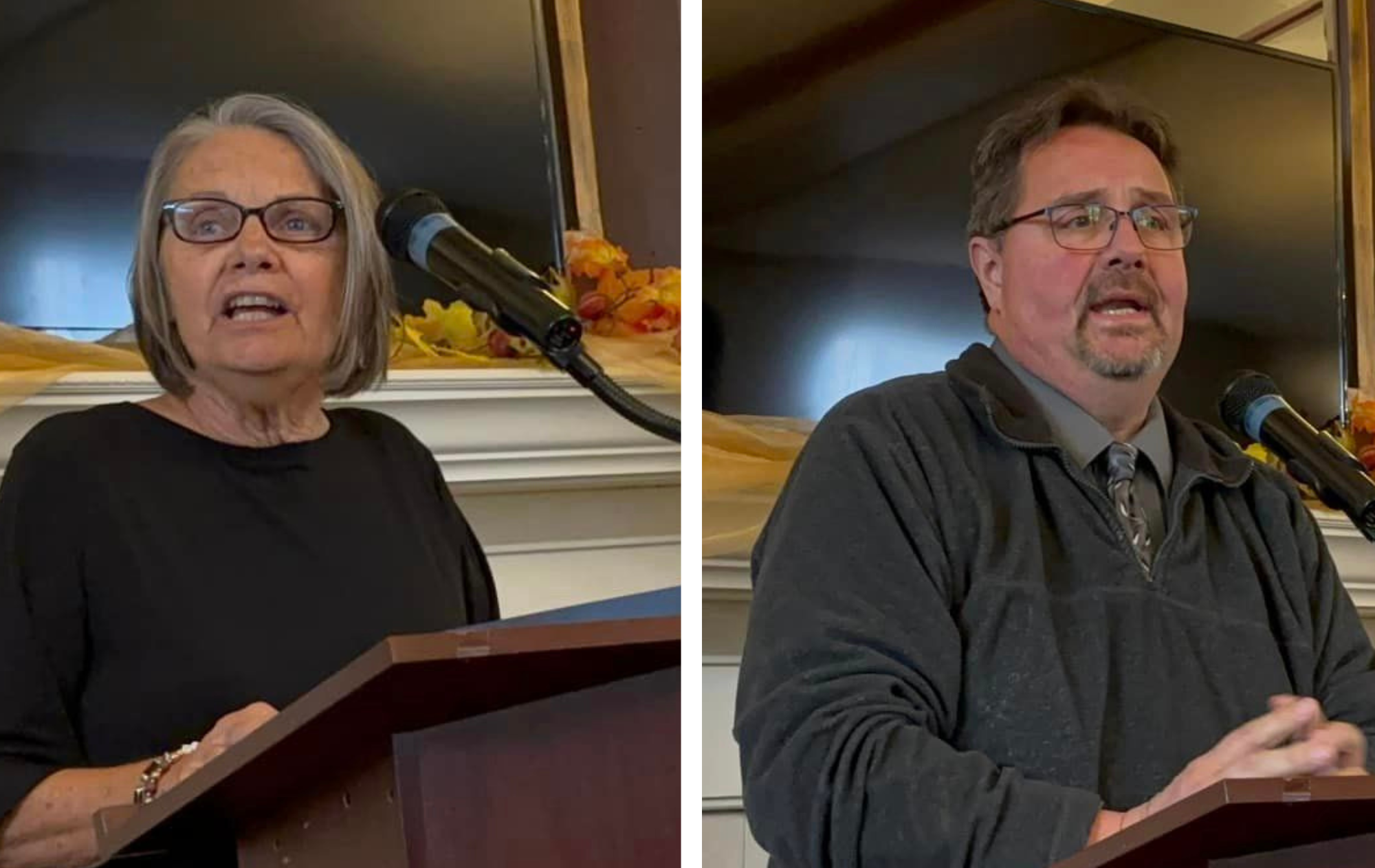 HANNIBAL, Mo. — Kristy Trevathan and Barry Louderman addressed questions on Thursday afternoon at the Hannibal Country Club in a mayor candidate forum hosted by the Hannibal Chamber of Commerce.
Trevathan and Louderman are two of three candidates running to finish the term of former Mayor James Hark, who resigned in June due to increasing work duties at a local towing company. Stephen Colyar is the third candidate, and he did not respond to the invitation sent to him by the Hannibal Chamber of Commerce.
Trevathan, 69, is a Hannibal native and a 1971 graduate of Hannibal High School. She graduated in 1976 from the University of Missouri with a bachelor's degree in elementary education. She has been a realtor with Prestige Realty since 1989.
Trevathan was a public school teacher until she and her late husband, Jeff Trevathan, started River City Restorations with Jean and Scott Meyer. She serves on seven boards and has been involved in Hannibal development since she returned from college in 1976. Trevathan also is the director of the Hannibal Tree Board. She led the group to plant 93 trees on a field in South Main in Hannibal in April.
Louderman first served on Hannibal City Council in 2008 when he replaced 4th Ward Councilman Jim Dexheimer, who died during his term. Louderman served the remaining year and then ran three more times unopposed in the 4th Ward.
Louderman decided to take a break from Hannibal City Council but has continued to serve on various committees. He is the chairman of the Hannibal Planning and Zoning Committee. Louderman married his wife Betty in 1991.
Trevathan and Louderman each gave an introduction before answering questions.
Trevathan: Over the next few weeks I am going to post my visions for Hannibal on my Facebook page but today I will just give you some highlights and tell you about my qualifications and what I will do as mayor.
My family has lived in Hannibal for five generations, including my grandson Dylan. My dad's father came over from Germany in 1889. He worked as a Hannibal city fireman in the early 1900s when horses drew the hose and water wagons.
My grandfather was only 12 when he passed away from breathing smoke and fighting fires from all this fancy equipment we have today. My grandma barely had enough to pay for the funeral and there were no pensions at that time so after grandpa's death my grandma went to work for the the international shoe company like a lot of people in town. My dad get a paper route and he also was a caddy here at the Hannibal Country Club.
With help from family, friends and neighbors, Grandma kept her home on Wilcox and her family together and today Grandpa's family is in Hannibal and still going strong.
History has taught me to value our families and neighborhoods, and that's why I am running for mayor. I will strengthen and protect Hannibal's economy and neighborhoods so your family can thrive like mine has.
I have been a successful real estate agent for 34 years. I have helped more than a thousand families find homes and businesses, so I know all of Hannibal's neighborhoods.
I have served on 16 community boards, and presently I serve on six. I was a city councilman for the 1st Ward, so I do understand how city government works.
You should know that I am a successful manager. I know how to balance a budget, and I will make sure your tax dollars are spent responsibly. I am a candidate who helped cofound a successful small business, our partners are here today from River City Restorations. I am so proud of all of our work.
I am the only one, I think, who served on a bank board of directors and that's HNB Bank and I was proud to serve on that for eight years.
As a real estate agent I negotiated major companies relocations to Hannibal. I am a candidate who understands what employers are looking for. As a mayor I will put that experience in business, financial management, community service, and economic development to work for you.
Let me tell you about my three priorities: promoting economic development, making sure our city government works for you, and protecting and strengthening our neighborhoods.
As mayor my top priority will be economic development and keeping and attracting employers. I believe our kids shouldn't have to leave town to make a life for themselves. My vision is for all Hannibal families in all our neighborhoods to be able to stay here.
I speak from experience. I left Hannibal for a while but I was able to come back and build a career and so has my daughter Emily. I believe every young person who wants to stay in Hannibal should be able to find good work.
Economic development means supporting businesses of every size and an area that offers major opportunities for small businesses and a huge benefit to our city budget–tourism.
Here is a big number: $50 mil. That's how much visitors to Hannibal typically spend here every year. Hundreds of thousands of people come to Hannibal, and their dollars don't stay downtown. The tax revenue helps pay for police, fire and street maintenance. They help keep our neighborhoods safe and improve our quality of life and make this a great place to do business. 
Hannibal needs a mayor who understands that tourism is a key differentiator that powers our economy, because we are in competition. Can you imagine what Quincy would give to have the world class cruise ships stop at their riverfront?
As mayor, I will make sure the city brings a can-do partnership mindset to every economic development opportunity. That includes big opportunities.
We have a major employer like General Mills, and I have a whole story but we don't have enough time. That company has been with us from Underwood to now for 52 years. We need proactive leadership that will work with Hannibal Regional Economic Development Corporation to identify prospects and market Hannibal's advantages. 
I learned the needs of big employers when I helped with Lowes. Large companies have to consider everything from training opportunities, tax structures, logistics and quality of life. I will make sure Hannibal can compete in all of these areas. 
My goal as mayor is to make sure our city government works for all of you. What do you want for Hannibal? What do you want for your children and grandchildren? New sidewalks? Biking trails? Safe intersections?
As mayor, I will lead the development of a long-term strategic planning that goes beyond the usual year-to-year spending. I recommend we form a committee to gather input and explore tenure planning.
Finally, I am going to call upon residents to step up and help solve problems that go beyond the reach of city government. Hannibal is our town and it belongs to each of us. When we come together as owners of this town we can accomplish amazing things.
Together we can make Hannibal a great place to live, work and play.
Louderman: I had a big long speech written out, but I am not a person who likes to read speeches. I have lived in Hannibal for almost 30 years. My late wife Betty was born and raised in Hannibal. Her mom still lives here.
Four of my five kids live here, and the one who doesn't is going to med school down in Arkansas. She is in her internship right now and next year she will start her residency, and I am really hoping she will come back up here to do her residency.
When people think about Hannibal, they think about Mark Twain and the Mississippi River. Hannibal is known worldwide everywhere. You can look at cities like New York, Chicago, San Francisco – all big names. If you go across the world, among the big names is always Hannibal, Missouri.
We have Mark Twain to thank for that.
Tourism in Hannibal is thriving, and people come here from everywhere. I think in the last year there were people from 70 different countries visiting Hannibal. Tourism is what drives the downtown and drives the city. It brought us the Viking riverboats and brings us Mississippi riverboats every year.
We need to be able to turn the corner from Main Street to the rest of Hannibal. Hannibal has to grow. We have spent 20 years stagnant and without growth. The last two censuses taken have shown the population back and forth between 400-500 people. So we are still right at 17,000-18,000 people.
Hannibal needs to grow and move forward. We need to bring companies to us and show them what we have to offer. We sit at the crossroads of two major highways. We have a rail system and a river. With a little bit of incentive and money, we can have the airport with a runway long enough to handle a cargo plane for small commuter traffic.
These are the things that can improve the economy of Hannibal.
We have an industrial park that's been there for years we have done nothing with. Every council –including the council I sat on with Kristy – we never got it kicked off.
If you get even one company to come and build there, more will come. We need to offer the right incentives, whether it's tax incentives or breaks on a lease or utilities–whatever to get these people here.
Once they are here, we have to be supportive. We need to let them know we have a top rank fire department and one of the best police departments in the state, so we can and will provide the security they need. We need to push for that.
When business comes to town to see if they want to bring their business here, there are three main things they look for — infrastructure, which we have, and roofs, which we have.
Sitting on the planning and zoning committee, I have been happy to be able to bring nine new subdivisions in Hannibal. All of them are city limits and range from single family homes to duplexes to townhouses.
This is what companies look for.
The other thing you have to have employees. Over the last 3-4 years, most towns the size of Hannibal have lost their employees, and there is a reason for that. COVID played a big part in the reason for that. 
We need to work with the school systems to work on the vocational schools that are so great that Hannibal school bought the old Sutherlands building to enhance their vocational teaching. Those are types of things companies look for when they start businesses. The city of Hannibal needs to work with the school system on that.
We also need to work with the state to bring grants to Hannibal for the airport renovation and for possible Amtrak expansion in Hannibal.
I am from the small town of Colchester, Ill., about an hour from here. Right by there is Macomb, Ill., with Western Illinois University. When it first started it was just a little state college. Amtrak came to town, and a couple of years later, there are 20,000 students at Western Illinois University. That's because they can leave for home on Friday and come back on Sunday. They can just hop on the train.
I remember when I was a teenager, I would be uptown in Macomb by the train station and there's hundreds of kids getting on and off the train. That promotes economic growth, and Hannibal needs something like that.
Hannibal needs to recognize that in order to move forward we have to look at the entirety of the city and what we have to offer people to come down here and bring their business. I believe in Hannibal and the strength of its people. I believe in the education system we have, and we have a university and college here. A huge medical campus and a nice clinic. We have General Mills and BASF.
We have a lot to offer and we need to push that.
Hannibal needs to grow; we want this to be a generational town. In order for it to be a generational town, we have to give the kids a reason to stay. We have to have a reason for them to raise their families in Hannibal, Missouri.
It's great to live in small town America, but it's also great to be able to have something for young families to do.
We are in the middle of the country, and we are easy to move from the east, west, north, and south. We need to promote that. We need to make sure that when we move forward we have a city council and a mayor who will work to promote all of that.
Mark Bross, the chair of the government committee, served as the moderator and posed three questions to the candidates. Each candidate went to the podium to answer one at a time and had two minutes to respond.
What can the mayor and city council do to support small businesses in our community?
Louderman: As with anything, small business is the heart of every community. The city itself can promote small business by making sure that where these small businesses wish to locate are nice neighborhoods, clean neighborhoods and have good infrastructure leading to them. Nice streets and parking. Those are things the city can do physically.
There are also a lot of state grants and tax incentives you can give to small businesses to help them kick off. These are things we can do for small businesses, not just to help them locate in Hannibal but to grow in Hannibal.
I believe the chamber has an initiative where they help small businesses through economic development. This will help people learn about small business. 
You have to promote Hannibal to the small business so they can tailor their business to Hannibal. Small business is not like a big industry. You don't put a car factory and tailor it to the kind of cars people drive in town. Small business is tailored to the city they are in.
City government can help identify that for people who are eager to move here.
Trevathan: I have worked with dozens of businesses to find real estate locations so I understand some of the requirements businesses have – small businesses especially – traffic counts, logistics, zoning, utilities, property values.
Really, all of Hannibal's largest employers segment is small businesses so we need to be attentive to their needs.
I want to bring up a couple of examples of people I have worked with.
In 1996, Bob and Susan Gilstrap (owners of Hannibal McDonalds) moved to Hannibal and I helped them find their first home. They started out with one location on McMasters with a dozen or so employees. I talked to Bob and today they have eight locations in our region and they have more than 450 employees. This is how small businesses became large businesses.
I also think of the Ayers family which began as a consignment shop selling pottery on Main Street. Now they have Ayers Pottery which their daughter is helping them with, and Java Jive which is a thriving coffee and gift shop on Main Street.
I want to say one thing: we have to have a partnership mindset. I worked with Friendship Brewery as I serve on the historic district development commission. When Friendship Brewery announced about a year ago that they are coming to town, we had to work with them to be able to review their improvements.
We knew the brewery wouldn't be as simple because there would be a lot of requirements, so we rolled up our sleeves and became this problem solving partner with Friendship Brewery. We developed flexible schedules around their needs for our meeting and cooperated to find an innovative way to meet the guidelines of the HDDC (Hannibal Development Council) and their infrastructure and architectural design.
Today, Friendship Brewery has invested more than $2 million in Hannibal, and they are opening this weekend. I think that shows how we have to work with small businesses.
Do you support the development of the Hannibal Expressway and will the location of the proposed route impact your support?
Trevathan: I kind of want to adjust this question a little bit. The Hannibal Expressway, which we call the Hannibal Bypass, is going to come eventually no matter what. The way that we support it is the most important thing.
The question is: Can we influence the state's decision and benefit Hannibal? So the project isn't funded yet, and MoDOT has their study underway. I hear that it should be ready by the end of this year or the first of 2024.
Experts tell us that McMasters is going to be even heavier traffic than it is now, and the current highway that passes through here now won't be able to handle it. I know right now that semi trucks are barreling through town, and our high school and middle school are on that corridor. So, this just isn't sustainable.
We have to ask ourselves, if there are four possible routes, which should we support? The route that is best for Hannibal is probably close to Hannibal Regional Hospital. We already have utilities there and we can annex that area and it's only about two miles from the main part of town. But I have heard this route is probably the most expensive.
So the follow-up question is: What the mayor and city council can do to support the choice that's best for Hannibal.
We can conduct a comprehensive strategic plan to explore the impact of each option. So we need to understand the cost of benefits for each route such as public utilities, infrastructure, police, fire, annexation, and planning and zoning.
MoDOT doesn't really care about all of that because their purpose is to have engineering feasibility and environmental impact. So, if they will listen to us, we can present a comprehensive plan. 
As mayor, I will push to develop that plan so we can work together with MoDOT.
Louderman: The idea of a bypass around Hannibal has been floated for decades and we are literally decades away from that happening. Obviously the closer to Hannibal they make the bypass, which is the Withers Mill route, would be by far the best route for Hannibal. As Kristy pointed out, we already have annexed land and utilities out that way. It would basically just be a perfect setup.
Now, if they went all the way out to Hwy 24, out to the Rocket, that would present a lot of logistic problems. It's a lot of land to look at annexing and a lot to move utilities out that way.
There are issues with every route. It's in Hannibal's best interest to explore which ones work best for Hannibal, and that's where we need to push our representatives and senators on moving MoDOT in that direction. Those are who will help us.
Hannibal has the only stoplight on the Avenue of the Saints. That's a long way, and we are the only stoplights along it. The truckers hate it and would like to have a bypass to take around Hannibal. If you are ever in Hannibal at 7:30 in the morning or 5:30 in the afternoon, you know just how big a pain it is to get through Hannibal with all of the stoplights.
Do we need a bypass? Yes. Do we need one all the way out to the Rocket? Probably not.
The closer it is to Hannibal, the better, and the city should push for that route. They should do what they can to get the state to listen to them.
As mayor, how do you view your role to get city council members to work together and focus on issues that move our city forward?
Louderman: As the mayor, you are kind of like a father to all other council people up there. I was lucky enough when I served on the city council to serve with six other people who were excellent to work with. We talked things over and discussed every issue in front of us and worked toward a resolution, and that's how your council makes decisions. That's how you're responsible for the tax money that comes in.
As the mayor, it's your job to sit up there and keep council people on task. Street improvement, storm water, taxes, those are the things you have to stay on task to talk about. You don't get sidetracked by petty arguments. You don't let that grow into even bigger arguments that carry over, that does not serve your constituents.
That being said, you have to give credit to anyone in the city of Hannibal who runs for office. You get paid a couple hundred dollars a month to take care of the city and make sure it's moving forward. I applaud anyone who runs for any city position, whether it's council or mayor or serving on a board. Public service is one of the best things you can do in your life.
As mayor, I would view it as my job to make sure that whatever we are talking about up there on the council is what we are talking about. You talk about each thing and then move forward from there.
That's how I run Planning and Zoning, and that's how I would run the City of Hannibal.
Trevathan: We do have a problem with divisiveness, and that's been one of my top goals. Divisiveness is expensive and it has a big price tag. The inefficiency costs us time, missed opportunities and wasted tax dollars. 
Our elected officials are individually quite competent, but we have kind of gotten distracted by internal disputes. This may be understandable given there are a lot of strong opinions at stake, but it does take time and attention away from urgent city business. 
We have gotten into the habit of reacting, instead of being proactive about opportunities.
As mayor, we are not all-powerful because we are one of seven votes. I think the most important role for a mayor is to lead by example. That's why I will respect all voices and I will not take sides on internal disputes. I would like to serve as a bridge and find solutions of cooperation and success, and I will work with council members and department heads and listen to all ideas. 
Believe, me as a real estate agent, we learn to listen.
Just think about what strong and cooperative leadership will look like. Working together we can develop a strong and long term strategic plan for our city, and we can also serve as partners to encourage new businesses and we can do a better job at recruiting and retaining city employees. That is something we need to concentrate on.
These are people who safeguard our homes and help keep our streets and neighborhoods in good condition. As mayor, I will focus to bring us together–all of us–because really we are people of good will. We have good, skilled people representing every ward and every neighborhood.
We all want the same thing, don't we? We all want Hannibal to prosper and grow, and we all want a city government that works for you.
Miss Clipping Out Stories to Save for Later?
Click the Purchase Story button below to order a print of this story. We will print it for you on matte photo paper to keep forever.