Democratic leaders take back seat to Pritzker on pandemic policies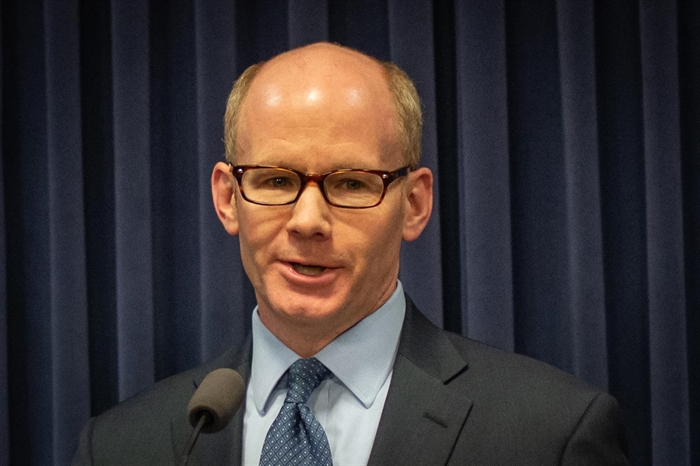 Gov. J.B. Pritzker has issued dozens of executive orders since March 2020, affecting everything from the economy to education and healthcare. He started by limiting dine-in restaurants for two weeks to slow the spread of COVID-19. That's evolved over the past 19 months to mask mandates in schools and vaccine mandates for health care workers, educators and college students.
While lawsuits filed last year against the governor's ability to govern unilaterally continue in the courts, the state legislature has largely been hands-off.
Nineteen months into the pandemic, both the Illinois House Speaker and Senate President, who could call a special session to deal with Pritzker's COVID-19 mandates, said they stand by the governor's authority.
House Speaker Emanuel "Chris" Welch's spokesperson said the speaker agrees with the governor's direction.
"Speaker Welch, members of the Democratic party, and an overwhelming majority of Illinoisans not only support, but appreciate the Governor's responsible action to minimize the spread of COVID-19 in our communities and prevent more death," spokesperson Jaclyn Driscoll said.
"The Speaker has no desire to bring lawmakers back to Springfield so members of the minority party can make campaign videos from the House floor on the taxpayer's dime," Driscoll said. "If Republicans wish to avoid mask mandates, they should spend more time in their communities leading with science and encouraging vaccination."
When asked why not bring lawmakers back to provide a check on the governor's authority, Senate President Don Harmon, D-Oak Park, said he's going to keep his "fingers crossed."
"Right now we are so focused on getting back into school and keeping there," Harmon said. "The governor seems to have been following the science, and it seems to be working. I'm going to keep my fingers crossed that my daughter is going to stay through her high school year without interruption and that kids across the state are going to be able to say the same thing."
Harmon said locally elected officials and state lawmakers have debated policies affecting their constituents.
"Again, I don't think there's been any shortage of debate at the local level or at the state level," Harmon said. "I think that we are all comfortable following the science, and everything does seem to be working, so, [knocks on the podium] knock wood we're going to keep going in the right direction."
While there has been some oversight with hearings on nursing home deaths and audits of the state's unemployment system, few policy shifts have taken control from the Pritzker administration. The Joint Committee on Administrative Rules is requesting the Illinois State Board of Education provide rules to enforce mask mandates, but that's not guaranteed.
Republicans have filed bills to provide a check on consecutive executive orders. State Rep. Dan Ugaste, R-Geneva, has one he's been pushing for over a year to be heard.
"It's something that's our job to do, it's something that the people of the state of Illinois expect us to do and we're not living up to their expectations as their representatives," Ugaste told the House floor earlier this year as a point of personal privilege.
Democrats have filed bills to give the governor more authority. State Rep. Edgar Gonzalez Jr., D-Chicago, explained one such proposal giving power to the Illinois State Board of Education.
"If a school or school distinct doesn't follow the mask mandate or any other public health guidelines set forth by executive order, by the governor, ISBE can revoke recognition of that school," Gonzalez said in an interview.
Despite that bill not being law, ISBE is revoking recognition of schools that don't follow the governor's orders.
The governor has said he's open to suggestions from lawmakers, but state Rep. Mark Batinick, R-Plainfield, offered up ideas which the governor declined. While the governor said he's open to formal communication from the Legislature by way of legislation, he hasn't committed to calling them in for a special session to deal with mandates or asked them to set pandemic policies.
Miss Clipping Out Stories to Save for Later?
Click the Purchase Story button below to order a print of this story. We will print it for you on matte photo paper to keep forever.