In joint effort, Illinois election authorities try to tamp down misinformation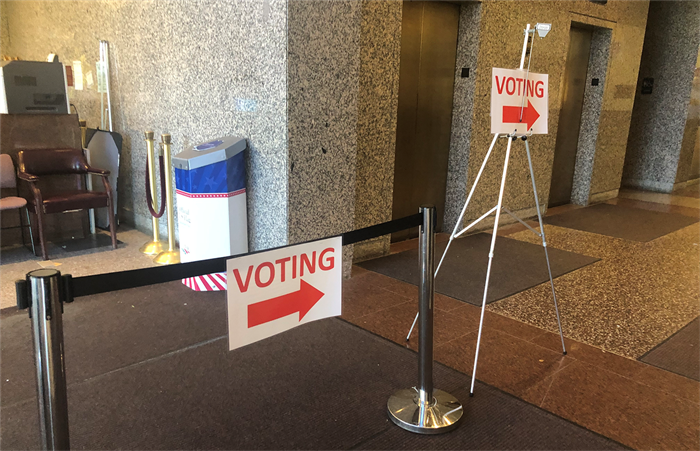 SPRINGFIELD – Six months before the next presidential primary elections in Illinois, county clerks and other local election authorities are asking for the public's help in stopping misinformation campaigns before they get started.
Officials from 25 counties scheduled a series of news conferences Tuesday in Tazewell, McLean and LaSalle counties. At the Tazewell event, the election officials said accusations of vote tampering and other misinformation campaigns have proliferated in each of the last two presidential election cycles, and they fear it could get worse in 2024.
"You know us. Our kids attend the same schools," Tazewell County Clerk John Ackerman said at a news conference in Pekin. "We shop at the same supermarkets. We are actively involved in the communities we represent. You also know as election authorities we are all working together regularly for best practices and procedures."
FIND YOUR LOCAL ELECTION AUTHORITY: https://www.elections.il.gov/electionoperations/electionauthorities.aspx
Some of the election officials described misinformation they have encountered in recent elections, including accusations that voting machines had been rigged or that tabulation machines had been hacked, and social media rumors that certain polling places were closing early or had run out of ballots.
"So we actually have social media monitors that we hire on Election Day, and even before, and they try to watch as many as possible – you can't watch them all – and see if something comes up so we can get ahead of them, whether it's Reddit or Facebook or whatever," McLean County Clerk Kathy Michael said.
Elizabeth Gannon, executive director of the Peoria County Election Commission, noted that all voting equipment used in Illinois is certified by both the U.S. Election Assistance Commission and the Illinois State Board of Elections.
"And all of that information is available at the State Board of Elections because you can see the tests that they run and all of the ins and outs that that equipment has been put through to show that it is counting accurately and that it can be trusted," she said.
State Board of Elections spokesperson Matt Dietrich said misinformation campaigns not only hinder election officials in performing their jobs, but they also erode public confidence in the integrity of the election system.
"Whether it's false rumors on social media about Sharpie markers, or more serious but equally untrue allegations about manipulation of voting equipment, we in the election community are working hard to debunk these attacks," he said. "We're starting here now, well before the 2024 primary."
Ackerman said anyone who has questions or concerns about voting equipment or election procedures should simply contact their local election authority.
"We welcome your inquiries," he said. "Better yet, get involved in our processes. We all need more election judges. You're never going to hear one of us say we don't want more election judges. Get involved in the process."
Below is a list of the other local officials – Democrat, Republican and non-partisan – who participated in at least one of the three news conferences Tuesday.
Adams County Clerk Ryan A. Niekamp
Bloomington Election Commission Executive Director Luke Stremlau
Champaign County Clerk Aaron Ammons
Fayette County Clerk Jessica Barker
Fulton County Clerk Patrick O'Brian
Kane County Clerk John A. Cunningham
Knox County Clerk Scott Erickson
LaSalle County Clerk Jennifer Ebner
Livingston County Clerk Kristy Masching
Logan County Clerk Theresa Moore
Madison County Clerk Linda Andreas
Marshall County Clerk Jill Kenyon
Mason County Clerk Summer Brown
McHenry County Clerk Joe Tirio
McLean County Clerk Kathy Michael
Monroe County Clerk Jonathan McLean
Peoria County Election Commission Executive Director Elizabeth Gannon
Pike County Clerk Natalie Roseberry
Putnam County Clerk Tina Dolder
Rock Island County Clerk Karen Kinney
St Clair County Clerk Thomas Holbrook
Stark County Clerk Heather Hollis
Tazewell County Clerk John C. Ackerman
Winnebago County Clerk Lori Gummow
Woodford County Clerk Dawn Kupfer
Illinois State Board of Elections Public Information Officer Matt Dietrich
Miss Clipping Out Stories to Save for Later?
Click the Purchase Story button below to order a print of this story. We will print it for you on matte photo paper to keep forever.