Local officials react to Supreme Court action on cash bail elimination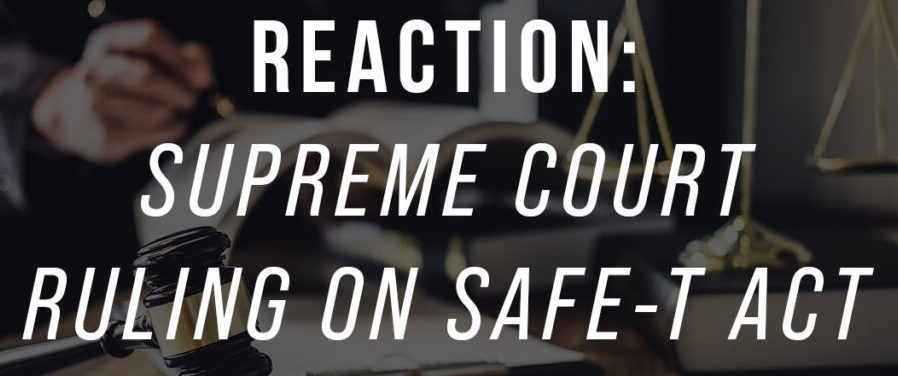 QUINCY — Adams County State's Attorney Gary Farha said he wasn't surprised with this week's Illinois Supreme Court ruling that upheld a state law to virtually eliminate no cash bail.
Farha said his office was told on Friday the action was coming. He said the Illinois General Assembly made amendments to the law during last November's veto session that makes the action "a little more palatable."
"The Illinois State's Attorney's Association worked with the General Assembly on some amendments that give judges a little more discretion," Farha said. "We do have 60 days to adjust and we'll still do justice as best we can."
Quincy Police Chief Adam Yates also said this was expected.
The Quincy Police Department, Adams County State's Attorney's Office and Adams County Sheriff's Department came together in late 2022 to prepare for the changes originally set to go into effect January 1, 2023," Yates said in a statment. "We were ready then. Over the next 60 days we will do the work necessary to ensure we are ready for implementation on September 18.
"There are still concerns that pretrial release will have an adverse effect on crime prevention,
crime victim's rights and the safety and security of our community. Changes were made during the
previous veto session that corrected some deficiencies highlighted last fall. Only time will tell if these
changes make Illinois communities safer."
The 5-2 decision – handed down on partisan lines – means that an individual's wealth will no longer play a role in whether they are incarcerated while awaiting trial. Judges can still order someone to be detained as they await trial, but the new system will instead be based on an offender's level of risk of reoffending or fleeing prosecution. 
With the new law's implementation, Illinois will become the first state in the U.S. to fully eliminate cash bail – and all provisions of the SAFE-T Act criminal justice reform will have taken full effect.
Short for Safety, Accountability, Fairness and Equity-Today, the wide-ranging measure was an initiative of the Illinois Legislative Black Caucus that passed following the murder of George Floyd by a Minneapolis police officer.
The act reformed police training, certification and use-of-force standards, expanded detainee rights, and gave the attorney general's office authority to investigate alleged civil rights violations by law enforcement. It also requires body cameras at all police departments by 2025. Some larger departments are already required to use body cameras under the law.
A July 18 ruling by the Illinois Supreme Court upholding the "no cash bail" provision of the SAFE-T Act is a disappointment, according to State Sen. Jil Tracy (R-Quincy), who says she has never supported the controversial law or the way it was forced through the General Assembly in late-night lame-duck session more than two years ago.
"The SAFE-T Act is an overly broad rewrite of our state's criminal justice system that puts criminals above our law enforcement system and the safety of Illinoisans," Tracy said. "Local judges are in the best position to make decisions based on the facts of a specific case, and sweeping legislation like this limits their ability to exercise necessary discretion."
State Sen. Jil Tracy (R-Quincy ) said the SAFE-T Act does not fully address the front-line concerns of public safety personnel.
"Front-line public safety personnel from throughout our state strongly opposed the 'no cash bail' provision, but their concerns were not heeded by the lawmakers who forced through this new law," she said.
Tracy also said she believed the action will increase costs on police departments and local governments, meaning that many communities would likely see cuts to their local police departments, higher property taxes, or a combination of the two.
State Rep. Randy Frese (R-Quincy) called the move "a blow to public safety."
"This disastrous policy has created a true 'revolving door' for criminals," Frese said. "Violence has escalated because they know if they're arrested, they'll be right back out on the street within a few hours. Ultimately, even Democratic State's Attorneys sued because of the mounting concerns about public safety brought on by this Act…it's siding with criminals over families and the dedicated police officers trying to keep us safe."
Miss Clipping Out Stories to Save for Later?
Click the Purchase Story button below to order a print of this story. We will print it for you on matte photo paper to keep forever.