New Illinois Convention goers hear ideas on how to form a new state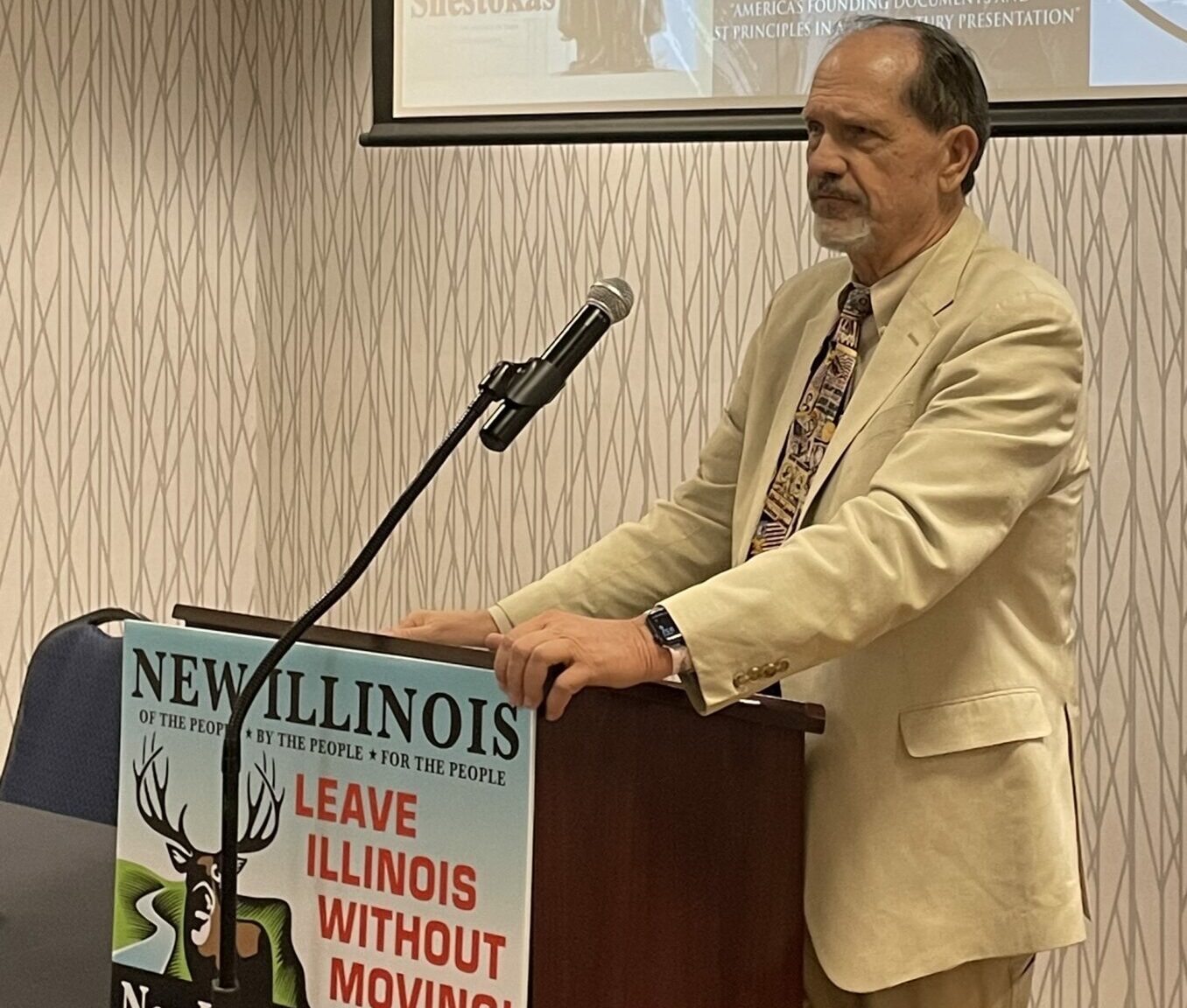 QUINCY – About 60 people attended the Saturday morning session of the New Illinois Third Constitutional Convention as the group seeks to breakaway from Cook County and Chicago.
The group has been working toward its goal since 2018 and has committees set up in 28 of Illinois' 102 counties, including Adams, Hancock and Schuyler counties locally. Their reasoning for wanting the split is that the rest of Illinois caters too much to the whims of Chicago and Cook County.
After hearing speakers in the morning, the afternoon session involved breaking into its senate and assembly committees.
The mission statement of New Illinois is to educate Illinois citizens of their right to form a new state according to the U.S. Constitution, citing West Virginia's split from Virginia in 1863.
But the main morning speaker, David Shestokas, a former assistant Cook County State's Attorney and former candidate for Illinois attorney general, told the audience that West Virginia might not be the best example to draw from in order to achieve its goal. He said Maine's separation from Massachusetts in 1820 serves as a better template.
"Maine had a series of plebiscites…a series of votes from 1792 to 1819. And each time they had a vote. The number of people in Maine that wanted to separate from Massachusetts got bigger and bigger and bigger," he said. And then after a massive meeting in 1819, they had a vote in favor of separation. The government in in Boston said 'okay, we're gonna let you go."
Maine's admission to the union was coupled with Missouri's and the act was known as the Missouri Compromise, whereas Maine was a free state and Missouri considered a slave state.
Shestokas said West Virginia's statehood is complicated because it happened in the middle of the Civil War.
"In 2002, there was a marvelous article by the California Law Review that discusses 'is West Virginia constitutional?', he said. "Virginia seceded, right? Then West Virginia seceded from Virginia. The interesting thing about that is that the West Virginia folks got together in Wheeling and not only seceded from Virginia, but they declared themselves to be the real restored Virginia Legislature. So they created a new state and took over the old state all in one on one fell swoop."
He said while Congress did pass a bill that approved West Virginia's statehood, Lincoln still had doubts.
"Abraham Lincoln actually was saying that secession was basically illegal." Shestokas said. "And now he's talking about the dichotomy of whether or not it should be if it's illegal for Virginia to leave, why is it legal for West Virginia to leave when they actually just made it up with their own legislature and what not?
"And in any event, as he signed the bill…he said the division of a state is treated as a precedent, right? But a measure more expedient, made expedient by a war is a no precedent for the peace. Abraham Lincoln himself says, you know, this is not something that we can look forward to a lot of time in the future."
Along with West Virginia and Maine, three other states have been carved out of other states or territories following the original 13 states: Kentucky, Tennessee and Vermont.
The convention was Friday and Saturday at the Quincy Holiday Inn.
Miss Clipping Out Stories to Save for Later?
Click the Purchase Story button below to order a print of this story. We will print it for you on matte photo paper to keep forever.