10-year-old girl details evening spent in hotel with 'Uncle Leonard' during sexual assault trial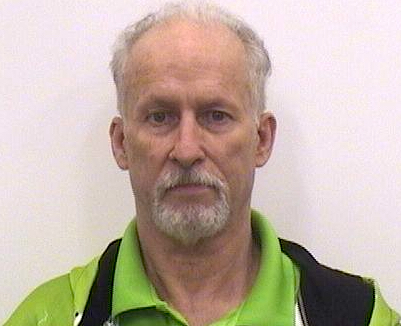 PLEASE READ THIS CAUTIONARY NOTE: Readers should understand this story contains descriptions of sexual abuse. This may offend and shock some readers or be painful to survivors of sexual abuse or assault. Muddy River News believes it is necessary to report this information as a warning and a reminder of what comprises sexual abuse and the importance of protecting children and supporting those who have suffered abuse. The names of the children and their parents involved in this case are being withheld to help protect the identity of the children. Quoted material is from the court proceedings.
QUINCY — A 10-year-old girl told an Adams County jury on Tuesday morning about when she and her stepsister spent a night with their great uncle in a Quincy hotel and they touched his genitals with their mouths and hands.
Leonard Johnson, 63, a gymnastics coach from Rochester, Minn., is on trial this week in Adams County. Jury selection for the case was on Monday.
He is facing four charges of predatory criminal sexual assault of a child under the age of 13 in Adams County, all Class X felonies. He has been in the Adams County Jail since July 11. His bond is $750,000.
The girl gave her testimony to the jury of six men and six women and Judge Tad Brenner. She said she was 7 years old when the alleged incident involving Johnson occurred.
The girl now lives in Hannibal, Mo., with her older brother and mother. Her mother was married at the time of the alleged incident in May 2020, so the girl also lived with a stepfather and a stepsister. Johnson had been living in Minnesota, but because of the COVID-19 pandemic, he came to Hannibal to live with his niece's family.
When assistant state's attorney Laura Keck asked the girl to describe what she did with "Uncle Leonard," she replied, "Usually, it was just fun stuff. Sometimes we'd go shopping. Sometimes we would play games at the house. Other times, we'd do stuff I don't like to talk about."
She also described playing a game like tag called "Statue" with her stepsister, her brother and Johnson.
Keck then showed photos on a courtroom screen which the girl identified as being taken at the Quincy hotel. When Keck asked the girl to identify in the hotel room "where bad stuff would happen," the girl replied, "Usually in the bathtub (referring to a jacuzzi)."
The girl said her stepsister, Johnson and herself would be in the "bathtub" at the same time. She said Johnson was wearing shorts.
Keck asked if Johnson wore shorts the entire time. "I remember I took them off," the girl said, adding that Johnson had nothing on under his shorts.
"After his shorts came off, do you remember anything else that happened?" Keck asked.
"I'm not really for sure. I just know it wasn't good," the girl said.
Keck pressed her to provide more details, asking her, "What do you remember?"
"Usually, we would do stuff with his penis," the girl replied. She clarified she was talking about herself and her stepsister.
The girl then graphically detailed what she and her stepsister did in the jacuzzi with Johnson. She said she "didn't like it" and everything that happened "made me feel uncomfortable."
"Did you tell anybody about it?" Keck asked.
"(Johnson) always said to keep it a secret and not tell Mom and Dad," the girl said.
The girl then testified that she later approached her parents and asked "if keeping secrets from them was good."
The girl later met with a forensic interviewer in Hannibal, then with Keck and assistant state's attorney Josh Jones.
"When you met with Josh and I, what did we tell you about being here today?" Keck asked.
"To always tell the truth and to remember it's not your fault," the girl replied.
Defense attorney Drew Schnack asked the girl to recall what happened during the overnight hotel stay with Johnson. She answered many of the questions with "I don't know" or "I can't remember," but her voice never wavered as she looked Schnack in the eye.
She told Schnack she had met with Keck and Jones three times and that she previously had been in the courtroom "just to get to know what would happen."
Schnack then read the testimony the girl gave to the forensic interviewer.
"Do you ever remember seeing Uncle Leonard in the bathtub without any clothes on?" he read. "Your answer was, 'Might have, but I don't know.' That's what you said that summer. Is that correct?"
The girl said yes.
"Then they asked you, 'Do you remember if you ever did anything that would cause Uncle Leonard to take his clothes off? And you said no," Schnack said.
The girl agreed she said no.
"That's different from what you're telling us today, isn't it?" Schnack said.
"I still don't think that ever happened," she replied.
When Schnack asked her what she told her mom when she first talked about the incident, the girl replied, "I told her the basics. I didn't tell her every single detail."
During redirect, Keck read back to the girl Schnack's question if she ever did anything that would cause Johnson to take his clothes off, and the girl's reply was no.
"But then they asked, 'Did you ever take any of Uncle Leonard's clothes off?'" Keck asked.
"I only remember what happened in the hotel room," the girl said. "He never told us to never do that again. It was just our secret."
Keck said the girl had told her "she learned about this in school."
"I have learned about stuff compared to that, but you're still family, so I trusted him more," the girl said.
Johnson remained stoic throughout the girl's testimony. His face was covered with a mask.
The girl's mother also testified Tuesday morning. She explained Johnson came from Minnesota to help with her wedding in August 2019, doing some cooking and cleaning and grilling at the reception. He then returned to Hannibal when COVID shut down schools and businesses in 2020 because "he didn't want to be by himself."
After Johnson returned the girls to their parents after the overnight stay in Quincy, the mother said she was in her bedroom on May 25, 2020, when her daughter came into the room.
"I thought she was trying to get out of going to bed," she said. "She started talking about how she had questions. She was just saying she didn't want to get in trouble and she didn't want to get anyone in trouble, but she had some secrets and she didn't feel right about keeping secrets."
After talking to the oldest daughter, the mother said she called the younger stepdaughter into her bedroom and asked if she had any secrets.
"She had a little word-around where she said that she couldn't remember anything she wasn't supposed to say," the mother said.
At breakfast the next morning, the mother asked the girls if they had anything else to add.
"I told them nobody was going to get in any trouble," she said. "I can't remember which one spoke first. (The younger stepdaughter) said again that she wasn't sure what she was supposed to remember. (The oldest daughter) decided to chime in and said, 'You know, it's OK. I already told her, and I didn't get in trouble. You're not gonna get in trouble either."
The mother said she felt "shame" after learning what happened.
"It's my job as a mother to make sure that doesn't happen," she said.
Schnack asked the mother if her 10-year-old daughter had told her "this bad conduct" had occurred in her home in Hannibal.
"Yes, she did, as well as other places," the mother said.
"You're also aware that in July of last year, she denied that anything happened in your home in Hannibal, didn't she?" Schnack said.
"No, she did not," the mother said.
The 9-year-old stepdaughter, who was 6 at the time of the alleged incident, testified Tuesday afternoon. She said she used to call Johnson "Uncle Leonard" but now she just calls him "Leonard."
Keck also showed the stepdaughter photos of the hotel where she stayed with Johnson. She said her stepsister and Johnson used the jacuzzi.
"I really didn't go into it that much," she said.
The stepdaughter refused to answer several of Keck's questions. She was allowed to take a brief break, during which she put her head on the witness stand.
Keck then asked the stepdaughter if she had a name for a man's private parts. She called them a "no-no square," and she said she saw her stepsister touch Johnson's "no-no square." However, she didn't answer any further questions.
Tuesday morning's testimony was delayed by 42 minutes. A deputy with the Adams County Sheriff's Department drove to the home of one of the alternate jurors, who had overslept.
Testimony is scheduled to resume Wednesday morning.
Miss Clipping Out Stories to Save for Later?
Click the Purchase Story button below to order a print of this story. We will print it for you on matte photo paper to keep forever.