'A history of issues': Lewis County Prosecutor won't file cases from Canton Police Department after investigation reveals problems with evidence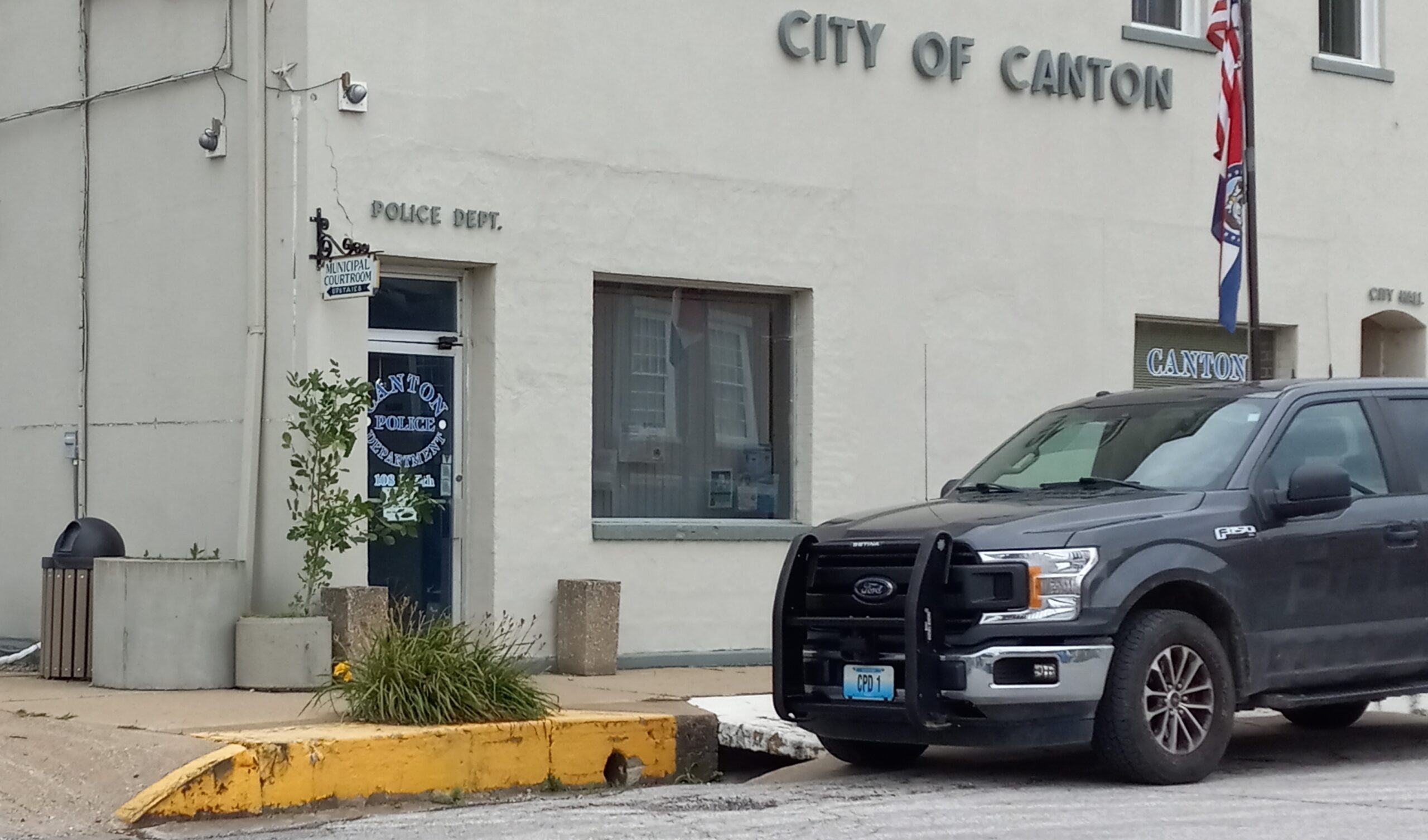 CANTON, Mo. — The Lewis County Prosecutor recently told the mayor of Canton and the city's Board of Aldermen that her office will not file any cases investigated by the Canton Police Department unless an outside law enforcement agency provides assistance.
Chelsea Fellinger also said, because of "ethical obligations" to the state, she recommended the Canton Police Department should not collect or store items of evidence until further notice.
Fellinger's statement was part of a joint press release from the Lewis County Prosecutor and the Lewis County Sheriff's Department issued Thursday morning to Muddy River News.
Fellinger replaced Jake DeCoster as the county's prosecuting attorney on Jan. 1. She previously had worked for him as an assistant for five years, and she knew the Canton Police Department "had a history of issues."
"I don't think anybody would have guessed to this extent," Fellinger said. "There were a lot of things that, even though I've been around for a while, I had no idea of.
"The purpose (of the press release) is to make the public aware of what's happened and what's going on within their city. It's just time for a change. It really is about moving forward."
An investigation of the Canton Police Department by the Lewis County Sheriff's Department, the Missouri State Highway Patrol Division of Drug and Crime Control and the Federal Bureau of Investigation started in September 2022.
The press release said Canton Mayor Jarrod Phillips contacted the Lewis County Sheriff in May 2022 to report the Canton Police Department had recently undergone mass personnel resignations and would be down to one officer, Justin Allen. Chief Ryan Crandall was one of the employees who had resigned.
Shortly thereafter, Phillips requested an investigation after the city discovered an issue with evidence being stored at the police department. It was discovered that bags of evidence had been tampered with, and methamphetamine, marijuana, fentanyl, hydrocodone pills, methadone and a variety of other pills were missing.
The investigation of the Canton Police Department began with the scheduling of preliminary interviews with past and present members of the department. However, the investigative team learned city officials had hired an attorney to represent those employees. The press release alleges Allen, the department's acting chief at the time, had contacted those people to advise not to speak with investigators until they met with the city's attorney.
Interviews months later were finally conducted with past and present members of the police department. The results of that investigation by the sheriff's department, MSHP and FBI led to the following findings:
Approximately $1,000 was stolen from the evidence room in 2015 when Crandall was the police chief. That money had been ordered by Lewis County Circuit Court to be returned to its owner. The city did not open an investigation and did not refer the matter to an outside agency. The City Council voted instead to replace the money with funds from general revenue without notifying the Lewis County Prosecutor's Office.
Crandall reported in 2021 that a Glock .40 caliber handgun, seized in 2008, had been stolen from the evidence room. Crandall admitted at the time that an evidence audit never was conducted. He said he could not identify who might have taken the firearm.
Lewis County Coroner Larry Arnold contacted the Canton Police Department in January 2022 regarding information on medication seized by police officers during a non-suspicious death investigation in Canton. The police department initially could not find the medication, but several weeks later, Allen advised Arnold that the pills had been found and accounted for. Investigators eventually learned the pill bottles had been located, but the contents were not. Officers reported the issue to Phillips, whose response was to direct the police department to no longer to participate in the drug take-back program.
Also in 2018, the Lewis County Sheriff's Office charged former Canton Police Sgt. Ryan Clanton with tampering with physical evidence. Clanton was asked by Crandell to return all department-issued equipment to the Canton Police Department when he left his job to become the police chief in LaGrange. Clanton tried to return a different AR-15 to the department, then eventually admitted he pawned a department-owned AR-15 patrol rifle because he was in financial trouble and needed the money.
Clanton eventually pled guilty to the charge, a Class A misdemeanor.
The investigation by the sheriff's office and MSHP further yielded that hundreds of items of evidence had been tampered with or stolen, including money, hundreds of pills (controlled and non-controlled substances) and as a handgun.
Despite the lack of institutional controls and procedures at the Canton Police Department, Fellinger said she couldn't file formal charges for criminal misconduct. She said too many people had access to the evidence room, evidence locker and evidence keys.
"There was such a lack of procedure and policy in place that I really have no way of knowing (if anyone in the department should be charged with a crime)," Fellinger said. "The investigation showed there's no way to determine who definitively had tampered with the evidence."
She sent notice to the city officials on May 19 that she was going to hold the department as a whole and the city responsible.
Fellinger said she learned during the investigation that in the past decade:
A former police chief was fired after pulling a rifle on a professor at Culver-Stockton College;
A former police chief was federally indicted for buying a firearm for a felon;
A former police officer was arrested for driving while intoxicated, but permitted to stay on the job;
The same former police officer later was prosecuted for having sex with a minor child;
Firearms were discharged in the police station;
A former police chief had a drug addiction that was concealed and deemed a personnel issue.
Each incident was committed by a different person, Fellinger said.
"These (incidents) call into question the department's reliability and integrity, raising the issue of credibility for any investigation conducted by it," Fellinger said.
"This is no sort of personal vendetta against anybody. This is about being able to successfully prosecute cases. One of my greatest fears is that something serious or horrible happens that may result in a death or even a serious injury, and then I'm not able to file charges or prosecute a case because of a lack of investigation or an agency's involvement. Cases just simply can't be successfully prosecuted without a proper investigation and handling of evidence."
Parrish and Fellinger have met with an attorney at the U.S. Attorney's Office and delivered their investigative file for further consideration.
"I would say the status of the investigation is closed at this point," Fellinger said. "It can always be reopened if additional information or anything like that comes to light. As the investigation closed, I don't believe there are criminal charges that can be filed."
After sending her notice to city officials on May 19, Fellinger said she didn't receive a response from the city until June 22.
"The acting chief's stance and actions demonstrated that the position taken was to disregard that directive, despite the warned consequences, and to conduct business as usual," the press release said.
The Canton Police Department has three officers — Toby Moss, Dylon Ferrera and Abigail Lyon.
Fellinger said she attended a special meeting of the Canton City Council on Monday, July 31, to discuss the status of the Canton Police Department. Council members are Robin Bracey, Patti Mathieson, Dan Steinbeck, George Hausdorf, Jeff Janney and Sharon Upchurch.
She said "no clear plan for moving forward" was created at that meeting.
"I would love nothing more than to come up with a solution," she said. "It wouldn't be fair or right of me to say, 'I have all these problems,' and then not be willing to help. I'm more than willing to help them. As far as cases that happened within the city limits, the sheriff's office has extended to the officers still working there that they need assistance, just give them a call and they'll be they'll be there. It's not like the City of Canton is just a free-for-all. There is still policing going on. The officers are completely permitted to enforce the city ordinances and enforce the law. It's just at this point, there needs to be the assistance of an outside agency."
Miss Clipping Out Stories to Save for Later?
Click the Purchase Story button below to order a print of this story. We will print it for you on matte photo paper to keep forever.