'A little girl is supposed to be able to trust her father': Gilker receives 19-year sentence for sexual assault, sexual exploitation of child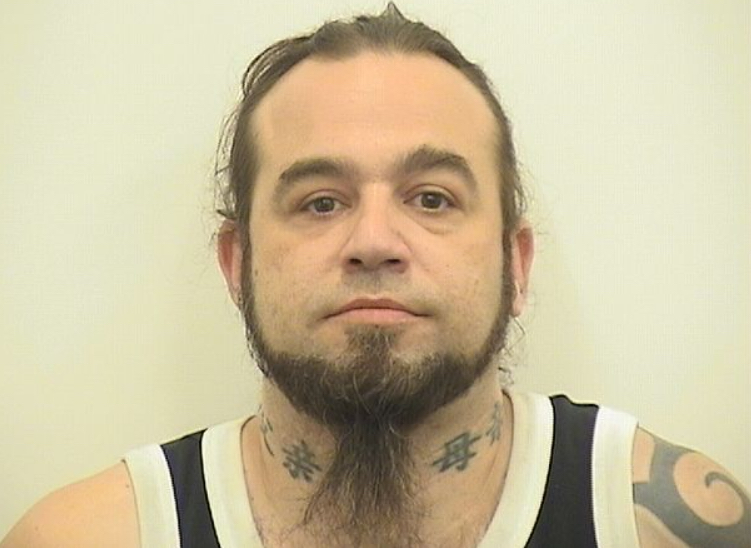 QUINCY — The voice of assistant state's attorney Laura Keck trembled as she read aloud the seven-word victim impact statement of Bruce Gilker Jr.'s daughter during his sentencing hearing Wednesday afternoon in Adams County Circuit Court.
"Bud makes me nervous, scared and sad," she wrote.
An Adams County jury found Gilker guilty May 11 of one count of predatory criminal sexual assault of a child and one count of sexual exploitation of a child. Before a packed courtroom with 12 bailiffs and law enforcement officers present, Gilker received a 15-year sentence in the Illinois Department of Corrections from Judge Michael Atterberry on the predatory criminal sexual assault charge and a 4-year sentence on the sexual exploitation charge. Gilker will serve the sentences consecutively.
Before being sentenced, Gilker said in his statement of allocution, "I'd like to just say I've loved my children. I've never, never harmed my daughters, and I sit here an innocent man."
Documents filed in Adams County charged Gilker with contacting his daughter, however slight, between the hips and buttocks with his penis for his sexual gratification or arousal between March 25, 2018, and Nov. 5, 2019. Gilker also was charged with masturbation while in the presence of his daughter, knowing his daughter would view his act, between March 25, 2018 and March 24, 2020.
Gilker's daughter now is 8 years old.
Gilker, 41, was arrested Aug. 11, 2021, in the 700 block of South 13th after a warrant was issued for his arrest after a four-month investigation conducted by the Adams County Sheriff's Department.
Wednesday's hearing began with a motion by Gilker's attorney, Jerry Timmerwilke, to grant his client a new trial. He said Gilker was deprived of a fair trial because:
Witness Janette Edward's educational background inferring she was an expert, and she was referred to as a "counselor" by the prosecution.
Jessica John, the mother of Gilker's youngest child, was allowed to testify about an incident in October 2020 when their daughter told her Gilker had touched himself while they were showering.
The court erred in denying Gilker the opportunity to bring his daughter's allegation about the incident to the jury's attention as being "unfounded" by the Department of Children and Family Services.
A pretrial motion was denied concerning Gilker's child making a statement that her father had shown her pornographic materials.
Gilker's motion concerning his conviction of intimidation in an unrelated case was denied, forcing him to acknowledge the felony when he testified.
The court erred in not granting Gilker's motion for a directed verdict at the end of the case, because Gilker's daughter testified her father had placed his penis on her vagina and anus and at times there had been blood, when medical evidence did not support the claim.
The girl was coached by her mother to talk about adoption and her decision to call Gilker "Bud" instead of "Dad," and during an interview and subsequent trial, the girl showed no sadness and did not cry but smiled somewhat throughout and remembered the incident started when she was 2 years old and ended when she was 5.
During a three-week period when the girl lived with her father, the girl claimed Gilker refused to walk her into school when two school employees testified to the contrary.
Timmerwilke also asserted that because the jury found Gilker not guilty of two counts of predatory sexual assault of a child that it erred in finding him guilty of the other two charges.
Atterberry denied the motion for a new trial on every count.
Joann Capinigro and Jessie Harrison, Gilker's mother and sister, spoke on his behalf before the sentencing. Gilker worked as a licensed assistant at his mother's licensed daycare for underprivileged children for eight years.
Capinigro described her son as a "hands-on" dad and talked about how he would watch wrestling and collect wrestling dolls with his two daughters and how they would spend time at the Kroc Center and eat at their favorite restaurant, Best Buffet.
"I know he's a good man, and he's a good father," she said. "I'm just asking for leniency."
Harrison said her brother would bring his daughters to her home on occasion. She explained that Gilker volunteered to go to a parenting class after separating from the mother of his first child.
"They were great. They co-parented like a couple should," she said. "He got to see his child whenever she wanted to see her father. It was never forced."
When Timmerwilke asked Harrison if she was asking for leniency, she replied, "No, Jerry, I'm asking for mercy. I am asking for mercy in this court, Mr. Atterberry. Enough is enough."
John also spoke before the sentencing, saying no child or parent should have to go through the things they have.
"I was a mother who trusted you with our baby girl to be with you alone while I worked and while I went to doctor's appointments," she said. "Now I know years later that I completely failed her as a mother because I trusted you with our daughter. As I waved at her while leaving our home and her waving back at me and jumping up and down smiling, I had no idea.
"You are not only a danger to us but a danger to society. I pray someday you will be able to change in ways such as controlling your impulses and recognizing your impacts on our life. I hope you can take accountability for your actions and become a better person."
Timmerwilke asked for minimum sentences of six years on the predatory criminal sexual assault charge and one year on the sexual exploitation charge. Keck asked for 25 years on predatory criminal sexual assault charge and six years on the sexual exploitation charge.
Keck said the case ultimately came down to trust.
"A little girl is supposed to be able to trust her father," she said. "She is supposed to be able to trust that her dad will take care of her, that her dad will protect her and keep her safe. Instead of keeping that trust, the defendant destroyed any trust that (the victim) had in her father. Instead of caring for her or protecting her or keeping her safe, the defendant ultimately became her nightmare.
"But luckily, (Gilker's daughter) trusted her mom, therapist and the court system to tell what the defendant had done to her when she was so incredibly small. At only 8 years old, she took the witness stand and told a jury what had happened to her. She trusted the system, something many adults cannot do, and trusted the jury to find the defendant guilty. She's trusting the court system to now do the right thing and make sure that Mr. Gilker cannot harm her or harm anyone else again."
Miss Clipping Out Stories to Save for Later?
Click the Purchase Story button below to order a print of this story. We will print it for you on matte photo paper to keep forever.