CEO program for Hannibal Career and Technical Students announced at Riedel Foundation reception
February 3, 2023 | By Megan Duncan, Muddy River News Correspondent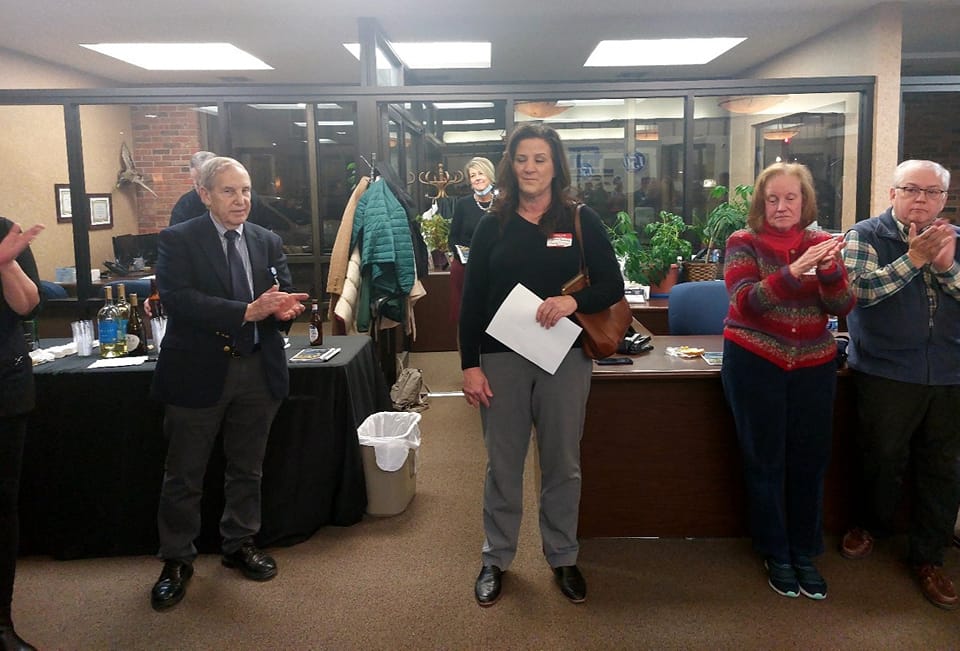 HANNIBAL — The Riedel Foundation, and other supporting local businesses, will help young entrepreneurs in a new program set to start this fall.  
The program was announced at the Riedel Reception Thursday evening where recipients of Riedel funding from 2022 gathered to celebrate the previous year and look forward to the 2023. The Riedel Foundation approved grants in the amount of $330,660 in 2022. 
Susan Johnson, superintendent of the Hannibal Public School District, also announced a new CEO program for the Hannibal Career and Technical Center students juniors and seniors.
Johnson said the program is much more than a textbook course. Students will be immersed in real life learning experiences with the opportunity to take risks, manage the results, and learn from the outcomes.
"The idea behind this is to assist kids and takes those ideas and dreams they have and make them become a reality in hopes that they can live out those realities and that's how things get done," she said. "I think it's going to be a great program for our students."
Johnson has been trying to bring the program to the area for years. Not many programs are like it in the state of Missouri. 
"If you have ever seen the television show Shark Tank that inspires ideas, it's kind of like that," Johnson said. "It will be exciting because it's going to take kids who have those desires and really wanting to learn about those things to be able to go out into our community and be able to do hands-on learning."
Kids will be learning how to market things and how to think through implementing an idea from start to finish.  They will learn the process through leadership and what they see as they go out into the workforce. 
"It's amazing to me how many times we have students and even adults who don't realize what businesses that we have here produce and there's just an education in that. So there's really a multifaceted education in this," she said. "But it's going to be exciting for the kids. You just never know when there will be the next Albert Einstein will be in there."
Johnson saw results from the CEO program she attended in Adams County where she heard from college students who were in the program during high school.
One young man from Adams County spoke about his idea to recondition athletic shoes like Nike or Air Jordans and sell them online. As a freshman in college, he is still doing it and makes a supplemental income from it.
Johnson said these kinds of opportunities open up students to becoming interested in things they might not have tried otherwise.
"We are very excited and appreciative of the Rediel Foundation and other businesses for making these dreams come true," said Johnson.
Also announced at the Riedel reception was the was five $1,000 scholarships for seniors at the Hannibal High School in Mr. Riedel's name. The scholarships will focus on students who have chosen careers that were close to founder George Riedel's heart.
Three scholarships will go to students seeking a career in banking, finance or economic development, and two scholarships will go to students going into social work or non-profit work.
"We know that those areas are ones we desperately need in our area and maybe they will stay right here in Hannibal and be able to give back to the community they came from, so that is wonderful," said Johnson.
Johnson also thanked the Riedel Foundation for supporting local youth.
"There are so many ways, it's difficult to name them all," she said.
From purchasing bike helmets, books, assisting with at-risk kids and families, youth sports, theater products and more, the Riedel Foundation is "always looking for ways to recognize the many talents of our kids, and more," 
"I could go on and on about the many ways that the Riedel Foundation has made a difference in the lives of our kids," Johnson said. 
The Hannibal School District is looking for the CEO to be part-time instructor who is good with high school aged students and has a background in business or is very knowledgeable about business in order to make contact with local businesses for students to experience things hand-on.
For more information about the job visit www.hannibal60.com or contact the Hannibal Board Office at 573-221-1258.
Miss Clipping Out Stories to Save for Later?
Click the Purchase Story button below to order a print of this story. We will print it for you on matte photo paper to keep forever.