Adams County Sheriff's Department buys portable speed zone radar sign; fleet manager hopes for more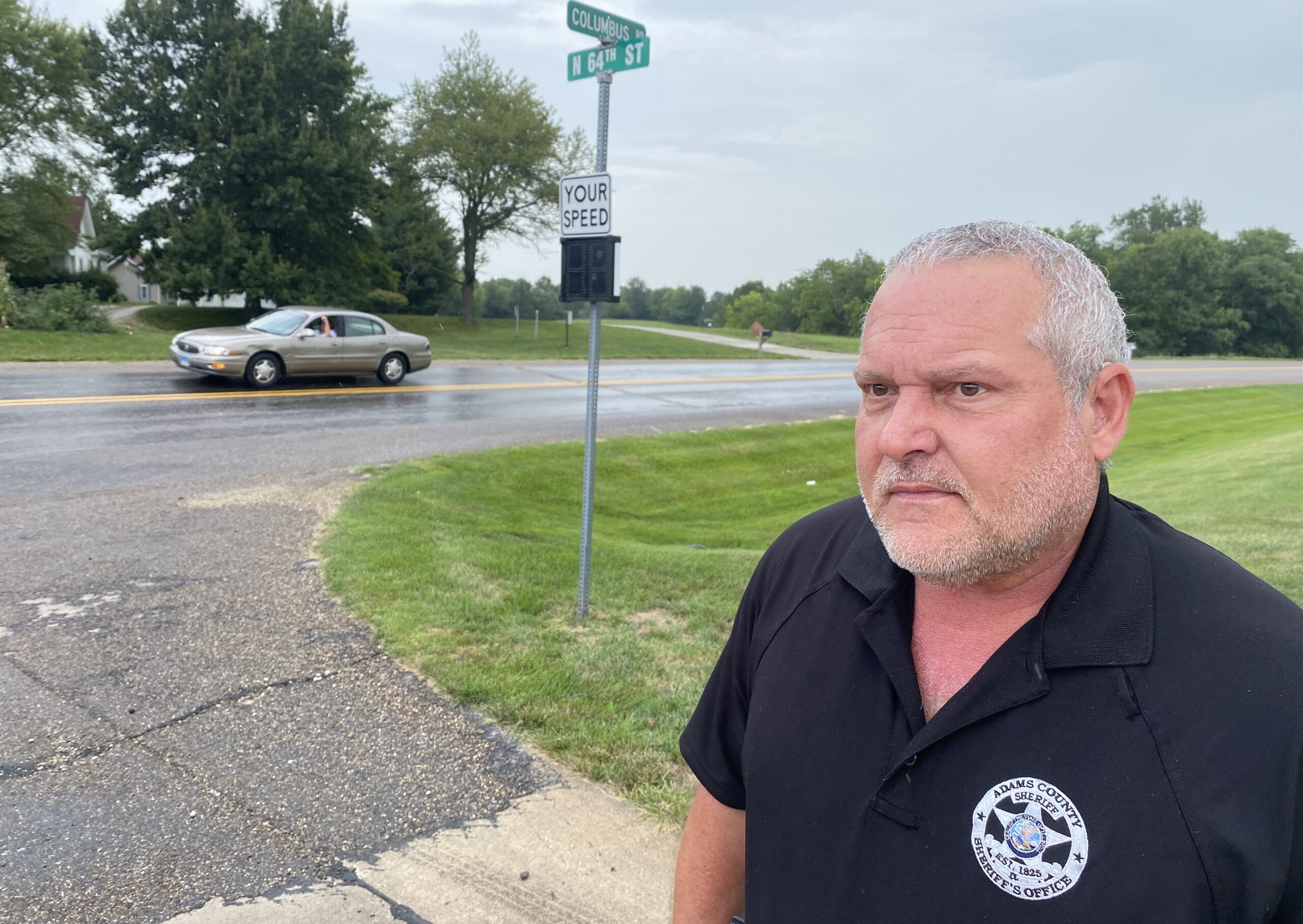 QUINCY — Neal Meyer helped enforce speed limits in school zones and raised money for speed zone signs throughout the city during his time as a traffic analysis officer for the Quincy Police Department.
Now he is trying to slow down drivers in Adams County.
Meyer retired from QPD in 2016, and now he's an officer and fleet manager for the Adams County Sheriff's Department. He recently secured $3,100 in donations from four Quincy businesses to buy a portable speed zone radar sign.
Meyer said people recently complained to him about speeding in their neighborhoods.
"I got to thinking: I did this for QPD for 16 years, and we had all those devices," Meyer said. "I believe Bryan Smith from TNT donated the first two signs, and that kind of snowballed into more donations. We finally got all the schools equipped. So this got my wheels turning. I thought maybe I could go out and try to find donations to give the county something like this, because we don't have them."
Meyer collected donations from Tyler Phillips with Rober Law, Dan's Auto and Towing, Hilbing Auto Body and Quincy Auto Supply.
The device, recently erected on a sign at the intersection of 64th Street and Columbus Road, is strictly for speed awareness. It is powered by batteries that typically last up to two weeks. As drivers see the sign, a violator alert will tell them if they are driving too fast. It will flash if people go five or 10 miles per hour faster than the speed limit, depending on how Meyer sets it.
"It gives motorists immediate feedback to see their speed, which slows them down," Meyer said. "Numerous studies show (devices like) this do slow down speeding. I've been sitting here, and most of them I've seen brake as they go by. Even after (the device) has been taken down, the motorists who drive through here will remember that sign and slow down.
"Everybody speeds. I mean, it's common. You're thinking about something, and all of a sudden you come up upon this sign, you're like, 'Oh, I'm speeding. I'm going to slow it down.' During the weekends, people are walking up and down these streets and children are on their bikes, so this is all about keeping the public safe. If we can keep the speed slow, it's a win-win for everybody."
Speeding was a contributing factor in 29 percent of all traffic fatalities in 2021, according to the National Highway Transportation Safety Administration.
Meyer started working on raising the funds for the sign in December. He wants to set it at school zones throughout the county. He encourages people who believe they have a speeding problem in their Adams County neighborhood to reach out to the Adams County Sheriff's Department at 217-277-2200.
"We can move this around," Meyer said. "It just takes two minutes to put it up, and it's portable. Maybe someday this will snowball like it did with the city."
He typically leaves the portable sign at a single location for two weeks.
The sign, made by AllTraffic Solutions in Chantilly, Va., only shows oncoming drivers their speed. However, it also has the option (at an extra cost) to collect information on traffic speed, the number of cars and the time of the day the cars pass by.
"We hope that will be on board at some point to record that data," Meyer said.
He hasn't had the speed zone radar sign for long. Meyer said people in neighborhoods, where he recently installed the speed zone radar sign, told him they want to reach out for more donations.
"I would love to put these out in every school zone in the county that doesn't have them," he said.
Miss Clipping Out Stories to Save for Later?
Click the Purchase Story button below to order a print of this story. We will print it for you on matte photo paper to keep forever.